Former Miami-Dade Mayor Alex Penelas — who lives pretty much secluded from politics, commenting now and then on Univision 23 but from afar — has come out of relative political obscurity to promote former Miami Beach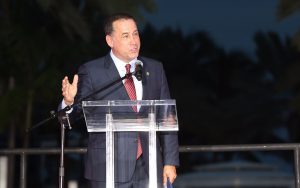 Mayor Philip Levine's gubernatorial run.
It is his first endorsement since Penelas left office in 2004.
"Friends, On Monday, my friend Philip Levine ended his four-year tenure as Mayor of Miami Beach. I couldn't be more proud of what he has accomplished in such a brief time," starts the campaign email blast that arrived Wednesday morning.
But the list of "accomplishments" has more holes in it than a Dunkin Donuts. Let's take it paragraph by paragraph, shall we?
Read related story: Philip Levine's PAC started flooding after he got a liquor ban on the ballot
"In a city threatened by sea level rise, Philip campaigned back in 2013 to start solving the problem. And just four years later, under his leadership, state-of-the-art flood pumps have been installed that are keeping streets dry and protecting the homes and businesses of thousands of people."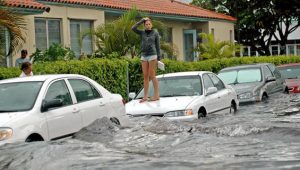 Well, Mr. Mayor, everybody started to address the sea level rise problem in 2013. It was like a virus. Climate change were the political buzzwords of the year.  Actually, the city started addressing the problem before he was elected. And those flood pumps? Guess where the first one went. In Sunset Harbor, where Levine owns property. His land was high and dry while the rest of South Beach was flooded, like in the photograph courtesy of Bill Cooke of the Random Pixels blog.
"While many of those people are blessed to live in a prosperous city, thousands of workers across the beach can't even afford to live near the community they serve," the former mayor writes. "So Philip took action and successfully passed the first living wage ordinance in Florida, setting an example for cities across our state."
The minimum wage increase, which was from $8.10 to $10.31 and would take effect in January, is really window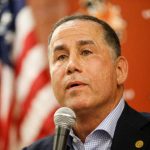 dressing for the gubernatorial race. It gives him talking points for the campaign trail. The legislatioin was struck down by a judge because a 2004 Florida constitutional amendmentment only allows the state to increase the minimum wage, not municipalities. Miami Beach attorneys are appealing that because they say that the voters' intent was to let local leaders decide. Whatever. It was a feelgood measure that Levine pushed strategically as he was building his Democratic voice statewide. It's like a box he checked under "preparations to run for Governor as a Democrat."
"But that wasn't the only example Miami Beach has set under Philip's leadership," Penelas continues. "During his tenure, the Human Rights Campaign -a leading LGBTQ advocacy group- has given the city a PERFECT SCORE on its annual Municipal Equality Index, a measurement of how inclusive municipal laws, policies, and services are for the LGBTQ people who live and work there."
Read related story: Philip Levine fails to disclose properties, LLCs
The city got a perfect score in 2017. And in 2016. And every year since they started self submitting in 2013. But Ladra is pretty certain that Philip Levine has absolutely nothing to do with that. He always takes the credit, which belongs to the hardworking members of the city's LGBTQ Advisory Committee, formed by former Mayor Matti Bower — 10 years ago. The Beach, which was the first city to pass domestic partnership benefits legislation, has been the best place for gays to live and work in Miami-Dade, like Wilton Manors is in Broward, for years. For Levine to take credit should offend a lot in the community who have actually done the work. He just happened to be mayor at the time. The mayor befor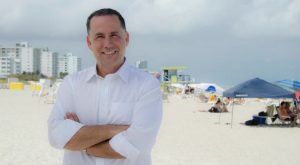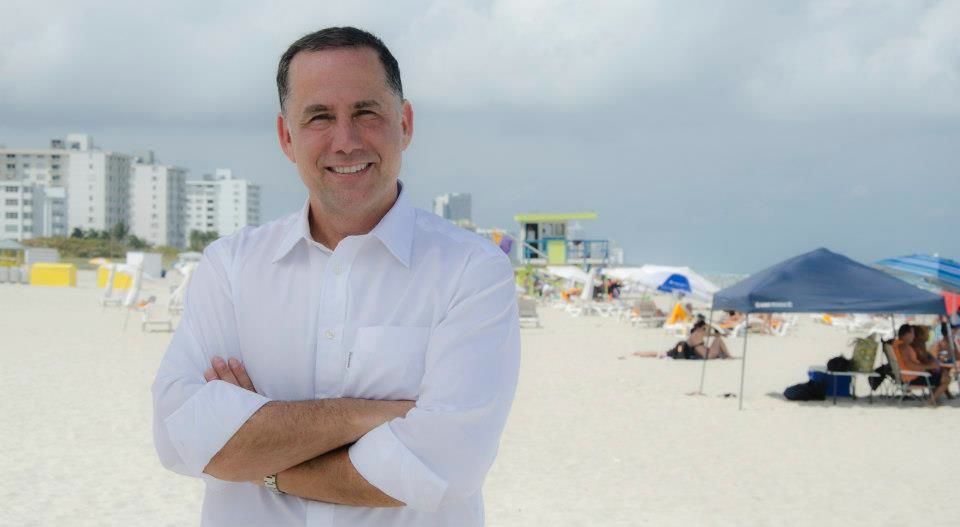 e him supported LGBTQ friendly legislation and the mayor after him will, too.
"These accomplishments are just a small piece of what Philip's 'just get it done' attitude has brought to Miami Beach, and they're the reason why I'm supporting him for Governor," Peneas gooes on. "Now more than ever, we need less talk and more action. We need leadership that has a proven track record of getting things done and making positive change in our communities. We need Philip Levine, and I hope you'll join me in making that happen. Together, we can bring a real change-maker to Tallahassee."
Less talk and more action? Levine is nothing but talk, talk, talk. Even his proposed alcohol ban past 2 a.m. on Ocean Drive failed miserably.
Maybe Penelas doesn't know how Levine blocks critics from his social media and actually had an independent blogger (yours truly) thrown out of public campaign events. Maybe he forgot about the train to nowhere or the shady Relentless for Progress PAC that Levine collected $1 million for from beach interests. Maybe he doesn't care that Levine used his influence and money to smear or blackmail others and get puppets elected so he could set his agenda.
And Penelas is going to endorse someone who traveled to Cuba and wanted to bring the Cuban consulate here?
Read related story: Now challenged, Philip Levine also sheds shady PAC
Or is this because Penelas, 55, wants to be relevant again? Some sources say that Penelas — who served as Miami-Dade mayor from 1996 to 2004 and then ran unsuccessfully for senate and was People's "sexiest politician alive" in 1999 — may want to return to his old seat at County Hall. He briefly toyed with the idea in 2011 after Carlos Alvarez was recalled.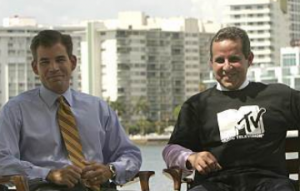 And then he thought about running for Congress against King David "Nine Lives" Rivera in 2012.
Democrats have been trying to make the non-partisan seat more partisan for a couple of elections now and have been looking at him and former Miami Mayor Manny Diaz (pictured here at an MTV event when they were both in office) as candidates. They like Commissioner Jean Monestime, too, but the common thought is that a non Hispanic can't win a countywide seat, which is why Levine isn't running, by the way.
Maybe Florida Dems have forgotten that Penelas cost Al Gore the presidency. Penelas was persona non grata among Dems first when he said that local authorities would not help the feds seize Elian Gonzalez and later after he took a vacation to Spain during the final months of the 2000 presidential election, when Gore — who lost Florida by some 537 votes — needed him most.
The former VP even called Penelas "the single most treacherous and dishonest person I dealt with" in the 2000 election. It is probably one of the reasons he lost the 2004 Senate primary so badly, with only 10% of the vote.
Penelas told Ladra that he had no designs on public office. Not now, anyway. He wants to be there for his young daughter, who is 6, like he wasn't for his two boys, who are 23 and 20. "I missed a lot of years with them and I've been blessed with another child," he said.
But like everyone else always says, he won't rule it out. "You can never say never, but I don't think it's likely. I don't want to say no definitively," Penelas told Ladra, adding that he still loves public policy stuff, like transit and housing, but hates how disgusting politics have gotten.
"Es un asco," he said.
But not so much that he won't go out on a limb for Levine, who he said has been a friend for 25 years, since Penelas was a county commissioner for District 13.
"I think he's an honest and decent guy, a hard worker," said Penelas, who consults part time and owns property on Miami Beach. "I like Philip a lot. He is a straight shooter."
Told about some of the holes in the email he said was written by the campaign and edited by him, Penelas said it "doesn't take away my enthusiasm and my friendship with him."
And, also, at least Phil's doing something.
"The mere fact that he's willing to recognize sea level rise as a problem is better than other politicians who don't believe it exists," Penelas said.
But now he's talking about Republicans.