The Gimenez clan is apparently divided when it comes to the Senate race in District 40.
Miami-Dade Mayor Carlos Gimenez — who some believe owes his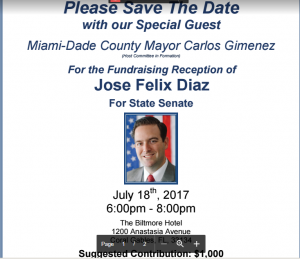 current job to former Senator Alex Diaz de la Portilla — is not backing his old ally and, instead of just staying politely out of it, is the special guest at a fundraiser next week for former State Rep. Jose Felix Diaz, DLP's main opponent in the primary.
Meanwhile, his daughter-in-law, attorney Tania Cruz, is helping the Dean. Must make for some awkward family dinners in Coral Gables.
It was only six years ago that the Dean helped Carlos Gimenez come from way, waaaaay behind — single digits behind — and beat former Hialeah Mayor Julio Robaina for the county mayoral seat on the heels of the historic recall of Carlos Alvarez.  A year later, when ADLP ran for state House, the mayor's lobbyist son, C. J. Gimenez, and his wife Tania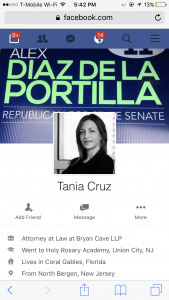 became fixtures at the Little Havana home — pretending to help with the campaign but really there to drink his booze. And Alex lost to Jose Javier Rodriguez.
Ladra was there a lot, too, but she didn't know that the candidate and Cruz — who was a staunch Democrat back then — had gone to Boston on a business trip (her words, not mine) barely two weeks before election day and got arrested together. It may explain a lot, however.
According to a story in the Miami Herald, they were both arrested one late night in October after they continued to chain smoke (probably Malboro Lights) in a hotel room even after they were repeatedly warned to stop. When they wouldn't, they were asked to leave. When they refused, the hotel called the cops and they were arrested. They were reportedly drunk and belligerent, which is not entirely unbelievable if you know either of them. Charges were dropped and both DLP and Cruz told the Herald that the incident had been overblown and that they paid to clean the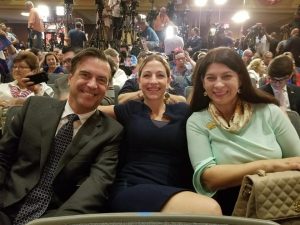 room — because throwing money at the situation makes the rude behavior suddenly acceptable, right?
In the Herald story, Cruz — who told the Herald she was part of Team ADLP and sat next to him at the Donald Trump Cuba rewind in Miami last month — said she and DLP, a political and government affairs consultant, were in Boston to "court a client" and she blamed Pepi Diaz for getting the misdemeanor arrest information into the hands of a Herald reporter. Diaz, naturally, denied it. But the reporter got it from somewhere.
Still, might she be the one to blame for getting Diaz her father-in-law's support?