Immigrant rights groups are not only angry that there is new legislation in Tallahassee that would make it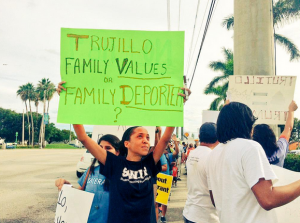 a felony for illegal immigrants to stay in Florida after they get deportation orders. They are also upset that the bill's champion is a Cuban-American from Miami.
And they are comparing Rep. Carlos Trujillo (R-Doral) to GOP presidential nominee Donald Trump, who drew fire after saying that Mexican immigrants were thieves and rapists.
Trujillo has introduced House Bill 9, which would make it a first degree felony for a person who knows they have an order of deportation to continue living in the state of Florida. Violations are punishable by up to 30 years in prison and $10,000 in fines.
Palm Coast Senator Travis Hutson filed the companion bill in the Senate (SB 118). But, you know, we might expect that from someone whose name is Travis Hutson, who, by the way, is also sponsoring another bill that would enhance existing penalties for crimes committed by undocumented or illegal immigrants.
We don't expect that from someone named Carlos Trujillo.
"Why is Representative Trujillo putting on the same shoes as Donald Trump?"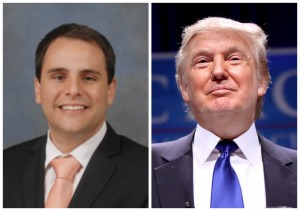 asked Rudy Perez, President of the Homestead-based immigrant rights group WeCount, which took a busload of activists to Trujillo's Doral office Sunday to join dozens of protesters.
"He is from an immigrant family like many of us, but he is proposing laws that would criminalize immigrants," Perez said.
If the bill passes, even Cubans who get orders of deportation but do not return to Cuba would be guilty of a felony, said activist Natalia Jaramillo. who has a blog about immigration rights.
Trujillo told Political Cortadito that the activists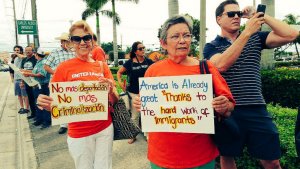 read the bill wrong and that it would only apply to immigrants who re-enter the country after being deported. It's already a federal offense, this just codifies it into state law.
"It targets people who have been legally deported, people who have been through years and years of court hearings, people who have been afforded every opportunity of due process and decide, after they are legally deported, that 'I could care less. I'm showing up again,'" Trujillo said.
"Some of these people are very, very dangerous people," T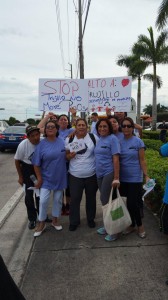 rujillo said, citing the same stories Trump embraces about the murder of an Arizona family and the now famous murder of Kate Steinle in San Francisco by a man who had previously been deported five times. "They are not isolated incidents. There are hundreds of stories. A lot of them are gang members and or drug dealers.
"You can't deny the fact that some of them are here to run drugs and commit crimes," he said, sounding very much like Trump, indeed. "Federal immigration reform isn't working."
Trujillo told Ladra the bill is an effort to preempt any move — and he says one may be forthcoming — to make Miami a sanctuary city or Miami-Dade a sanctuary county that does not cooperate with federal authorities on immigration matters. While there is no official law declaring Miami a "safe haven" for illegal immigrants — not like San Francisco — it has long been considered a sanctuary city and county because local authorities tend to sympathize with their plight.
The representative also said that none of immigration activists had reached out to him to discuss the merits of the proposed law or their concerns.
"They don't understand what the bill is about," he said.
"So disrespectful," Jaramillo said. "The reasons for someone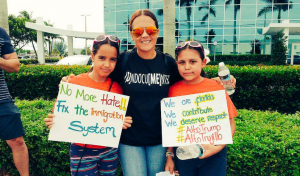 to stay after having an order of deportation and the reasons for someone to return after being deported are exactly the same — to be with your children and your family."
Julio Calderon was a minor when he and his family received a final order of deportation.  "We didn't have a lawyer.  My dad sent a letter to the judge asking for a new court date, but they didn't accept it," said Calderon, a native of Honduras who is now an FIU student. Calderon, who was protesting with the Florida Immigrant Coalition (FLIC), has a final order of deportation.

"As someone who is trying to make a difference, should I go to prison for 30 years because my family was afraid to go to court?  A lot of the unaccompanied minors are also afraid to go to court and are getting orders of removal," Calderon added.  "Is Representative Trujillo willing to send them to prison for 30 years?"
Other groups joining the protest from 3 to almost 6 p.m. Sunday include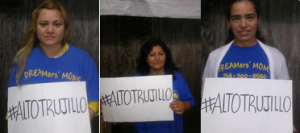 DREAMers Moms, Homestead Equal Rights for All, Latina Institute for Reproductive Justice, Miami Worker Center, Students Working for Equal Rights, United Families, and Women Working Together USA.
They say the bill will hurt hard-working decent families more than criminals who intend to come back no matter what and will take their chances despite the threat of additional jail time and fines. They don't plan on being caught. And jail in the U.S. is better than what they have at home for some of them.
The protesters knew that there would be nobody in the office on a Sunday. "But the objective was for the community that lives in that area to see that Trujillo is not doing something good for our community," Jaramillo said.
There's also an ongoing twitter campaign where people hashtag #AltoTrujillo or #StopTrujillo with photos holding placards that protest the bill.