Miami Beach Mayor Philip Levine is now officially a trained diplomat.
Thanks to Bill Cooke of Random Pixels for pointing out that Levine posted a picture on Facebook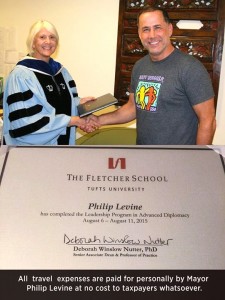 of his diploma from the Fletcher School at Tufts University stating that he had completed the Leadership Program in Advanced Diplomacy — which is apparently a six-day course. He boasts of taking classes in international economics, relations and security and made sure to note that he paid for the trip to Boston himself and that no taxpayer funds were used.
Let's forget for now that it's another false feather in his overly promoted hat for re-election to county mayor. Because you know what? He sure needs some lessons in diplomacy.
Ladra, for one, can't wait to see him interact with Commissioners Deede Weithorn or Ed Tobin or the next person that challenges him at the dais.
Read related story: Ethics commission looks into Miami Beach shakedown PAC
But this also may hint at what Levine — widely suspected of having larger political ambitions — really wants in his future.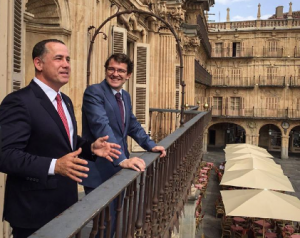 Paired with the days he spent on immersion Spanish classes at the University of Salamanca in Spain, of all places — like you need to leave Miami to learn Spanish! — this newest addition to his resume tells us that he may not be running for office after all , not at the county or at the state level.
Levine may want to be the next U.S. Ambassador to Cuba.
The Washington Post has reported that President Barack Obama, who began to normalize relations with the murderous Castro regime, is in no hurry to name the next ambassador. The embassy in Havana opened on July 20 in the space occupied for 54 years by the U. S. Interest Section, but it is headed by career diplomat Jeffrey DeLaurentis, whose title is "senior most official."
Read related story: Philip Levine brings Bill Clinton as Beach bout money maker
It is entirely possible this appointment is made by Sen. Hillary Clinton, if she wins the presidency in 2016. And Levine is so close to the Clintons, he actually got her hubby, former President Bill Clinton to headline a fundraiser for his mayor campaign in 2013.
So getting an ambassadorship should be no big deal.
But I heard him speaking Spanish on Cuban radio last week and — maybe he was hobnobbing too much in Salamanca — he really needs more practice.