Was the recent visit by Attorney General Pam Bondi to Hialeah this week for some bogus national mortgage fraud settlement anything more than a photo op for Mayor Carlos "Castro" Hernandez,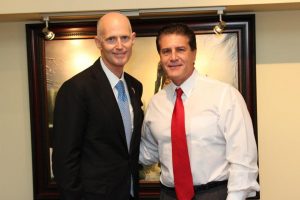 who is facing re-election this year and, while has not yet been challenged, is ripe for a fight?
Expect photos of Castro with Bondi to show up in a mailbox near you if you live in Hialeah. Ditto for the photos taken of Florida Gov. Rick Scott's recent visit to the City of Retrogress.
Scott's visit got mixed reviews on the mayor's facebook page.
Hipolito Leon was glad to see them together. "Two leaders I know and whose work has always included being concerned for seniors. That is important," Leon posted.
Not everyone was so sure that the alliance is a good thing, though. And Alcaldito Castro might do wise by weighing Scott's immense lack of popularity – even in a Republican stronghold like Hialeah.
"Carlos, nice pic and congrats but this guy is the worst Governor in my 43 years in Miami," wrote Marcelo Gonzalez.  "God help us in Florida!!!!"
And being a former police officer, he should realize that cops and other public servants are very worried about the gov's position.
"Hope it's not true, but we are hearing that the Gov wants to raise our FRS contributions to 9% from 3%," wrote Robert Barroso. "He has shown that he is not supportive of Law Enforcement personnel statewide."
Diwaldo Morales went a step further in his criticism: "Don't poise with him again, Carlos. He is someone that doesn't belong in the Governor's House. I find him, personally, detestable. You do no favors to yourself in this picture!"
Ever the sly fox, Hernandez played the fence on facebook: "We have to work with everyone for the better of our great city. Thanks for the support as always," he wrote.
Way to stay noncommittal.
Hilda Diaz is unconvinced, however: "You probably had no choice to pose with this evil man and what others said "the worst governor ever" when he came to kiss butt for votes, but you don't have to put his pic on your FB page!"
Yes, Hilda, he does. That was the point.