Miami-Dade Commissioner Jose "Pepe" Diaz will launch his re-election campaign in Doral Thursday with the mayors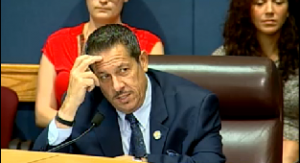 of five cities in his district who are supporting his bid.
Doral Mayor Juan Carlos "JC" Bermudez, Hialeah Mayor Carlos Hernandez, Hialeah Gardens Mayor Yioset De La Cruz, Virginia Gardens Mayor Spencer Deno and Medley Mayor Roberto Martell will host the kick-off and fundraiser for Diaz, which starts at 5:30 p.m. at The Flats Apartments at CityPlace, 3555 NW 83rd Ave., on the 6th floor.
But wait. There are six cities in District 12.
Conspicuously missing from the list is Orlando Lopez, the mayor of Sweetwater, which is where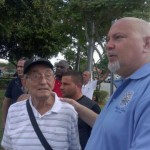 Diaz cut his political teeth as a city commissioner and was then mayor in 1999 before his first run for county office in 2002. There's some bad blood there. It's why Diaz tried to get Lopez recalled earlier this year. No invite for him.
Read related story: Sweetwater race results are a loss for Miami-Dade's Pepe Diaz
Sweetwater has always been a city divided by factions. Diaz, who is aligned with the anti Lopez faction, has said he only supported the recall, which was allegedly a citizen-led effort. But Lopez sued successfully to stop it — the recall was based on his multiple absences from meetings, which is not a requirement of the mayor's job per city charter — and a consultant working for the political action committee, Providing Effective Government All Residents, admitted in testimony that the first person to contact him about it was the commissioner. It was reported in Diario Las Americas. But other sources have confirmed that Diaz was behind the petition drive.
Diaz also supported candidates against Lopez and the Lopez faction in May's election, even though he learned that he doesn't have as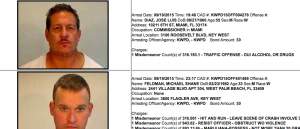 much influence as he'd like in his old stomping grounds, where even his brother-in-law, former Commission Chairman Jose Bergouignan, was kicked out of office.
So, there's bad blood there. In fact, Ladra would be surprised if Lopez doesn't find someone to run against Diaz, who is more vulnerable than ever because of his DUI arrest in Key West last year? Imagine that mugshot on campaign mail!
Read related story: Commissioner Jose 'Pepe' Diaz arrested on DUI in Key West
"Pepe is the one who sponsored the recall effort against me. If there is any candidate that runs against him, I would glaly support and help them," Lopez told Ladra Wednesday. "I'm hoping somebody comes out of the woodwork."
But who? The only viable name that people have brought up in recent years is Bermudez — and obviously he is not running for the county seat at least until Diaz terms out. Not if he's  hosting Thursday. And nobody else has raised their hand. It's too bad that Doral Councilwoman Ana Maria Rodriguez is running for state rep (more on that later) because she would be a titan against the incumbent.
Diaz has never really been challenged. He coasted into office in 2002 with 85% of the vote against M. Lina Pumariega, whoever that is. Then he was re-elected automatically when nobody filed to run against him in 2006. In 2010, Heather Pernas got 24% with $600 to his $325,550. She obviously did not campaign at all — and still got one out of every four votes.
And then the Pet's Trust people put someone up against Diaz in 2014 because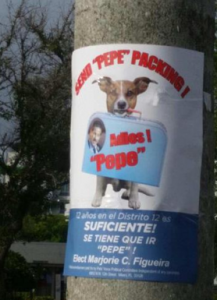 they felt betrayed. He said he would respect the vote of the people, who approved a massive spay and neuter program for strays by 65% of the vote, and then did nothing when Miami-Dade Mayor Carlos Gimenez ignored the mandate. Marjorie Figueira got 27% of the vote without really any kind of absentee ballot operation or publicity and only $2,093 to his $363,595.
There's a pattern here.
So we know already that just anybody will automatically get 25% of the vote as a protest against Diaz. Not a bad start. Imagine if the candidate has a little more money. Add to that the Pets Trust supporters and the DUI thing and the fact that the incumbent has been there 16 years and Sweetwater voters se estan cansando de el and you've got the best chance to make a change next year on the county commission right there in District 12.
Even with five city mayors behind him.