There was the typical crowd at Gwen Cherry Park where First Lady Michelle Obama visited this afternoon to promote her healthy eating initiatives for children.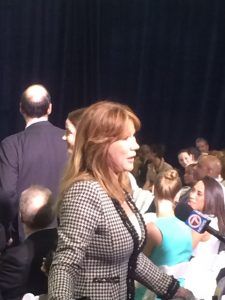 But one atypical attendee stood out: The recently blue former red State Rep. Ana Rivas Logan, who very ceremoniously changed parties two weeks ago.
Old time blue-hards like Miami-Dade Democratic Party Chairwoman Annette Taddeo were there as well as practically every member of the Miami-Dade Legislative Delegation's Black Caucus: Reps. Kionne McGhee, Barbara Watson, Cynthia Stafford, and Daphne Campbell and Sens. Dwight Bullard and Oscar Braynon III.
Neither Rep. David Richardson (D-Miami Beach) nor Jose Javier "J-Rod" Rodriguez were spotted by my spies.
Congress members Joe Garcia and Debbie Wasserman-Schultz were conspicuously absent. But that's why they met Mrs. Obama at the airport before they left to D.C., because Congress is in session. But Congresswoman Federica Wilson stuck around to attend the event.
Also present: Miami-Dade Mayor Carlos Gimenez and Miami-Dade School Superintendent Alberto Carvalho, who is widely rumored to be eyeing Gimenez's job. My spies also spotted Commissioner Jean Monestime.
And some non-electeds from the community, like Miami Dade College President Eduardo Padron and former Miami Heat star Alonzo Mourning.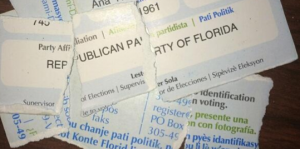 But Rivas Logan raised the most eyebrows, because she was a Republican yesterday. Well, okay, not literally yesterday, but less than a month ago. This is her ripped up old voter's registration card, right.
Rivas Logan, who was beat by State Rep. Jose Felix "One More Pepe" Diaz in 2012 in a very nasty race after the two were drawn into the same district, very publicly became a Democrat earlier this month in what seemed like a PR-choreographed move.
Now she's front and center cheering the First Lady on.
"Talking to press before @FLOTUS arrives in Miami – so excited to welcome her as a new Democrat," Rivas Logan posted on her twitter feed.
So is Ralph Rosado, the self-described conservative Republican who ran for state rep and wants to be Miami Commissioner now.
Betcha this comes back to bite him in the, um, ballot.
Also spotted: Jenna Bush, daughter of former President George W. Bush.
Politics make for a strange audience.