With the Coral Gables election less than a month away on April 9, we are certain about getting two new faces on the city commission.
Two new commissioners will be elected next month to replace the termed-out Commissioners Maria Anderson and Ralph Cabrera, the latter of which is running for mayor (more on that later).
There are eight candidates running for the two seats. Five in Group 3 to replace Anderson and three in Group 2, where Cabrera sits now.
The latter race has prompted the most interest, featuring a bout between Ross Hancock, who narrowly lost a state race against Rep. Erik Fresen, and Vince Lago, who has collected the most contributions of anyone, including the mayoral candidates, at $124,500 as of the last report filed in February.  Because I predict that Marlin Ebbert, a longtime community volunteer who serves on a number of arts, education and civic organizations, will be in third place.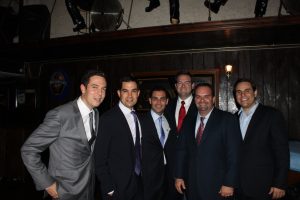 Most observers give that race to Lago, who has served on the city's planning and zoning board, and has checks (which one ccould interpret as support) from former Mayor Don Slesnick, lobbyist Rodney Barreto, architect Willy Bermello and School Board Member and political consultant Carlos Curbelo. And that's just from the last report, which shows Lago collected $18,000 in the last two months.
Lago also got a fundraiser in Tallahasee and is pictured here standing next to Miami Commissioner Francis Suarez as well as State Reps. Eddy Gonzalez, Jose Felix "One More Pepe" Diaz and Carlos Trujillo. He seems to be more connected to the established Miami-Dade political community.
Hancock, who is riding on his name recognition from a few months ago, has only raised $1,550 — much less than even Ebbert, who reported a total of $22,845, including more than $5,000 in the last two months. But Ross has the support, in this non partisan race, of local Democrats, who apparently have invested too much in him to just give up now. The Democrats of South Dade Club had a phone bank for him Monday night.
In the other seat, the five-way race can also be looked at as a two-man — or, rather, a two-woman — contest. Ladra predicts that it will be between Pat Keon, a one-time candidate who has long served on the city's planning and zoning board as well as other committees, and Mary Young, a UM administrator and former chair of the Coral Gables Community Foundation. But this is really Keon's big chance. Maybe her last chance, too.
P.J. Mitchell has a real campaign going and could be a real contest for whoever comes in No. 2 in that group. But kooky gadfly Jackson Rip Holmes, who lost a commission race in 2011, doesn't stand a chance. Even he knows that. That's why the downtown Gables property owner hasn't dipped into any of his trust fund money for this campaign and has just $550 in the bank. And who is Tony Newell? Exactly.
Whoever wins, it will bring two new faces to the commission, which changed two years ago for the first time in a decade. Freshman Commissioner Frank Quesada, who replaced the retiring Wayne "Chip" Withers, will not be the new boy on the block much longer.
Commission candidates debate at 6 p.m. Tuesday at the Bank United fieldhouse on the University of Miami campus. The mayoral candidates will debate at 7 p.m. Thursday (tomorrow) at the Coral Gables Congregational Church.