There were completely polar opposite reactions to the performance of two commission candidates after the first Coral Gables candidate forum last week.
Former commissioner Ralph Cabrera, who spoke with authority and experience, got the endorsement of the Coral Gables Police union. Former interim city m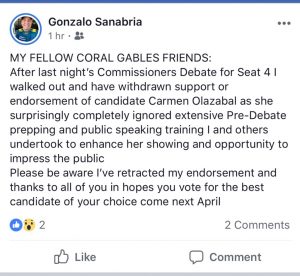 anager Carmen Olazabal lost a key supporter.
"I walked out and have withdrawn support or endorsement of candidate Carmen Olazabal as she surprisingly completely ignored extensive pre-debate prepping and public speaking training I and others undertook to enhance her showing and opportunity to impress the public," wrote Gonzalo Sanabria on his Facebook page Friday, the morning after the Coral Gables Chamber forum.
"Please be aware I've retracted my endorsement and thanks to all of you in hopes you vote for the best candidate of your choice come next April."
Read related: Commission candidate Carmen Olazabal can't rewrite ugly past
While Ladra is glad Sanabria, a failed candidate himself, has seen the light, we can't help but wonder what in the world made him think he was capable of prepping anyone?
And, also, if Olazabal needed "enhancement" then why support her in the first place? Would the enhancement continue into office?
It was a 180-degree difference when it came to the Fraternal Order of Police endorsement that Cabrera got Tuesday, which showed true confidence in a candidate.
"We appreciate your past service to the city of Coral Gables along with your current vision to keep the citizens safe and to address our ever-increasing traffic flow problems," wrote President Javier Bruzos.
"The respect and caring with which you treat our residents, employees and the law enforcement community is an example for us all to follow," Bruzos wrote. "The members of the Fraternal Order of Police are excited to have someone with your experience and understanding of what makes Coral Gables one of the best cities in the United States as our commissioner."
Read related: Coral Gables candidate Jorge Fors had illegal Homestead exemption
There's another candidate in the race, but Jorge Fors has been sliding back into the oblivion from which he came after it was disclosed on this very blog that he cheated the county through Homestead exemption fraud for at least eight years. He did pay a penalty in January for seven of those years, because he was running for office probably.
The next candidate forum in Coral Gables is on Thursday at the Coco Plum Woman's Club, 1375 Sunset Drive. Doors open at 6 p.m.