Hey! Alex Diaz de la Portilla! You just lost two elections, one for Senate and one for county commission, and the Little Havana house you were born in was foreclosed on last week by the bank, which is putting it up for sale because you owe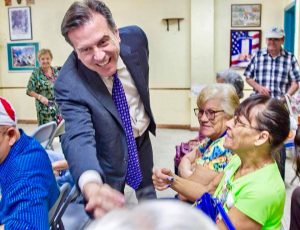 them $638,000. What are you going to do next?
Why, run for city commission, of course!
Four days after Wells Fargo and Merrill Lynch Mortgage foreclosed Thursday on his house at 1519 SW 19th Street, Diaz de la Portilla — a political consultant who helped Miami Commissioner Crazy Joe Carollo get elected in 2017 — filed paperwork on Monday to run for the seat that will be vacated by Willy Gort this November.
Read related: After loss in Senate, Miami-Dade races, Alex DLP may try Miami
The final judgement on foreclosure is against both him and his ex-wife Claudia Davant, who is also on the hook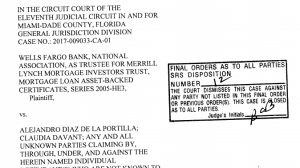 for the mortgage they apparently got when they were married. Miami-Dade Circuit Court Judge Beatrice Butchko gave them until May 13 to pay the debt or the house will be sold at auction to the highest bidder for cash toward that debt.
Which means Claudia could still be on the hook for the balance.
Ladra can't help but wonder if ADLP's poor and mistreated parents and his often neglected dogs Elvis and Priscilla are going to go live in Coral Gables with his big brother, former Sen. Miguel Diaz de la Portilla, whose campaign for re-election Alex lost in 2016. They'd b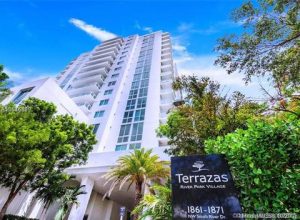 e much less comfortable in Alex DLP's new home (on paper), a 967-square-foot, 2-bedroom, 2-bath unit on the 18th floor of the Terrazas Riverpark Village Condo, 1861 NW S River Dr. Especially since his brother Renier Diaz de la Portilla, a former School Board member and state rep, is also registered to vote at the riverfront flat; although it's hard to believe these two could live together.
ADLP's voter's registration changed on Sept. 15, which gives him the necessary year he needs before qualifying, which ends this Sept. 21. Ladra reported it in October, predicting that he would run for this very seat.
But he sure is a hypocrite. Because after Carollo's victory, Diaz de la Portilla went on a crazy rant on the Nextdoor social site, calling Alfie Leon an "interloper" because he had only lived in Little Havana for a year before he almost beat Carollo for Miami City Commission. I guess it's okay for him to be an interloper himself.
Read related: ADLP hit by attacks in all negative Senate 40 GOP primary campaign
This will be ADLP's fourth attempt to return to public office, not his third, as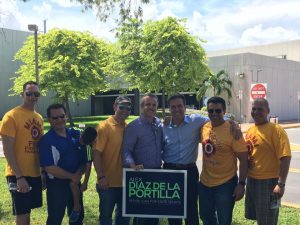 most media outlets are reporting. They mention the run for commission last year, where he came in third, and the run for Senate in Westchester/East Kendall, where he lost the primary to State Rep. Jose Felix Diaz (who then lost to Democrat Annette Taddeo) despite the help from Miami-Dade Mayor Carlos Gimenez and family (that's CJ Gimenez to his right during early voting in the pic). That race was brutal with negative attacks against him, including one that disclosed his relationship with CJ's wife, Tania Cruz, and how they cozied up in a Boston hotel room, chain smoking in a non-smoking room late one night and getting belligerent with police after they were called to throw them out.
But the mainstream media forgot his first loss, the run for state rep 112 in his real neighborhood in 2012, which he lost against an up and coming politician named Jose Javier Rodriguez, who is now a state senator. That was gut wrenching and he has struggled to recover from it since.
The Dean, as Ladra likes to call him because he loves to teach — perhaps he should do that and stop running for office — joins four other candidates who have already opened campaign accounts for the District 1 race: Horacio S. Aguirre, chairman of the Miami River Commission; Michael Hepburn, a former University of Miami academic adviser who ran in the Democratic primary for Florida's 27th Congressional District; Miguel Angel Gabela, a businessman who has twice lost to Gort in past elections but came close once; and attorney Yanny Hidalgo.
Gabela, who is the clear front runner of the bunch and will likely end up in a runoff if ADLP pulls off anything at all, thinks he has Carollo's support. He told Ladra Thursday that the commissioner told him so as recently as two weeks ago. "I consider him to be a friend," Gabela said, adding that ADLP "is lying to people con el lio de Carollo."
Read related: Willy Gort challenger Mike Gabela runs on one issue: Crime
But remember, this is a man who is known for stabbing folks in the back. Carollo did it with Maurice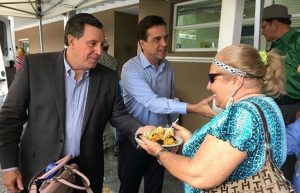 Ferre, at a press conference where he was supposed to endorse him for mayor  and instead turned against him, and he did it again last year, telling former Commissioner Bruno Barreiro that he would support his wife in the county race and then helping ADLP.
Besides, there is still Paella Gate. The Miami-Dade State Attorney's Office has not finished their investigation of Carollo using public money and his taxpayer paid staff to hold Paella parties for ADLP at senior public housing locations during that special election. Carollo can't turn on ADLP yet, while he could still provide state's evidence.
Either way, Gabela — who has been campaigning since June and has already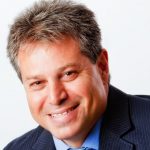 run in the same district twice — is confident that his neighbors will realize that Diaz de la Portilla is a narcissistic "career politician" carpetbagger.
"He's running because he doesn't have a job," said Gabela, who has lived in the district for 30 years. "If there's a dog catcher election, he'll run for it because he doesn't care about the people."
True: Less than a year ago, ADLP was knocking on doors in Westchester and telling voters there that he would represent them in Tallahassee. He abandoned them for the voters of county commission District 5.
"Y a estas alturas he's interested in this district? You really have to be an ignoramus to believe it," Gabela said.
Yeah. But, unfortunately, a lot of ignoramuses apparently vote.