UPDATED: The city has put a time certain of 11 a.m. on this discussion — not 5 p.m., as requested so more people could attend. Think that's not by design?  
Coral Gables administrators are falling all over themselves now to ensure their residents that the new proposed public safety building the city has been discussing for several years will meet the needs of both the police and fire department — despite concerns from both unions that they were not consulted in the planning and that the design will cause both space and operational problems.
The city manager will bring commissioners up to speed at Tuesday's meeting, but a number of concerned residents say that they will also attend to see if concerns raised weeks ago by the police and fire unions, who say they were left out of the planning process and that could result in problems longterm.
Last May, city commissioners approved a land swap with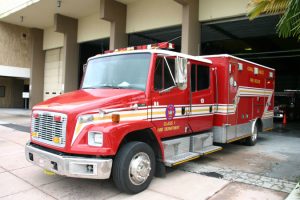 Codina Development, giving them the 2801 Salzedo Street site where the leaking, dilapidated police and fire headquarters building sits now in exchange for property on Minorca adjacent to the city-owned parking Lot 6 just a couple blocks north. The new $34-million facility will also include a parking garage for at least 160 vehicles — and that's one of the concerns some people have: Why is a public parking garage as part of a police and fire facility a smart idea in a post 911 world?
One other issue is size. While the city says that the building is bigger — 116,000 square feet compared to 88,000 currently — the way the space is appropriated could result in smaller spaces for everyone. There's a large space, perhaps a whole floor, devoted to a training center, for example. Like the city is going to go into the law enforcement training business? The biggest impact is to the fire department, which can have up to 15 firefighter paramedics sleeping at the station at one time and will have about a third of the space. There's talk that all the trucks won't fit in the bays. Even so, the exit and entry will cause traffic problems on Minorca, said Gables Professional Firefighters Association President Mike Chickillo, a driver engineer.
There will be delays in response times, he says.
Read related story: Coral Gables residents get mail questioning their safety
Chickillo also said that while the design firm has done dozens of other public safety buildings before, he only found one fire station. And he feels like his department is an afterthought. "It's like they are building a public safety building and putting a fire station in it," he told Ladra Friday. One example is the lack of any outdoor bays, which could cause health problems for the employees unless there is a state-of-the-art exhaust system.
At a time when the city is considering annexations of Little Gables and High Pines, Chickillo and Coral Gables Fraternal Order of Police Lodge 7 President John Baublitz wondered if the new building has been planned for growth.
Both union presidents said Friday that, while there were still several concerns, the administation had reached out and met with them since a Miami Herald story by Linda Robertson exposed the lack of communication. "They're assuring us there's enough room for everybody," Baublitz told Ladra, sounding way less than convinced.
Said Chickillo: "They are being more inclusive, but it would have been better if they had included us from Day One."
Gables spokeswoman Maria Higgins-Fallon told Ladra Friday that the issues had been resolved. "Some of it was misinformation," she said, adding that there have been multiple public meetings about the building. "City leaders have met with a number of people from the community and both the police and fire department," Higgins-Fallon said. "Some of the issues were clarified."
She also said that the city had published information on its website to keep folks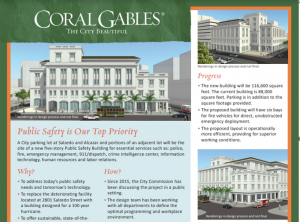 up to date and had even paid for a full page ad in Sunday's neighbors section (photographed here) to assure residents that "public safety is our top priority" and that the building would be perfect for the city's needs.
That's because, by now, residents are involved. The Riviera Neighbors and Ponce Homeowners associations have encouraged members to go to the meeting Tuesday. North Gables resident activist Maria Cruz — the resident that a police major spied on during a commission meeting — started a petition on change.org asking Mayor Raul Valdes-Fauli and the commissioners to ask the administration some questions at Tuesday's meeting and to make it time certain at 5 p.m. so more residents can attend.
At least 500 people had signed the pettion as of early Monday morning (today).
"We believe it is essential for those who will be using the building to be part of the process. Their success and well being ultimately will translate in saving lives," the petition states before asking a series of questions that reveal issues go far deeper than the building and could be tied to the resentment people have that Assistant City Manager and wannabe police chief Frank Fernandez is, as director of public safety, overseeing the police and fire chiefs.
"Why was everything kept so secret that even those severely impacted were kept from seeing the plans?"
Read related story: Coral Gables cover-up on police 'spy' protects managers
Fernandez, at a Crime Watch committee meeting earlier this month, said the petition was "propaganda" akin to "Fidel Castro's Cuba." Ladra was not there but spoke to three people who were and who told the story the same way: He had allowed Baublitz to answer questions — you know, to make it seem like all is harmonious in their world. But when someone asked about the petition, Fernandez — who we all know is the one that, ironically, put the spy on Cruz — interrupted and said he would be the one to answer that question, calling it propaganda.
Cruz, who is Cuban, is offended. "I take great issue with that because propaganda is what they are doing," she said.
"People are just asking questions," said one of the residents who is concerned and was at the meeting. "That comment was completely out of place."
Chickillo, who was not at the Crime Watch meeting, said he also heard about the comment. "If anyone is doing Cuba-style propaganda, it's them."
And it does seem that the city is going out of its way to sell the proposed building as is. They even took out that full page Neighbors ad Sunday.
The one that curiously leaves out the fact that the building will be discussed at Tuesday's meeting at City Hall.