Ladra has mixed feelings about the results of the Miami commission runoff.
On the one hand, there is dread for the people of Miami who now have Commissioner Crazy Joe Carollo to deal with. But on the other hand, Political Cortadito has four more years of fun ahead, as well as perhaps more national appeal even. The political blogger is thrilled. The government watchdog and justice seeker is somewhat disappointed, to say the least.
Why? Some people believe that Carollo is the uncorruptable whistleblower type that Miami needs. But Ladra has seen him evolve in the last few years, supporting people like Doral Mayor Luigi Boria and Miami-Dade Mayor Carlos Gimenez and all the inside deals both of those politicos entail. You can bet that this gives the Gimenez friends and family — who helped Carollo in this campaign and were front and center at the victory party — a new express lane in their governmental welfare pursuits.
Read related story: Joe Carollo implies alliance with brother, Bruno Barreireo, in mailer
Don't be surprised if you see one of the county mayor's children get a job in the city. My money is on Barby Rodriguez-G, the daughter-in-law with the water and sewer job, the one who isn't hooking up with a former senator in Boston hotel rooms (that we know of anyway).
Carollo won pretty easily. He had 56% of the vote with just the absentee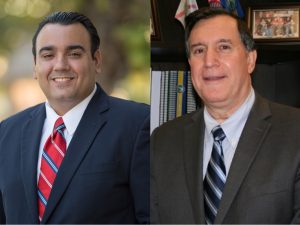 ballots counted shortly after 7 p.m. Tuesday. Because of low turnout, it was a 280-vote gap that Alfie Leon, the former policy advisor for Commissioner Frank Carollo, could make up…but didn't. By the time early voting was counted, that gap grew to 336 votes. Election Day couldn't save Alfie.
While he closed the gap with 117 more votes on Election Day than Crazy Joe, it wasn't enough. With 16 of 17 precincts reporting at 8 p.m., Carollo still won with 52% to his 48%.  The last precinct would have to be the biggest and in Leon's own neighborhood for him to come back from this. And it's certainly not a mandate for Carollo. But still comfy enough that he'll be insoportable from the get-go.
Who am I kidding? Ya esta insoportable.
On his way to become the protagonist and maybe run for mayor against Mayor Francis Suarez in 2021 — because you know that's the end game, right? — we can rely on Carollo to make news on the regular. We probably don't even have to wait for commission meetings. The Miami Herald should give David Smiley a raise and an intern.