Last week, Dan Gelber became the mayor of Miami Beach. This week, he is using his new political platform to back former Miami Beach Commissioner Deede Weithorn's bid for state rep in District 113.
This is Gelber's first endorsement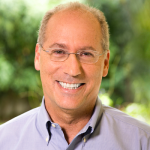 since his victory Nov. 7, but with 82% of the vote, it probably won't be his last. Ladra is certain that he's already gotten calls from congressional candidates in District 27, which include Miami Beach Commissioner Kristen Rosen Gonzalez and State Rep. David Richardson, whose seat Weithorn is running for.
Gelber will also co-host a campaign kick-off event for Weithorn Wednesday at Meat Market on Lincoln Road.
Read related story: Miami Beach elections end as expected with Gelber, Gongora, Samuelian
"I have known Deede for years and she is uniquely qualified to represent our community in the State House," said Gelber, who served in the legislature for a decade including as Democratic Leader of the House before he became a state senator.
"She has proven herself a wonderful steward of public dollars, which is something we need desperately in Tallahassee," Gelber said. "And most importantly she is unafraid to stand up against the wrongheaded ideas that are often born in Tallahassee."
The election is next November.
Read related story: Will La Gwen's retreat cause more musical chairs?
Weithorn — who has been running for 113 since 2015 when Richardson was supposed to run for Gwen Margolis' senate seat but then didn't because she didn't retire — was equally effusive.
"Dan has a distinguished record of public service and I'm proud to call him my mayor," she said. "It means a lot to me that he was willing to come out in support of my candidacy so soon after winning his own race."
It certainly gives her kick-off some ooomph.
And Ladra is certain that Comeback Commissioner Michael Gongora will also endorse her — but he only won with 65% of the vote.