It could be the underdog story of the decade.
Better 'an Ken Russell's win over Teresa "The Missus" Sarnoff. Better 'an Kristen Rosen Gonzalez beating Philip Levine's puppet. Even better 'an State Rep. Robert "Who?" Asencio slaying King David "Nine Lives" Rivera last year.
If Alfie Leon, a young, regular everyman beginning his political career, can beat former Miami Mayor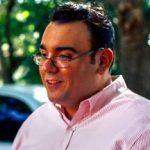 and all-around two-faced, paranoid creep Joe Carollo in the Miami election runoff next Tuesday, it would be an extreme upset. Or would it?
Carollo, who was always the favorite, beat the five other contenders with 30% of the vote last week. That is ten points over Leon's No. 2 position, which was 17 votes over Zoraida Barreiro's No. 3 position.
He was expected, however, to do better. Polls consistently had Carollo in the mid 30s to the low 40s. And that may be one of his problems: the low 40s could be his ceiling.
Carollo love is deep. But it ain't wide. His hate, on the other hand, is as big as the sky.
Read related story: In Miami, Manolo Reyes finally wins and Carollo vs. Leon … or Barreiro?
And in these last two weeks to the runoff, the anti Carollo forces have been building.
Miami-Dade Commissioner Xavier Suarez — who lost his seat in 1997 to Carollo after an absentee ballot fraud investigation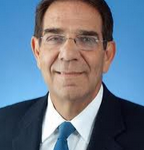 overturned the election (more on that later) — had a fundraiser over the weekend for Leon, calling it the ABC Committee, for Anybody But Carollo. About 50 to 60 people attended, according to one guest who spoke to the Miami Herald. That's 50 or 60 people with checks because they don't want to see Carollo elected again. That's 50 or 60 people who vote or know someone who votes.
"Everybody and their mothers are working against Carollo," one longtime county consultant/lobbyist told Ladra Tuesday.
"We're a little ticked off now that people are coming out of the woodwork to go against him,"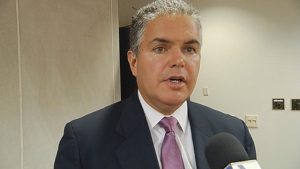 said Miami-Dade Commissioner Bruno Barreiro, husband of candidate Zoraida Barreiro, who came in a close third, missing the runoff by 17 votes. This help from outside sources would have been nice a month ago, he said.
And fear not, those of you who might think that the Barreiros would strike a deal, especially since the commissioner is running for congress next year. "We're not supporting him," Commissioner Barreiro told Ladra. "We will probably stay out of it."
Key word: Probably.
Tommy Regalado, the former mayor's son, who came in an embarassing fourth place, has not said who he would support. But c'mon, nadie espera that he would support Carollo after he put him in a mailer in diapers! The only thing they may have against Alfie Leon, meanwhile, is maybe the Suarez support.
Read related story: Laughable campaign mailer casts Miami's Regalados as commie cronies
Two other candidates have said they will support Carollo. Alex Dominguez and Jose Suarez don't like the fact that Commissioner X is helping Leon, who used to be a policy advisor to former Commissioner Frank Carollo — how awkward is that? — and that Coral Gables Commissioner Vince Lago had a fundraiser for him at the posh Biltmore in tony Coral Gables (where Leon got more checks from more people who can't imagine Crazy Joe in office). They say the outside support points to Leon being more of an insider than he says.
"I would much rather have Joe on the dais than Alfie Leon. I think people will think twice before they try any shady garbage," Dominguez told Ladra in a text message Tuesday. "The truth is Joe at least has a backbone and Alfie would be more of the same. You know what you get with Joe."
Um, not really. Just ask former Miami Mayor Maurice Ferre. In 1983, Ferre called a press conference where he expected Carollo, a commissioner at the time, to endorse his re-election effort. Instead, Carollo used the mic to criticize the then mayor and say he was not supporting him.
The truth is Dominguez and Suarez and maybe the other whatever his-name-is, single-digit candidate are angry at newly-elected Mayor Francis Suarez for saying he was staying on the fence when everyone suspects he was secretly sending support Leon's way. The perfect payback would be to deliver Carollo to Baby X at City Hall. They are the bottom two vote getters, however, who represent only 477 votes between them, and since lots of those are family and friends and neighbors who won't be as motivated to vote in this runoff two days before Thanksgiving, nobody knows how much they can impact the race.
And the truth is Crazy Joe is nothing if not unpredictable.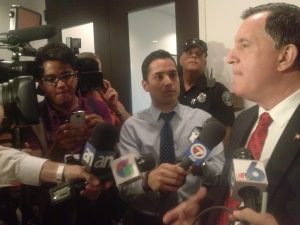 It's not just the knife in Ferre's back. It's not just the thing with the box of tea bags he threw at his wife's head. It's not just the grandstanding press conferences and "investigations" for his personal vendettas. It's the collection of hysterical antics, smear tactics and uncorroborated accusations and so on and so on. He's disruptive. He has a huge ego. His election to the city commission promises four years of protagonistic turmoil that Ladra is certain the new mayor doesn't want to have to deal with. Baby X has said he is staying out of the runofff, too. But how much do you want to bet he has una velita prendida somewhere for Leon? Wouldn't you?
Likewise, some Carollo supporters are really just Suarez haters. They want to see the conflict. Ladra, too, would be entertained. There is really no bad news for a political blogger here. Leon wins and the wrong guy doesn't get elected. Yay! Carollo wins and Political Cortadito has four more years of fodder. Yay!
Read related story: Why is Joe Carollo on Mayor Carlos Gimenez camp's payroll?
Other supporters say that at least you know Carollo "is uncorruptable." The former cop has a watchdog reputation, waging politically convenient wars he never won against maquinitas and absentee ballot fraud. But that's the old Joe. Ladra liked the old Joe.
The new Joe Carollo was paid $6,000 a month last year by Miami-Dade Mayor Carlos Gimenez for what? Nobody knows.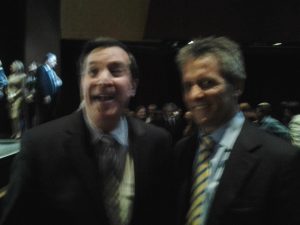 But we know Gimenez's campaign was involved in absentee ballot fraud in 2012. So Carollo only cares about absentee ballot shenanigans when they help his opponents? The new Joe helped former Doral Mayor Luigi Boria get elected and then took a city manager's job at $144,000 a year. Then later, when he was fired, Carollo said the mayor violated campaign laws to get elected and committed other corrupt acts. So he doesn't really care about corruption until he's being canned?
Gimenez, his tarrudo son and family are now scratching Carollo's back. Isn't that a lot more insider than Commissioner X and freaking Vince Lago?
Carollo must know that he is up against more than just little Alfie Leon. Because he's already begun the attacks, calling a press conference on Tuesday to question Leon's residency because he was registered to vote at his father's Kendall house when he said he was living in the city of Miami. This could be an issue — or it may be nothing at all (more on that later), but Carollo already yelled "investigation!" and got the headlines and ink he wanted. He's really good at that.
And while he has raised about half a million for the first round to Leon's $84,000, Carollo says that the underdog is backed by special interests.
Yeah, that may be true. It's called the ABC group and their special interest is keeping Carollo out of office.