There were no surprises in the Miami Beach elections, which ended Tuesday with Mayor Dan Gelber getting 82% of the vote against three nobodies who each got single digits and former Commissioner Michael Gongora coming back to the dais, as largely expected, with 65% over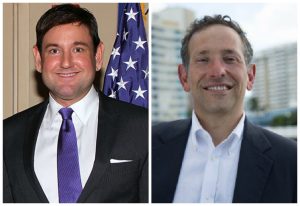 restauranteur Adrian Gonzalez, who got 35%.
In the other race, Mark Samuelian, who lost his first bid two years ago, came in with 68% over Rafael "Wild Willy" Velasquez, who still got 32% despite having whipped out his penis last month in an ill-fated effort to woo Commissioner Kristen Rosen Gonzalez.
It's still gonna be awkward for Rosen Gonzalez because she had openly helped Velasquez, but at least she doesn't have to worry about his willy on the dais.
She also doesn't have to worry about Mayor Philip Levine messing her up anymore. Levine decided not to run for re-election because, as he announced last week, he is running for governor instead. God help us all.
Read related story: Michael Gongora, Mark Samuelian lead Miami Beach Commission money race
Ladra hopes that this means there is a change in the climate at City Hall, where Levine led with fear and intimidation. Gelber may be his own man or he might be, as some suggest, Levine's hand-picked successor (after Ricky Arriola tanked in the polls). But he was a senator once and is the son of the great former mayor Seymore Gelber so Ladra expects a lot from him.
Samuelian, too, has a lot to live up to after being endorsed by nearly every former elected in the city. But he lucked out when former Commissioner Michael Grieco — who eventually resigned as part of a deal with the Miami-Dade State Attorney's Office for his PAC's illegal campaign contribution — dropped out of the race (more on that later).
Can Miami Beach leave all this nastiness in the past and start new with three new electeds on the dais? We still have Arriola and a couple of other Levine puppets doing his bidding up there, but will Gelber make them moot?
The election ended Tuesday as expected but the real political machinations have just begun.