A judge last week dismissed a motion by a Miami City Commission candidate who thought her name should be first on the ballot and wanted the election delayed so that new ballots could be printed.
The frivolous lawsuit isn't the only time that Denise Galvez Turros has been in court. But it's the only time she's been in court with that name.
She was just Denise Victoria Galvez when she was charged in 1994 with credit card theft of more than $300. But she probably wasn't married yet. Another arrest — for driving under the influence and disorderly intoxication — is from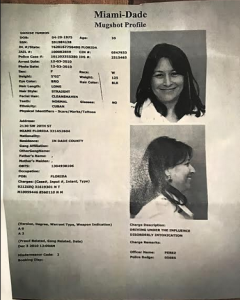 December 2010 and under the name Danise Turros. No Galvez. And I guess she didn't want to correct the officer who spelled her first name wrong (so it would be harder for anyone like me to find).
That's probably why she's smiling in the mugshot.
So, we guess she is only Turros when it's convenient.
She doesn't use it in her business. She doesn't use it when she speaks on TV as cofounder of Latinas for Trump. She only uses it when she's getting arrested. Or trying to get elected. Gotcha.
Galvez is in PR — she owns a boutique firm called GTMPR (which used to be Go To Marketing) — so she should know: If you want to make a stink about your name, make sure that stink doesn't come back on you. If you have something to hide, don't rock the boat. I hope she consults her clients better than this.
Read related story: Denise Galvez (Turros) sues for Miami ballot reprint — with her name first
The candidate made us curious when she sued last month to throw out the ballots and reprint new ones with her name in the coveted top space. Many political observers think this "pole position" gives the candidate an advantage among low information voters who might just check off the first name. Galvez — who didn't know that she needed to hyphenate to get the G counted as her first last name letter — probably thinks that is her only chance against the other two candidates, Manuel "Manolo" Reyes and Ralph Rosado.
Well, maybe her only chance to get double digits.
But Ladra agrees with the principle: Her last name starts with a G. There are going to be more and more compound names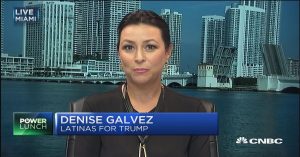 sans hyphens and this community needs to have policies reflective of that. In the future. Ladra calls on Miami-Dade Supervisor of Elections Christina White to do whatever it takes to make that change. That can be your legacy.
Galvez did not return several calls and text messages and one email to seek her comment or information about the circumstances of her arrests — or why Turros was good enough for the 2010 charge. She did, however, call my mom (she's a friend of the family's) 20 minutes after Ladra called her. But she didn't answer when Mami called her back the next day. The candidate, who had already blocked me on Facebook, blocked me on Twitter last week after I started following her, which is a terrible sign for someone who wants to be a public servant.
What did she expect when she signed up for this? She already had to hope this didn't come out. And then to file an injunction to stop the election two weeks before it's over? After absentee ballots had already gone out? Boneheaded. You should only do that if you are okay calling attention to yourself and your name.
Another sign that Galvez is not ready for prime time.