Thank you, Kristen Rosen Gonzalez. Thank you very much.
The Miami Beach Commissioner and congressional candidate made the right choice
over the weekend when she risked her political future and accused Democrat activist Rafael Velasquez, a progressive commission candidate that she had supported, of sexually harassing her earlier this month.
She could have stayed quiet. She could have let Velasquez, who she had endorsed and helped raise money for, get elected next week. She would have had another "friendly" on a hostile dais where three mayoral puppets already vote against her on a regular basis.
But woulda coulda does not equal shoulda.
"I could not help him get elected. I could not raise more money for him," Rosen Gonzalez told Ladra late Monday, after she had given news interviews to several television stations.
Read related story: Kristen Rosen Gonzalez to challenge Ileana Ros-Lehtinen
Despite the fervor taking over the nation after the multiple accusations and fallout against Hollywood filmmaker Harvey Weinstein making it easier for women all over the country to make #metoo outcries of their own experiences, it was not an easy decision for Rosen Gonzalez, who is running for Congress in District 27 to replace the retiring U.S. Rep. Ileana Ros-Lehtinen (she announced before the veteran lawmaker announced her retirement).
She may have taken a political risk when she made the accusation about Velasquez public in a Politico story posted Sunday.
About two weeks ago, she said, Velasquez paid her a visit and said he was in the neighborhood canvassing for votes. She said she didn't feel comfortable with him in her home that evening and suggested they go to a nearby restaurant, Café Avanti. There, she said, she had two glasses of wine and he had two mojitos.

"He began to say things that were delusional, that his next step would be governor of Florida," she said. "He said over and over he loved me and I told him no, I'm helping you with your campaign."

Velasquez scoffed at her recollection and said he made no such comments. "People say she's crazy," he said. "I really didn't believe it until now."

During the drive back to his car, she said, Velasquez grew more excited, exposed himself and tried to place her hand on his exposed crotch.

"He took it out. I tried not to look. I saw it out of the corner of my eye. And I can't forget it. And that's the worst part," she said. "I have felt guilty and horrible and ashamed about this and I wasn't the one who did anything wrong. He put me in a situation, and it's like what do I do?"

Velasquez said her story doesn't add up because, just this Friday, she was still talking to him about the campaign and his opponent.

"Are you feeling good," she asked him in a text message reply to him.

"Yes. We got this!" he replied, adding an emoji of a clenched fist.

"Nobody is voting," she told him hours later, noting that only 600 people had returned absentee ballots.

"She was my friend until Friday. I really don't know what happened," he said.

Rosen Gonzalez said she understood it sounded strange, but it took her time to consider what happened. And, in the end, she realized she needed to speak up.

"I was going to stay quiet, but if he whips out his willy with a strong middle-aged woman like me, I am worried about what he will do to younger girls when he is a man of influence and power," she said. "I do not think he should be elected to any office, and this is a man I believed was an authentic soul."
Immediately, before a second victim came forward with her own Rafael "Wild Willy" Velasquez story, Rosen Gonzalez was questioned and scrutinized. Someone on Facebook implied she deserved it for being a single woman who dates. Someone suggested she was slutty. It was reminiscent of the way some people say rape victims ask for it with the clothes they wear. People questioned why it took her so long to report it. As if 10 days should be characterized as "so long" in this type of abuse. Because that's what it is. Abuse.
And that is why it often takes women a long time, often years and sometimes decades, to report these sexual assaults, as evidenced by the delay in outcries from other victims against Bill Cosby, Bill O'Reilly and Harvey Weinstein and Donald Trump. It is evidenced in the thousands of #metoo stories that have flooded the internet after one woman, thank you, accused Weinstein.
Often one woman's outcry leads to another. And then another. Frances Alban is the second woman to accuse Velasquez. The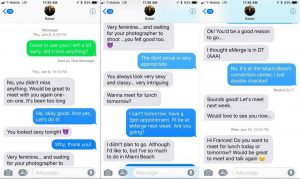 publicist came out Monday with her own "Wild Willy" experience: He groped her in a group photo last June and sent lewd texts afterward. She, too, kept the text messages and showed them — complete with a little purple devil emoji — to the Miami Herald.
Seems the soon-to-be divorced Velasquez has a penchant for emojis.
Thank you, too, Ms. Alban, for your courage. Otherwise, people might not have believed Commissioner Rosen Gonzalez. And that is another reason why we should be grateful. Because every time a woman fingers her sexual harasser, another woman is emboldened to do the same.
Velasquez has said that the commissioner is crazy and that he never pulled it out in her car. Is he going to say that he never grabbed Alban's ass either?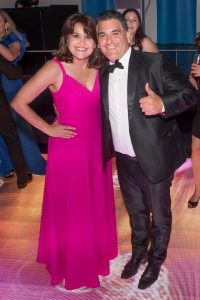 How much you wanna bet Velasquez has more victims by the end of the week? Because this type of behavior is usually serial and if he's so bold as to whip it out unsolicited in the passenger seat or grab a lady's ass in a public photo op, then he's likely committed other abuses also. Which is another reason why it was important for Rosen Gonzalez to speak.
"This was very hard for me to do," Rosen Gonzalez told Ladra. "I'm embarassed about the whole thing. People are saying it took me 10 days to report. But even right after he did it, it took me time to process. We didn't speak for three days until I just asked him, almost automatically, 'Are you knocking?'"
She meant knocking on voters' doors. She had been helping him and advising him on his campaign for months. She had real hopes that he would win. Rosen Gonzalez is often voted down on the commission and now that former Commissioner Michael Gongora is set to win his commission race and former Sen. Dan Gelber would be the mayor, she hoped to have more allies, including Velasquez.
"I had invested a lot of political capital in this guy. I raised money for him. I had his sign in front of my house. I introduced him to people," she said. "But then I thought, 'Do I get him elected so he can support me or do I stop future victims from being abused.'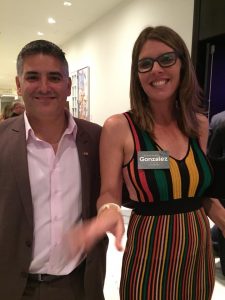 I just couldn't empower this guy," said Rosen Gonzalez, shown here with Velasquez in this photo.
That made the decision easier. And she has been pleasantly uplifted by the amount of support she has gotten, even from high ranking members of the Democratic Party who have abandoned Velasquez's campaign and called for him to withdraw from the race.
"The fact that he's lying about it now is the worst part," Rosen Gonzalez said.
No, Commissioner, the worst part is that he could still be elected. The momentum is there and early voting has already started. Unless voters strongly reject Velasquez, Rosen Gonzalez may find herself in the position of serving on the dais next to her abuser. That's far worse than serving next to Samuelian, who she's campaigned against and is aligned with her enemies,.
But, hey, at least he hasn't whipped it out on her.
So, we should all thank the commissioner. Because she really gains nothing political from this except a lot of grief for the next year one way or another. She did this because it was the right thing to do.
Courage is contagious. Pass it on.