Actor Sean Penn just made a cameo appearance in the Miami city elections.
A campaign mailer arrived at the home of voters in District 3 Saturday with a photo of the two-time Academy Award winner — and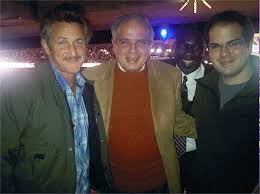 celebrated socialist sympathizer and apologist — at a Miami Heat game in 2011 with Miami Mayor Tomas Regalado, whose son is running for city commission.
"Sean Penn, the known defendor of the Castro and Chavez regimes, with his favorite dictators, Tomas Regalado and his son," the piece says, adorned with pictures of the much older Jeff Spicoli with his BFFs of death: Raul Castro,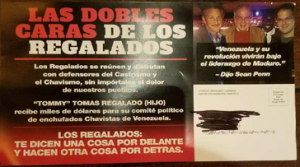 Venezuela's Hugo Chavez and Nicolas Maduro and Bolivian President Evo Morales.
Then there is the picture of Penn with the Regalados.
Except the son in the photo is Jose Regalado, who is not running for office. That would be the older brother, Tommy Regalado. Which doesn't really matter to former Mayor and professional provocateur Joe Carollo, whose political action committee, Miami First, paid for the piece.
"The two faces of the Regalados," it says, insinuating that the first family of Miami gets together for fun with those who defend the Castro and Chavez regimes, "without giving any importance to the pain of our people."
Read related story: Ex Doral Manager Joe Carollo keeps talking post firing
It also says, without offering any evidence, that Tommy Regalado (son) has collected thousands of dollars for his political committee from Chavistas, which seems to be a theme with the increasingly paranoid Carollo. Remember, he called a Doral businessman a chavista and then, when he knew he would be fired as city manager, called a press conference to claim that Doral Mayor Luigi Boria — who he had helped get re-elected only months earlier — was being investigated for bribery.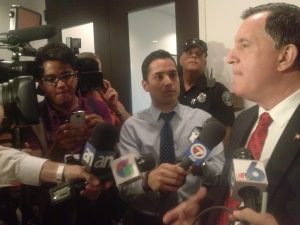 When that didn't stick, he had multiple press conferences trying to convince the local media that the Venezuelan-born Boria was a Chavez sympathizer who still had ties to the regime and did business with Chavista interests. He promised evidence, but it was a rabbit's hole expedition and nothing materialized.
It was all conjecture then. He doesn't even have conjecture now. But that doesn't stop Carollo from throwing more shit around to see what sticks. This is what he's good at.
"Dios los cria y el diablo los junta," the mailer said, which literally translates to "God grows them and the devil joins them," but actually means more like bad people find each other. The piece looks like it was designed by former Sen. and campaign bad boy Alex Diaz de la Portilla, not Steve Marin, as campaign reports indicate. It just feels Alex.
Of course, it's pure bullshit. To the point that it's laughable and makes Ladra think that Carollo must be desperate. No way voters are going to buy that the Regalados are commies.
Candidate Tommy Regalado works for none other than TV Marti, which Carollo calls a botella or gifted job in another piece but which, you gotta admit, is no friend of the Cuban government. His grandfather, the mayor's father and a journalist, spent 22 years as a political prisoner in Castro's jails. And his dad is a Pedro Pan kid — sent into U.S. exile as a child without his parents through the Catholic Church. The mayor has been a staunch anti-Castro advocate for decades, first on Cuban radio and later as an elected official, giving many a key to the city to activists and exile groups.
Read related story: Crazy Joe Carollo adds twist to crazy Miami commission race
Then Commissioner Regalado was a constant fixture at the home of rafter boy wonder Elian Gonzalez, who was snatched from his Little Havana exile family in the middle of the night by federal agents so he could be returned to his father in Cuba. He was also the first elected to reject the idea of a Cuban consulate in Miami in 2014, even before former President Barack Obama announced normalized relations. After that announcement in December of 2014, Mayor Regalado criticized the president repeatedly on local and national media for giving the Cuban government everything for nada and abandoning the Cuban people.
"Free elections, the freeing of all the political prisoners in Cuba, are not part of the deal. I'm sad that Mr Obama has brokered a deal that doesn't help the people of Cuba. At the end of the day Cuba is still not free. This is a sad day," he was quoted as saying.
Last year, when the talks about the consulate picked up again, Regalado said he would sue to block a consulate from opening here. Conversely, Miami-Dade Mayor Carlos Gimenez, who is raising money for Carollo and who Carollo worked for during his 2016 re-election campaign, was more welcoming, saying he would "work with" the feds if they chose Miami. Gimenez  also welcomed the idea of cruises to Cuba from PortMiami, saying the county did "business with carriers" and not "with countries." Coward.
"They are trying to rewrite history," Regalado told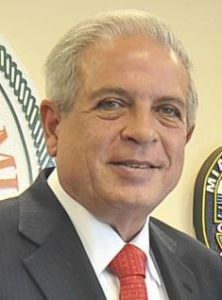 Ladra Saturday evening. "They are hoping that voters forget my record of 50 years here.
"You can say I'm inept and some people might believe you. You can say I'm corrupt and some people might believe you. You can say I'm a thief and some people might believe you. But you can't say I'm a communist. Nobody is going to believe you," the mayor added.
In fact, the family is known for being so ardently anti-Castro that the piece could backfire. Voters could decide to reject Carollo because he is trying to play them, to take them for fools. ¿Que se ha creido? ¿Nos toma por idiotas?
Regalado said he was at the game that day with 20 or so inner city at-risk youths, all guests of Office Depot. While on the floor before the game, there were a bunch of VIPs milling about, and someone from the Heat organization introduced the mayor to Penn (we don't know why he was there).
"I was a little distracted and wasn't sure who he was, so when someone said smile for the camera, I just did it automatically," Mayor Regalado said. That was it. There was no conversation. There was no other contact.
Suffice it to say they did not go to Versailles later for a snack of croquetas and a cortadito.
This is classic Carollo, creating a bogus boogieman so that he can come and save the day. When the real boogieman is Crazy Joe.