A no-chance Miami commission candidate at the rock bottom of all the polls wants a judge to toss out the ballots that have been cast so far and reprint them, claiming discrimination as a female and as a Hispanic because her name was put last instead of first.
Denise Galvez, who is now suddenly calling herself Denise Galvez Turros for the election, says she filed her complaint Wednesday afternoon in order to get the coveted "pole position" on the ballot, which many political observers and candidates think is an advantage among low information voters who just check the first candidate on some lists. She wants all the absentee ballots returned so far to be invalidated and for new ballots to be printed and mailed — which might delay the Nov. 7 election.
Galvez is running in the District 4 race against, in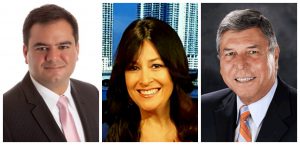 alphabetical order, Manolo Reyes and Ralph Rosado. Using Turros, Miami City Clerk Todd Hannon put her name under the two men. If he had used Galvez, she would have been listed first.
And while I think the founder of Latinas for Trump, who works in marketing by day, is a terrible choice for commissioner, she is right about this. On principle, anyway, if not legally. After all, Galvez is not her middle name. Her full, compound last name is Galvez Turros, which begins with a G. The process should not require that she hyphenate it. Our culture certainly doesn't require it.
Read related story: Trump Latina Denise Galvez runs for Miami city commission
"City has written me last on ballot instead of first bc I'm a woman who kept my maiden name and didn't add a hyphen," Galvez posted Wednesday on her Facebook campaign page, where she is just Denise Galvez. And of course she didn't add a hyphen because she never added his name 'til now. Ladra doesn't think she has called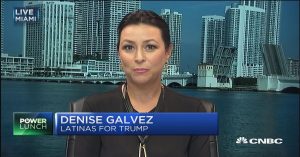 her Galvez Turros even once in any previous stories, except to note that she suddenly added her hubby's name and filed to run with both. She is just Denise Galvez to us who have known her for years. All last year she was on TV pushing Donald Trump as Denise Galvez, not Denise Galvez Turros. Google it.
So maybe this is poetic justice. She was trying to pull a fast one by adding Turros and it backfired.
But that doesn't mean that this practice is not stupid and outdated. Ladra's puppy has a compound name with no hyphen so this is an issue near and dear to me that needs to be addressed for future Hispanic candidates, male or female, that use both their parents' last names. In our increasingly diverse and heavily Hispanic community, there will be more and more candidates with names like former State Rep. Ana Rivas Logan or Miami Beach Commissioner Kristen Rosen Gonzalez and no hyphen — although in both those cases, they benefit by being listed according to their second last name. Rosen Gonzalez was third on the ballot in the 2015 election, before Isaiah Mosley, Jonathan Parker and Betsy Perez. If the city clerk in Miami Beach had gone with Rosen, she'd have been listed last.
Galvez probably didn't know this when she opportunistically added Turros to her name. Maybe she should have gotten some legal help with her qualifying documents. An attorney might have also advised that she hyphenate, which would have guaranteed Galvez came first.
She may have some issues with her case at this point. The main one is that she waited too long.
"After ballots have gone out, I do not see a court changing the names on the ballot," said Jose "Pepe" Herrera, a longtime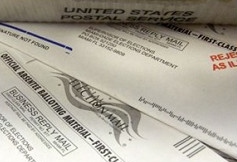 government attorney who has worked on election lawsuits before and said that Galvez, or Galvez Turros, should have made the case earlier, as soon as she saw how the ballot would be printed. He is not working for any of the candidates in this race.
"If somebody is using a non legal name they don't normally use and I went ot court to remove him from the ballot, if I wait 'til ABs are printed and sent out, I am upsetting the calendar or timing of the election," Herrera told Ladra. Any reprinting of ballots could delay the election and disenfranchise voters who have already casted ballots via mail this week.
"Courts have uniformly said if you wait too long knowing the problem exists, you have no case," Herrera added.
Read related story: Finally! Manolo Reyes looks real good in Miami Commission race
Galvez did not respond to several attempts (read: calls, voice mails, texts) to reach her. She is mad at Ladra, who she blocked on Facebook — where she defends Trump and offends the rest of us with insensitive posts and fake news and smears of anyone who disagrees with the POTUS — after I pointed out that Puerto Rico was not A-OK eight days after Hurricane Maria had ravaged the island. Ladra can still see her feeds because we have multiple friends in common. I just can no longer tag her with the truth about Puerto Rico or the NFL players' protest or, now, the condolence call crap-up.
But according to a Miami Herald story by David Smiley, Galvez did try earlier this month to have the city clerk and Miami-Dade Supervisor of Elections Christina White change the ballot:
Hannon declined to change the ballot after reviewing election law and speaking with elections officials at the county and state. He said precedent set by the handling of previous ballots holds that hyphenated last names be ordered based on the first of the two surnames, and that names without a hyphen be ordered based on the last of the two names. He also noted that Galvez didn't specify by which name she wanted to be primarily identified on her qualifying documents.

"It is important to note that your name will appear on the ballot exactly as you provided 'Denise Galvez Turros,' Hannon wrote.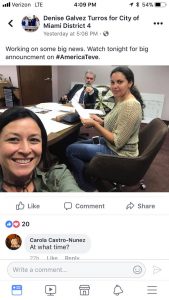 Even if the case is dismissed, Galvez will likely benefit from the free press and additional name recognition that this move could give her. And one has to wonder if that was the point in the first place. It is becoming almost part and parcel of any campaign to file a lawsuit or an ethics complaint, even if you know it's ludicrous, to get the free PR. Check out this screen save of her campaign Facebook page where she announces her interview on a local news channel.
And it could work. Young women in Silver Bluff with no interest in this race might suddenly feel motivated to vote Nov. 7. And the abuelitas in Flagami might give her the pitty vote. It won't make Galvez more viable, really, but a small increase in votes could force the other two candidates into a Nov. 21 runoff.
Some people are already saying that she did this to help Ralph Rosado.