Proving that tenacity and good old stubborn persistence can pay off, perennial candidate Annette Taddeo finally won an election Tuesday.
And against a "titan" like former State Rep. Jose Felix Diaz, who spent at least twice as much money (more on that later), too.
Taddeo beat Diaz by a comfortable edge, 50.95 to 47.21 percent for Diaz. The difference went to professor and independent candidat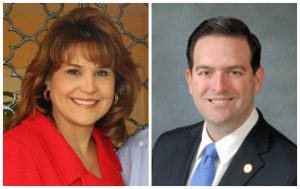 e Christian "He-Man" Schlaerth, who managed to get 820 people to vote for him. But, let's face it, he likely peeled votes from Annette so without him she would have won bigger.
Was this a referendum on Donald Trump?
Some seem to think so. The director of the local SEIU, which represents property service workers, including airport workers and janitors, said "Annette Taddeo's victory is a stunning rebuke of the divisive politics of hate that have been embraced by many Republicans in Tallahassee and Washington.
"We're excited that Annette will be heading to Tallahassee to fight for raising the minimum wage, good public schools, immigrant rights and equality for all Floridians," finished Helene O'Brien.
The Democratic Legislative Campaign Committee tweeted that Taddeo's win was the seventh red-to-blue flip across the U.S. s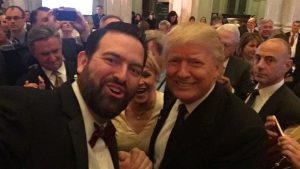 ince November and "is just the latest example of voters rejecting Trump and the GOP's dangerous agenda."
People who voted for Taddeo and tweeted about it also indicated that anti-Trump sentiment was at least in the back of their minds. "Just did the thing! Hope everyone who cried about trump being elected went out and did their part," tweeted Nick at @holywavve, including a pic of the "just voted" sticker.
And that was the idea. State Democrats were desperate to turn the seat back around after losing it to the GOP last year. They and Taddeo's campaign made a lot of comparisons between Diaz and Trump and used the picture of them that Diaz tweeted from last year's inaugural — and then deleted when he entered this race — on several mailers (sometimes in one day). One of them even blew up a picture of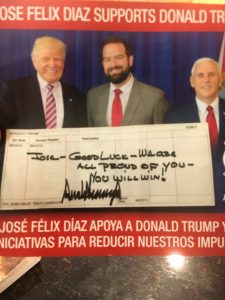 a Trump note from an old campaign contribution, before he was POTUS, wishing Pepi Diaz good luck.
Diaz, who was once Trump's "apprentice" on the TV show by the same name, was definitely cast as a supporter and surrogate for the orange-haired commander in chief. Democrats are giddy that the Trump card is working — and you can bet we will see more of it.
Said Senate Democratic Leader-Designate Jeff Clemens: "I am thrilled to congratulate Annette Taddeo on her great victory. The Florida Democratic Legislative Campaign Committee committed to righting a wrong in this district and electing a proven champion who will join our caucus to fight for an agenda that puts working families first."
It was about "righting a wrong." That refers to the win last year over longtime Sen. Dwight Bullard by former State Rep. and short-lived Sen. Frank Artiles, who was caught making racist remarks to black colleagues in a public restaurant and was forced to resign. And it gave Democrats — not just locally but across the state and even the nation — a second chance to win the seat back.
After his first major test, Florida Democratic Party Chair Stephen Bittel — who las malas lenguas say was anti-Taddeo since they battled for the chairmanship he ultimately bought — congratulated her on the victory and said in a statement that it was a sign of things to come for other Dems.
"Congratulations to Annette Taddeo on this major victory for Miami-Dade and our entire state. This is a win for all of Florida. Democrats represent 16 of 40 state Senate seats. Annette will head to Tallahassee ready to fight for higher paying jobs, affordable healthcare and fully funded public schools. Democrats across the state are

energized and mobilizing to flip Florida blue. After nearly 20 years of harmful GOP policies, voters are ready for a better deal.

The Florida Democratic Party joined progressive partners like the FDLCC, unions on a community engagement effort that sets a new standard for our Party. We actively engaged both the Latino and African American communities of SD40 in neighbor-to-neighbor conversations focused on the issues that matter most. This victory is the first of many, as we are poised to claim the governorship, we are prepared to re-elect Senator Bill Nelson, and we are within striking distance of reaching parity in the upper chamber of the state legislature.

The FDP has made significant strides in building long-term political and grassroots infrastructure that will help Democrats win critical seats at the local, state, and federal level. We are organizing year-round and we will be engaging in neighbor-to-neighbor conversations in every one of our 67 counties to turn Florida blue in 2018 and beyond."
In a statement released at 8:40 p.m., Taddeo said it was a victory for the residents of Senate District 40, who live in Westchester, Kendall and South Dade.
 "The voters wanted a champion in Tallahassee who will fight for higher paying jobs, affordable healthcare and fully funded public schools and I am honored and humbled that they have placed their faith and trust in me. I pledge to work everyday for the families of my community and not the special interests. I would like to thank my opponent for running in a hard-fought race. Our campaign saw a strong coalition come together between the FDP, the FDLCC, labor and community organizations who unified behind a winning plan. I'm beyond thankful for all the work and their efforts and the the thousands of volunteers who committed their time, energy and resources. This was a community, grassroots driven effort and I am ready to continue the work in our state capitol."
It was also an early voting and Election Day effort.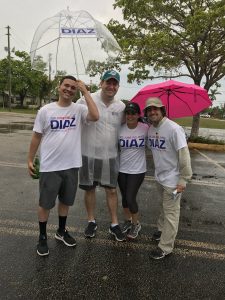 Because Pepi Diaz — who looks optimistic in this photo with poll workers at 8:30 Tuesday morning — won the absentee ballot race by nearly 2,200 votes. It must have been a terrible tease for Diaz because Taddeo later got more than twice as many votes in early voting and made up those 2,200 votes plus a few more on Tuesday.
I have to say, while I don't love either candidate, Ladra feels a breeze of justice going through her soul because Pepi Diaz was acting like a real piece of, er, work. He was all over social media, at the podium next to the mayor, during the preparations and warnings for Hurricane Irma and afterwards, he had a TV commercial where he said "as a state rep I will be knocking on doors" to see what people needed after the storm. Seriously? He was no longer a state rep but he was sure acting like one and he sure had the access of one. Then there was that other ugly TV commrcial where David Lawrence brags about how Pepi helped 20,000 "perfectly legal" immigrant children. Ouch. Ladra sure hopes The Children's Trust that Lawrence doesn't check kids' papers before helping the neediest children in our community. That's not what I voted for.
But if Ladra feels a breeze, Taddeo must feel a hurricane of vindication. After all, she has campaigned for about a decade and has a relentless drive to be in elected office (read: watch her like a hawk). Taddeo, who also served as chair of the Miami-Dade Democratic Party, first ran for Congress against U.S. Rep. Ileana Ros-Lehtinen in 2008. She then made unsuccessful bids for county commission (2010), lieutenant governor with former Gov. Charie Christ (2014), and Congress again but this time against former Congressman Joe Garcia (2016) — maybe now they can be friends again — who lost anyway and again to U.S. Rep. Carlos Curbelo.
Guess the fifth time (not countying the Florida Dem chair race) is the charm.
And Ladra is fairly certain that will be the final tally, despite threats from some voter rights groups to challenge the special election after Gov. Rick Scott refused to delay it to accomodate voters inconvenienced by Hurricane Irma,
That's because those groups — Common Cause Florida, State Voices Florida, the League of Women Voters Florida, the American Civil Liberties Union of Florida, Engage Miami, SAVE, LatinoJustice and the Lawyers' Committee for Civil Rights Under Law — can arguably be lumped together under the blue umbrella. They were likely afraid that Diaz would benefit from a low turnout. How much you wanna bet there's no challenge from them now that Taddeo has won?
Unless they challenge on behalf of Democrat Gabriela Mayaudón, who lost Tuesday in the House District 116 race to Republican Daniel Perez, for the seat vacated by Diaz when he resigned to run for Senate. But that would be ridiculous since Mayaudón is really only a Democrat on paper. Let her run a few times before you run to her defense, huh?
On the GOP side, it seems that at least Diaz — who some say is looking at the Attorney General seat — took the loss like a trooper, tweeting his kudos to Taddeo just after 10 p.m.
"Congratulations to Florida's newest State Senator Annette Taddeo. I wish you nothing but success in your new role," he said.
What a difference a few hours makes.