Two days after he crushed it in the GOP primary for the Senate Distrit 40 seat, former State Rep. Jose Felix Diaz is getting a head start on the general campaign with a mailer that calls him a "tax cutter" and a committment of $100K from fellow Republicans.
The mailer arrived Thursday addressed to Ladra's "family," which include a Republican, a Democrat and an NPA who plan to vote Sept. 26. It didn't come to the Republican. It didn't go to the Independent. It came to the family. We imagine it was sent to both Republicans and NPAs, which could decide this election.
The district is about a third Dem, a third GOP and a third NPA. That means that the NPAs are going to be heavily courted in the general. They even have their own candidate in the race, sociology professor Christian "He-Man" Schlaerth.
Read related story: Democrats start to hit Jose Felix Diaz — before the GOP primary is over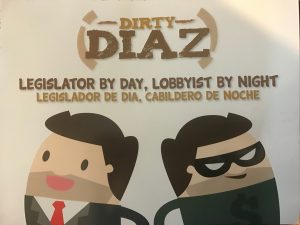 Independents already recieved mail, during the primary, against Diaz from the Florida Democratic Legislative Campaign Committee, which sent at least three mailers casting Diaz as a lobbyist looking out for special interests. No wonder the Diaz campaign came back trying to define him early on as a "tax cutter."
Or, actually, the Florida Republican Senatorial Campaign Committee, which paid for this mailer, which is pretty much a tit for tat, hurry-up-and-let's-define-our-guy-before-they-do piece: "Vote for the tax cutter Jose Felix Diaz September 26th."
It's a tremendous reach.
It gives Diaz credit for creating the tax holidays for school supplies and storm supplies, although that was part of a package that he voted on as a member of the Hous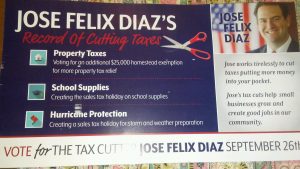 e. It also says he voted to put the additional $25,000 homestead exemption to voters next November, a move that many say was calculated by the Republican leadership to drum up turnout in a mid-year election. A move that cities and counties are dreading will leave them with less funds to pay for things like police and paramedics and buses and road maintenance.
One has to believe that the FRSCC — the fundraising arm for Senate Republican leaders, controlled by future Senate presidents Bill Galvano and Wilton Simpson — will be more creative and more forthright with more time. The turnout for this election is going to be the super voter. Also called the "high quality" voter. That means the educated voter. They aren't going to buy this lazy crap.
And hasn't anyone told them not to put open scissors on a positive piece with their candidate's name on it? Campaign 101.
Read related story: Winners and losers in special election for SD 40 and HD116
The campaign committee just announced a $100,000 donation from the Republican State Leadership Committee, an organization of Republican state officials intent on keeping this seat red, and they would do well to use the money more wisely on messages that will
connect with the super voters instead of this dribble.
The Senate District 40 seat had been Democrat for decades before Frank Artiles beat former Sen. Dwight Bullard in an ugly race last year that was marked by negative ads that cast Bullard as a terrorist sympathizer. Artiles was forced to resign in April after he was caught making racist remarks to black legislators at a Tallahassee eatery one night.
Diaz, who was heavily endorsed by his BFF and former Tallahasee roommate Artiles (they are photographed at the beginning of session here), won the GOP primary on Tuesday and will face Democrat Annette Taddeo in September.
And if this mailer is any indication, it's gonna be a busy couple of months.