As always, it is not only the candidates with the most votes who win on Election night.
While there were hopefuls who came out on top — or not — in the primaries for House District 116 and Senate District 30 Tuesday, there are others who didn't necessarily share the ballot but share in the victory, or defeat.
So without further ado, here are the other winners and losers in Tuesday's special election.
WINNERS:
Steve Marin — This veteran political operative saw both his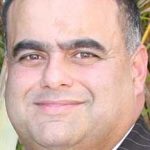 clients win Tuesday and win with double digits. Former State Rep. Jose Felix "Pepi" Diaz won by 32 points against former Sen. Alex Diaz de la Portilla, which is notable, especially since early polls had DLP up by 30-plus, and nobody newby Daniel Anthony Perez beat establishment favorite Jose Mallea by a very respectable 10 points. This is a nice feather in the cap of Steve Marin and Sons as they head into the city of Miami elections, where they represent Commissioner Francis Suarez's bid for mayor. He also billed a total of about $250,000 between both clients. Sure, some of it was for mailers, signs and other materials, but he makes a percentage off that also. And there's no way to tell how much of it is for printing and how much is for consulting because it's all lumped in together.
David "Dis" Custin — He may not be a nice guy, heck it's probably because he's not a nice guy that he is a prolific mailer. If your candidate needs a negative piece against an opponent,, David Discustin' Custin is your man. He was both Diaz's man and Perez's man in this race. And he banked, too, billing more than $1.2 million in the past couple of months. While the builk of that goes to TV buys, Custin gets kickbacks (going rate is 15% but volume gets more), and, for the amount of time he's buying, gets free minutes he can then bill Diaz or someone else for.  Annette Taddeo, ten cuidado. Grow that thick skin quick, chica. Because now Discustin is coming after you.
Annette Taddeo fans — Anyone who has stuck by the perennial candidate this long deserves their moment in the sun for sheer loyalty. After four other races — two Congressional bids, a county commission run and the Lt. Gov. thing with Charlie Crist (am I forgetting one? I feel like I'm forgetting one) — Taddeo finally has a win notch on her belt. And, more importantly, her longtime suffering supporters do, too. Good for them!
Christian "He-Man" Schlaerth — The turnout was so abysmal for the primary — and the choices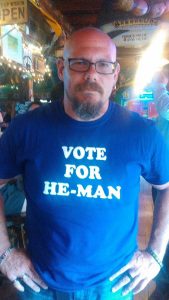 we are left with are so mediocre — that this NPA candidate actually might have a chance in the general Sept. 26. He certainly thinks so. "The voters of Senate District 40 today decided to stay home rather than participate in a process devoid of any real policies, marred by negative campaigning and tainted by spending for the primary exceeding the obscene amount of $3 million," reads a press release from the campaign for He-Man, who gets his nickname from his Rugby mates. The stats: Only 14% of the registered Republicans voted and 11% of the registered Dems cast ballots. Ladra must admit, many of the voters in District 40 that I know, including the Republican and the Democrat that live in this very house, did not vote on Tuesday. "None of the candidates deserve a moment of my time," the Republican said, while the Democrat asked "What election? There was an election?"
LOSERS: 
Tania Cruz — This social climber's name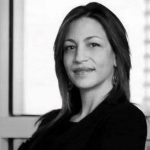 was sullied by the salacious news that she had been holed up with Dean DLP in a Boston hotel room in 2012 and they were arrested when, in typical drunken beligerent fashion for both of them, they refused to stop chain smoking in a non-smoking room. Now, she can't upgrade from the son of a county mayor to a state senator. At least she got paid $2,000, according to his very curious campaign finance report, for her, ahem, legal services.
Carlos Gimenez and fam — Our county mayor pulled his support from Pepi Diaz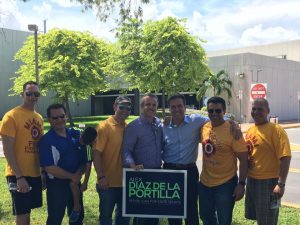 after the news of his daughter-in-law broke — though Ladra strongly suspects it was Dean DLP who brilliantly leaked the story out himself. Furthermore, his lobbyist tarrudo son and his other rachetera daughter-in-law both campaigned for DLP during early voting (that's CJ Gimenez standing next to DLP, holding his sign). Que pena. I know. Pobre Lourdes. But, more seriously, could our needy county pay the consequences from our next senator if Diaz is elected? Gimenez should have stayed out of it.
The Brothers DLP — This is the fifth loss for a Diaz de la Portilla in as many years and no matter how glib he is today, this one hurts. Because Alex was actually kind of trying this time, unlike his defeat in 2012 for state rep against Jose Javier Rodriguez, when he was really just drinking too much and running away to smoke in Boston hotel rooms and ranting in his parents' Little Havana Florida room where he lives with his dogs. That's the same year that his brother Renier Diaz de la Portilla lost his state rep bid against Manny Diaz, Jr. In between 2012 and today, Renier lost again in a judicial race and, in what was the real upset, big brother Miguel Diaz de la Portilla lost his Senate seat last year to Rodriguez, who has become a family nemesis. Could it be that the DLP dynasty is dead politically? Maybe they should switch parties. People just don't believe they are as conservative as they pretend to be, what with all the late night hotel cigarette smoking and other family issues.
Jeb Bush — The endorsement from this former Florida governor and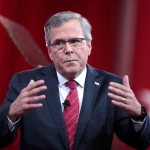 failed presidential hopeful just doesn't carry the weight it used to before he blew it in his campaign for the Republican POTUS nomination last year. It certainly didn't help Mallea against Daniel Perez in the House District 116 race. Note to future candidates: Don't bother. Just ask Ted Cruz (no relation to Tania).
Did I miss someone who obviously benefited or lost something in this race? Please feel free to add your own winners and losers in the comments below.
And we'll see you back here for another episode of winners and losers on Sept. 27 (the general is Sept. 26).