Some voters in Senate District 40 got a mail piece this week that attacks former State Rep. Jose Felix "Pepi" Diaz for being a lobbyist. But it wasn't any of his opponents in the GOP primary who put the piece out. It was the Democrats.
The mailer is paid for by the Florida Democratic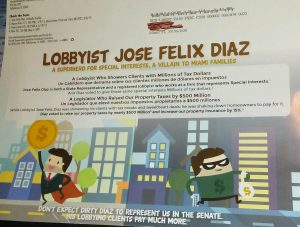 Legislative Campaign Committee and says that "Dirty Diaz" is a "superhero for special interests, a villain to Miami families." The front has a cartoon character in a suit or buglar eye mask — legislator by day, lobbyist by night — and while its not a Bitstrip, the character looks a little like Pepi Diaz alright. Down to the facial hair and the smirk.
"Don't expect Dirty Diaz to represnt us in the Senate. His lobbying clients pay much more," it says, adding that he voted to raise property taxes and increase property insurance costs.
But this may not be just bad news for Pepi Diaz. This mailer could be bad news for former Sen. Alex Diaz de la Portilla and constitutional attorney Lorenzo Palomares, who is likely to win the bronze, because it could mean the Dems think Diaz is going to win the primary. DLP might tell you that they're hedging their bets, since he has already been hit with so much negativity.
But why waste the money if there's a chance DLP wins? Why not wait until after the primary?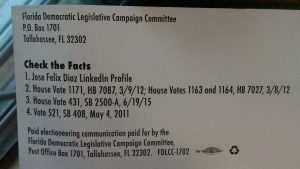 Why not put everything together and have it ready to pull the trigger on Wednesday next week?
Unless… hmm, could it be they are trying to help DLP because he's an easier target in the general? Ladra thinks that Diaz is a much tougher challenge in the general, principally because of the amount of money he has and has shown to be able to raise, but also because DLP is less moderate than Pepi Diaz, who — especially with his mother and wife being public school teachers — will be more easily able to get NPAs and peel some Democrat votes in the general than the Dean, especially when he's been channeling The Donald.
So could this be Senate Democrats actually being smart?
Sure, the mailer was sent to an NPA. But it was sent to an NPA with a super voter Republican in the house. You don't think they know that?