It has to be the biggest host committee in formation list that Ladra
has ever seen and far too many people to name them all here.
But among the most notable "young professionals" hosting a fundraiser Thursday night for Commissioner Francis Suarez's bid for Miami mayor are Congressman Carlos Curbelo, Coral Gables Commissioners Vince Lago, Mike Mena and Frank Quesada (careful with the Sunshine Law, boys), Miami Lakes Mayor Manny Cid, Hialeah Councilman Paul Hernandez, Miami Beach Commissioner Micky Steinberg, Aventura Commissioner Denise Landman, Coral Springs Vice Mayor Dan Daley, State Reps. Nick Duran and Jose Felix Diaz, former State Rep. Marcelo Llorente and even Jebby Bush. Yes, the son of our former guv who ran recently for POTUS. Him. Former State Rep. Erik Fresen was on an earlier version of the host committee, before he pleaded guilty earlier this month to "willfully failing to file a tax return" for one of the nine years he skipped. He has since been conspicuously removed from the list.
There's also a large contingency of Miami-Dade Carlos Gimenez people, starting with the fundraising guru Brian Goldmeier and including his lobbyist son, C.J. Gimenez, and his wife, Tania Cruz, as well as one-time G-man J.C. Flores.
Throw in Democrat operatives like Christian Ulvert and Ben Pollara rubbing elbows with Republican lobbyists like Michael Cantens and onetime House candidate Daniel Diaz Leyva and former House staffers turned campaigners like Javi Correoso and it's a huge and rather diverse (read: bipartisan) crowd at the event in Wynwood Walls, the hippest place in Miami for young professionals to be.
Read related story: Francis Suarez says definite maybe to Miami mayoral race
"These are the people cutting their teeth to make the city great today and they are the people who will be making the city great tomorrow," Suarez told Ladra Wednesday. "These are people who often feel ignored, disenfranchised and dismissed."
Um, did he see the list? I don't think the sons of mayors and presidential candidates feel disenfranchised too much.
"It's important to engage these young people," Francis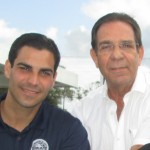 "The Future" Suarez added. He is 39 years old, which is three years older than his father was when Miami-Dade Commissioner Xavier Suarez became the first Cuban mayor elected in Miami in 1985. "It's a generational passing of the baton or turning of the page. The city needs an infusion of youth and enegy and technological know-how. Not every fundraiser has to be a big money event. It is great to incorporate new people."
The suggested donation for this event is $100, a low ask considering the crowd. But Baby X can afford to low ball. He doesn't really need the money.
Suarez has raised close to $2.6 million and still has more than $2 million on hand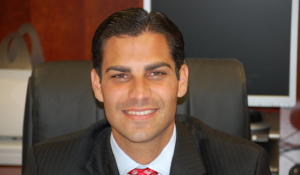 between his campaign account and his political action committee, Miami's Future. This, despite the fact that he doesn't really have an opponent. Not yet anyway. Sure, there are three other guys with no name and no money who have filed paperwork that shows they intend to run, but Suarez is not sweating them.
"It's a minor miracle that I've gotten this far without any opposition," Suarez said. "And it may sound like a cliche but I pray for the best and prepare for the worst. So I'm working very hard, assuming there's going to be competition."
The elephant in the room — or not in the room, as it were — is Commissioner Frank Carollo, who is termed out but still hasn't jumped into the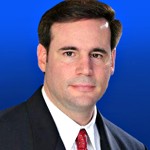 mayoral contest. At least not officially. Political observers think that it becomes less likely with every passing day. But he could surprise everybody. And he is raising money for something. Someone at the Related Companies sent out an email last moth to raise money for Carollo's re-election campaign until, ooops, a second email made a correction saying it would be for whatever Carollo's future entails.
In its first month, the brand new PAC that checks were solicited for, United for Good Goverment, raised $107,000, according to the campaign finance report.
Read related story: Beleaguered Francis Suarez drops out of Miami mayoral race
"Frank has to decide what he wants to do," said Suarez, who abandoned his attempt to run for mayor in 2013 against Mayor Tomas Regalado. after several setbacks by campaign staffers, including two arrests for filling out absentee ballot forms online, a situation that was completely unintentional and that really should have been handled differently by the State Attorney's Office because nobody was defrauded. "I get along with Frank. We have taken strides not to fall into the same Carollo Suarez dynamic and it's been positive."
The other possibility that has been pretty much squashed now is former Miami-Dade School Board Member and county mayoral candidate Raquel Regalado, who is the current Miami mayor's daughter. While Ladra has been saying for months that she had no interest in running for the city seat, her recent foray into a congressional bid to replace the retiring Ileana Ros-Lehtinen has shut people up — for now anyway.
"If she didn't have that opportunity, there would be rumors about there still being a possibility," Suarez acknowledged.
That may free up more "young professionals" who might have been hard-pressed to pick between the two to join host committees.