Turns out Glenn "The Goon" Rice, the political black ops soldier who did Hialeah Mayor Carlos Hernandez's dirty work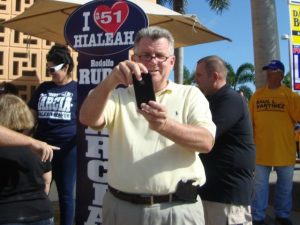 for years, was indeed paid with city funds, supposedly for odd jobs for the public works and human resources departments — and through the lawfirm of a sitting Miami Lakes councilmember — during part of his time as the mayor's "snitch."
That's what Hernandez called Rice when an ethics investigator asked him if the former police officer was his political operative. "Glenn's my snitch," Hernandez answered.
A snitch that was paid up to $18,000 in taxpayer dollars through the law firm of Miami Lakes Councilman and Hernandez BFF Ceasar Mestre to do what the Miami-Dade Commission on Ethics and Public Trust — in a new investigation closed last month — determined was legitimate city work.
Read related story: Hello FBI? Abuse of power continues unchecked in Hialeah
Really? If it is so legitimate, why did the mayor ask Hialeah Public Works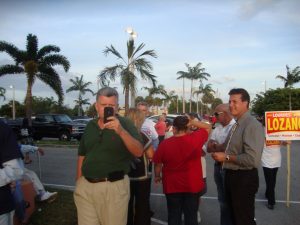 Director Armando Vidal to hire Rice — and to pay him through Mestre? "The mayor didn't want to hire Glenn Rice directly," Vidal is quoted in the close-out memo as saying. Of course he didn't. Because the optics were terrible. Because Hernandez knows we can add 2 plus 2 and come up with quid pro quo, that's why.
Because, sure, on paper Rice was monitoring the roll-out of the new, privatized solid waste service and vetting potential contract employees or vendors. There are reports and records that show he did perform certain duties. There was work product, like one photograph of garbage that was not picked up.
Of course that garbage was at the mayor's house.
Because this was really another way the mayor compensated Rice for his "snitch" work. He was throwing his dog a second bone.
The first treat was getting Rice sweet no-show jobs as a "government consultant" with Waste Pro and Waste Management, two of the three companies who were seeking the $40 million, 8-year solid waste contract at the city. Ladra believes that Rice was already working for International Management Consultants, the lobbying firm owned by former Hialeah Councilman Herman Echevarria, who represented the third company, Progressive, and, on the side, ran the City of Retrogress until he died unexpectedly last September. Progr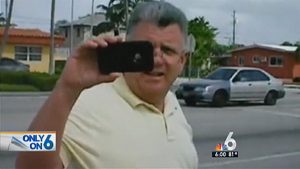 essive got the contract, of course. There are malas lenguas who say the whole bidding war was invented to create a revenue stream for Rice because it was always going to go to Progressive anyway.
The Ethics Commission and the State Attorney's Office investigated those payments — roughly $176,000 over three or four years — and concluded last August that no city official had recommended Rice or pushed his services onto the companies. Basically, they feel that Rice himself got the work by creating the perception that he had influence over the mayor and some council members. Guess they thought he was just a good ol' fashioned political entrepreneur and hustled everybody. It's not illegal.
Read related story: Hialeah's oppression, er, I mean elections start to heat up
But Rice himself said in October that he never filled out an application and that Hernandez got him the gigs. And that wasn't legit work.
"My real job was to be there for the mayor, to spy on his perceived political enemies," Rice told El Nuevo Herald. "My duty was to spy on city employees and political opponents, and report their actions back to the mayor."
Apparently, Rice did not speak as freely with Ethics or SAO investigators, choosing not to cooperate instead. But, then, isn't that what subpeonas are made for?
During that inquiry is when investigators learned about the city payments through Mestre and decided to look into that further, you know, to make sure it wasn't to — how'd Rice put it? — to "spy on city employees and political opponents and report their actions back to the mayor."
Since at least 2011, Rice has shadowed Hernandez at events, intimidated and hurled insults at the mayor's critics and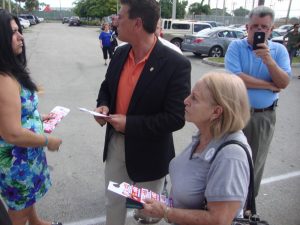 challengers — heckling one mayoral candidate outside his home — and followed and photographed and harassed city employees who campaigned against Hernandez or who were otherwise thought of as disloyal. Ladra has multiple photos chasing me around the parking lot at JFK Library during early voting days in 2011 (examples throughout the post). We really don't know what he looks like without his cellphone in his face.
Rice was widely known as the mayor's "enforcer" before they had a falling out last year, probably over money. (Ladra heard that Hernandez and Councilwoman Isis "Gavelgirl" Garcia Martinez was also on the outs but las malas lenguas say they made up).
Read related story: Glenn Rice PAC funds Carlos Hernandez mailers
Glenn told the El Nuevo reporters he was paid to spy on department heads and, at one point, Councilwoman Vivian Casals-Munoz, who has been an on-again, off-again Hernandez ally. This was during one of the estrangements. He said that the mayor paid him to antagonize former Mayor Raul Martinez as well as longtime activist and onetime council candidate Julio Rodriguez, and mayoral candidate Juan Santana, who captured Rice's harassment on video and posted in on YouTube. That was in 2013, before the payments that are documented. But you know Rice didn't do it for free.
The mayor can deny it all he wants. He told the reporters the same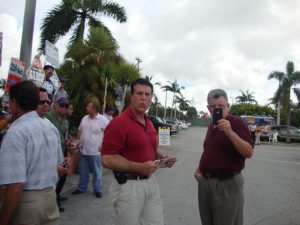 thing he told Ethics investiagtors: That he never paid Rice for anything and that Rice was never part of his trusted inner circle. But Hernandez, who is known to lie, is lying again. Otherwise, the goon would not be chairman of his PAC, Citizens for Efficient Government, which at one point had $360,000 and from which Rice was also rewarded. He got $7,100 in checks to himself and, maybe, another $5,000 through a payment to Mestre.
He got at least $5,000 more out of a $15,000 consulting check in April of 2013 to Hernandez's former campaign consultant, Absentee Ballot Queen Sasha Tirador. She confirmed to Ladra that at least once or twice Hernandez paid Rice through her company, G&R Strategies. When asked what Glenn's role was, she said she didn't know.
"Consulting is what Carlos told me," she said.
So we guess he has experience "consulting" after all.