Sweetwater voters elected four new commissioners on Tuesday,
booting two incumbents — the mother of the former mayor and the brother-in-law of a county commissioner — out of office in the process. That's a new majority on the 7-member board — although none of them is entirely new to the city and one of them is an old throwback.
But even though he wasn't on the ballot, Miami-Dade Commissioner Jose "Pepe" Diaz lost Tuesday also. So did Mayor Orlando Lopez. All but one of the candidates he backed lost.
Commissioner Isolina Maroño, mother of former Mayor Manny Maroño — who was arrested in 2013 and convicted on federal bribery charges in an FBI bogus grant scheme — was ousted by former Commissioner Cecilia Holtz Alonso, who was in office from 1992 to 1999 and got 55 percent of the vote.
And Commission Chairman Jose Bergouignan, who is married to Miami-Dade Commissioner Jose "Pepe" Diaz's sister, lost to former Sweetwater Polict Lt. Marcos Villanueva, a onetime chief of staff t
o the previous mayor, Jose M. Diaz — whose son won another commission race — in a squeaky tight contest. Villanueva got 32 more votes than the 16-year incumbent and wins with only 46% of the vote. Sweetwater city charter gives the victory to the majority, without needing a 50% plus one threshhold. There are no runoffs.
Villanueva and Holtz Alonso, will join David Borrero — who works as the city's grants administrator — and Yoniel Diaz, the former mayor's son, for the swearing in ceremony Friday. Borrero and Yoniel Diaz ran in open seats, getting 65 and 54 percent of the vote, respectively.
Yes, that's right, the son of the former mayor, ousted by the current mayor, is now a commissioner. Awkward.
"The residents of Sweetwater have decided that they want a change," said Villanueva, who has been on again off again on the city's police force since 1997 (with a spotty record) and first ran for office in 2007, when Maroño beat him for the mayor's seat. "They want to be done with the old guard and the political infighting and they want to move on."
Read related story: Sweetwater election ends today but war is just starting
But Sweetwater has always been a tiny little bastion of political infighting and intrigue and this election cycle, no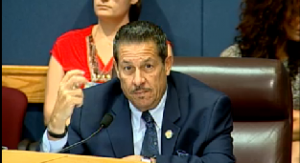 exception, certainly didn't portend happier times ahead.
First there was the concurrent recall effort against Mayor Lopez, which, let's be honest, was masterminded by some council members most likely with the help of the county commissioner. The idea being that, as commission president, Bergouignan, Diaz's brother in law, would become interim mayor, which would help him win subsequent elections as an incumbbent, and he would consequently hold the seat for Diaz when he is termed out at the county in 2022. Petition gatherers got almost twice as many signatures needed for the first round, showing apparent disregard for Lopez exists anyway. They needed 950 and got more than 1,800 in less than three weeks. Of those, 1,776 signatures were verified by the Miami-Dade Elections Department.
But that apparently wasn't good enough for Lopez, who said that the political action committee behind the recall lied to voters, telling them that this was for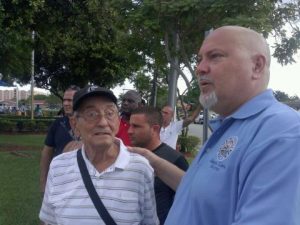 lower taxes or to improve trolley services. He had copies made of every petition and ordered police officers in uniform to visit some homes to confirm the residents' signatures. He got 47 or so affidavits from people who said that either they were lied to about the recall, or that they didn't speak English and didn't understand it or that a fired Sweetwater police officer who signed as a witness to the petitions was not there. But, I mean, the mayor's personal police force was asking the questions. "Why'd you sign this petition?" Ladra might understand someone saying it was to free the whales. This seems like some strongman in a third world effort to intimidate voters and stop them from signing a second petition, as the charter required and which was already underway. Ladra has heard from a couple of sources that there is or will be some kind of follow up investigation from some independent law enforcement agency. I won't hold my breath. In any case, the shakedown was apparently moot and stopped when the court threw the recall out. Lopez sued to stop it and a judge ruled that it was invalid because the reason used — that Lopez was absent from too many commission meetings — was not a justifiable reason per the city charter.
J.C. Planas, who represented the PAC, Providing Effective Government for All Residents — which was chaired by the live-in boyfriend of Commissioner Idania Llanio — said the mayor violated his duty. "I don't think the court read the petition carefully. The petition said he also didn't send staff." It listed the last five meetings Lopez, a strong mayor, and his staff missed. "That's the only way commissioners can talk about public policy, in a public setting," Planas said, adding that private one-on-one chats with each commissioner bring "the possibility of him being a conduit to a Sunshine Law violation."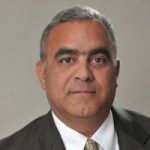 Bergouignan, who would benefit the most from a recall as the commission president becomes interim mayor, then tried to get Villanueva, a Lopez ally, taken off the ballot. A week before the election Tuesday, Bergouignan had Planas — his attorney and, by the way, also County Commissioner Diaz's attorney — file a lawsuit that claimed Villanueva intentionally omitted information on his required financial disclosure. A judge threw that complaint out.
On Monday, Villanueva had a press conference where he called Commissioner Pepe Diaz "el Chapo de  Sweetwater," and named four "puppets" that included Bergouignan, Planas and the city's former construction manager.
Read related story: Jose "Pepe" Diaz will bring up DUI arrest, then say nada
But he said he was not behind the young people who showed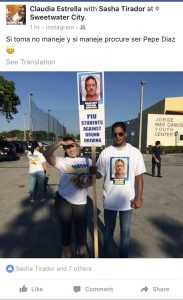 up to the Jorge Mas Canosa Youth Center on election day with t-shirts and signs identifying themselves as "FIU Students Against Drunk Driving" with mugshots of Diaz when he was arrested in 2015 in Key West for driving his motorcycle under the influence. Sweetwater is looking more and more each day like Hialeah.
Evidenced by the fact that campaign consultant and Absenee Ballot Queen Sasha Tirador, who represents both Lopez and Villanueva, heckled the county commissioner — who was there stumping for votes all day — on a megaphone.
"Ding, dong, the witch is dead," Tirador told Ladra on Wednesday.
Diaz did not return mutliple voice and text messages left on his cellphone Wednesday and Thursday. Probably busy licking his wounds and plotting his next step.