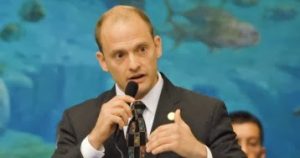 As many may have expected, newly-minted State Senator Jose Javier Rodriguez announced Tuesday that he would run for the congressional seat in District 27 being vacated next year by a retiring U.S. Rep. Ileana Ros-Lehtinen and immediately he became the front runner for the Democrat primary — at least on paper.
But on the streets, Miami Beach Commissioner Kristen Rosen Gonzalez might still give him a good run for his — or the party's — money. And in Obama circles, the name Francisco Cerezo — a Puerto Rican Miami lawyer and onetime Obama surrogate who is son of the first Latin American female federal judge — is being floated around by his friend, political operative Freddy Balsera (who would work on his campaign, of course).
Political observers say Cerezo (read: Balsera) is just using the race to get some name recognition — beause right now it is zero — so he can run for another seat that opens up in the future, maybe one of the domino effect avalanche seats that will open up in the state legislature from this race or the Senate 40 contest. Pedro Diaz, a political consultant who runs Rosen Gonzalez's campaigns, is convinced this primary race has already been defined, 15 months out, as a two-way contest between his client and Rodriguez, who was a state rep for four years before jumping to the Senate last year and who was being groomed for this position, eventually, before IRL surprised everyone with early retirement and reset the clock.
Read related story: Kristen Rosen Gonzalez to challenge Ileana Ros-Lehtinen
"No other big name is going to jump in now that he's announced," Diaz said, adding that maybe that was the senator's point, to scare everybody off.
But Rosen Gonzalez — who has fought Miami Beach Mayor Philip Levine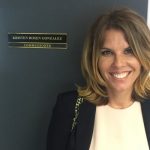 and his political consultant, David "Disgustin'" Custin — is not scared easily. Heck, she's the only one who was brave enough to announce her intentions before Ileana decided to retire. J-Rod could be called an opportunist.
"He's a formidable opponent," Rosen Gonzalez told Ladra Wednesday, "but I'm going to stand my ground."
"My supporters are my supporters and I don't think an Ivy league lawyer is what they really want," the college professor said, referring to J-Rod's Harvard law degree.
She may be smart to define herself, in contrast, as a single mom and educator. Because there are very few other differences between them.
The two have similar blue positions on immigration reform, minimum wage, climate change and neither has been shy to voice their concerns, so they're not going to mark much of a difference that way. Both of them are good, but not great, at media. Neither one has to resign to run, so they have nothing to lose and each can use their bully pulpit to promote themselves.
J-Rod may have more legislative experience, but it's just a tiny bit more. He could also be seen as an ambitious hopper who just became a state senator five minutes ago and is already itching to move up the political ladder. But Rosen Gonzalez, a freshman city commissioner, might also be seen as too ambitious for her own good.
And yes, Rodriguez scored two powerhouse victories when first elected to the House in 2012 (against former Sen. Alex Diaz de la Portilla) and then the Senate last year (against big brother Miguel Diaz de la Portilla), but those big wins have been in presidential years. His win against nobody lobbyist Daniel Diaz Leyva in 2014 was by a much smaller (642-vote) margin. And Ladra dares say both DLPs could have worked a little harder, or nicer.
Read related story: Jose Javier Rodriguez hangs on despite Danny Boy's dough
Rosen Gonzalez, like J-Rod, is a tireless campaigner.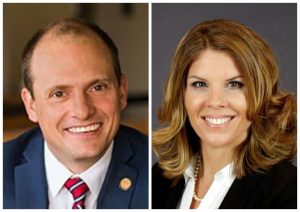 So let's say they split the Hispanic vote. Rosen Gonzalez will likely get the Jewish vote and the preservationists vote and also the female vote. Because it looks like she will be the only Democrat woman in a primary against four or five men. DUI driver Scott Fuhrman, who ran but lost against Ros-Lehtinen last year, and UM academic advisor Michael Hepburn have both filed for the seat. Add to that Rodriguez, Cerezo and, maybe, Matt Haggman, Miami program director for the Knight Foundation.
Since there are only 105 female members of Congress — or about one to every five men — Rosen Gonzalez hopes voters might hate to lose one of those, and the first seat won by a Hispanic woman, to a man. At least that's what she's counting on.
"There's going to be five men in the race and me," she said. "I can live with those odds."