The next mayor of Miami Shores is the lucky one among six council candidates
who gets the most votes Tuesday.
That's how they do it there in The Village Beautiful. Six wannabes vie for three "at large" seats. The two candidates with the highest number of votes will serve for four years and the one who gets the third  highest number will serve a two-year term. Then, among their first orders of business, they will vote among themselves and the two existing council members, elected in 2015 to a four-year term, to choose a mayor, who serves mostly a ceremonial seat for two years.
Historically, the council has chosen the candidate who gets the highest number of votes. That person serves the frist two years as mayor and the last two years as a council member.
None of the candidates have ever been elected before. The only "incumbent" among the six candidates is Councilman MacAdam Glinn, who was appointed to replace a councilman who resigned about 18 months ago. Councilwoman Herta Holly is termed out and Councilwoman Ivonne Ledesma, is not seeking re-election.
"It's been four years and I've done my civic duty,"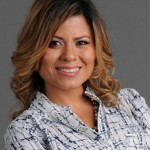 Ledesma told Ladra Wednesday. "I never had any intention of maing a career out of it."
As the only Hispanic on the council, Ledesma (photographed to the left) is endorsing the only Hispanic and only woman of the six candidates, Liangy Fernandez-Calli, a mother of four who serves on various community groups and committees.
"We're an 80-year-old city and we've only had a handful of Hispanics on the council and no African-Americans," she said, and although we were talking on the phone, you could hear her virtually shaking her head.
Eddie Lewis is the only black candidate running, but he's not really a candidate. Not viably. Lewis has run about a dozen times — even for county offices. He is a perennial candidate desperate to get elected and voters don' generally like that. Just ask Annette Taddeo.
Here are thumbnail profiles of the six candidates:
Sean Brady ran in 2015, coming in fifth with 906 votes. He is a 42-year-old father and information technology consultant with his own small business who has lived in Miami Shores for seven years and is on the board of directors of the Miami Shores Chamber of Commerce.
Bill Davis comes from a long line of elected officials. It seems that one of his relatives has always been on the council. Someone named Hunt Davis ran two years ago but didn't come close. Bill Davis has talked on the campaign trail about placing cameras on the west side of the village, for public safety reasons.
Liangy Fernandez-Calli, the female on the ballot. She is recently joined the Chamber of Commerce and has been the president of the parent association at Miami Shores Presbyterian Church School for two years, where she organized the arts festival now in its third year.
MacAdam Glinn, 41, is a construction industry lawyer and senior VP and director of aviation at Skanska USA Building. He came in fourth in 2015, short just 14 votes from third place, but as appointed to the seat vacated shortly after the election when Councilman Jesse Walters resigned amid a dispute with the country club and allegations that he was trying to strong-arm them into changing the lease agreement with the village.
Eddie Lewis, the token black candidate on the Shores ballot, is a pernnial candidae desperate to serve in office. He's even run for county mayor in the clusterbunch of the 2011 recall election and for property appraiser before that. Ladra is surprised he hasn't run for the School Board. He is the only one of the six candidates whose photo is not on the village website. Ladra suspects he will be as absent on election day (again).
Jonathan Meltz, the president of the Miami Shores Chamber of Commerce (its a small town, okay?) for the last two years. An attorney who has lived in the village for 15 years, he coaches girls basketball, volleyball and flag football at St. Rose Lima where his daughters attend and his wife is Home and School Board President.
There's nothing really controversial setting anyone terribly apart this election cycle.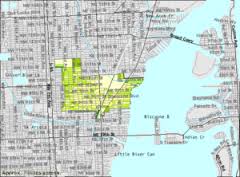 It's not like two years ago, when the council's rejection of a marriage equality measure caused a stir in this cozy, tidy and LGBTQ friendly enclave east of I-95 from about 90th to 111th streets just south of North Miami. There was so much backlash, in fact, that the equal marriage measure was passed shortly after the election — brought back to the dais by one of the councilmembers who voted against it originally.
There's more buzz this year about the referendum on a $20 million bond to build a community center. If approved, the Village will have 30 years to pay off the new bonds and the new debt service on property taxes would be approximately a little more than $285 annually or $23.75 per month for a home with an assessed value of $229,000.
The election is from 7 a.m. to 7 p.m. Tuesday and The Village Beautiful is such a small town that there is one voting location, the C. Lawton McCall Community Center at 9617 Park Drive.
SAVE Dade will have volunteers going door to door to drum up votes for the three candidates they are supporting, which are Brady, Fernandez-Calli and Glinn. For more information on volunteering, click here.