Former Miami Lakes Mayor Michael "Muscles" Pizzi is out of the limelight and out of politics,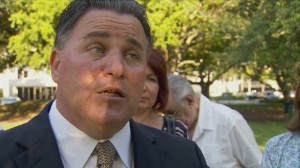 losing the mayoral election last November to Manny Cid. But he's not out of the legal debt stemming from that elected office.
Pizzi has been sued by Carlton Fields Jorden Burt, one of the lawfirms that represented him during his battle with the town of Miami Lakes to get his seat back. They say he owes them $56,795. Pizzi says he doesn't owe them squat.
"Carlton Fields was paid every penny they earned," Pizzi told Ladra Wednesday. "I'm not going to pay them a penny more. And for them to do this two years later is absurd."
Let's bring the newcomers up to speed, shall we?
Read related story: Chatty Michael Pizzi claims innocence, blames Michael Kesti
After Pizzi beat federal charges of bribery stemming from a bogus grant scheme set up by undercover FBI agents, he sued to be reinstated as mayor, even though the town had elected someone else during his trial after he was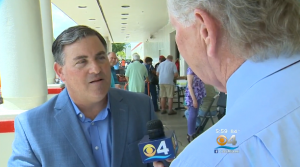 suspended by the governor. A court forced the governor to unsuspend him and then forced the town to take him back. Then the court found that the town was liable for his legal fees in that fight to regain his office.
Those fees originally were somewhere around $600,000, but the town refused to pay more than what they paid for their own legal fees during the case, which was approximately $460,000. A settlement with Pizzi and the attorneys in question meant that they would each have to lower their fees by a certain percent. Apparently, Carlton Fields was not happy and never signed on to a discount figure. It's unclear if they got any of the pie. 
And, no, Pizzi didn't pocket the money himself. It's the first thing Ladra thought, too. But the town paid the lawfirms directly after reaching the settlement. And it was apparently Pizzi's decision to leave Carlton Fields out of it. So they sued him.
Read related story: Michael Pizzi and his legal dream team — at what cost to who?
The lawsuit, filed in February, includes an agreement Pizzi signed in August 2014 agreeing to the schedule of fees for video taping, secretarial work, messanger services and a slew of other incidentals, plus the $870 an hour for Peter Webster, the attorney who represented Pizzi for the petition to the state to have him reinstated. The motion says that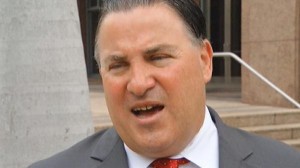 Pizzi saw the invoices every month and never objected, further approving the fees.
Pizzi played possum with Ladra.
"It's ridiculous. A big law firm trying to get money they're not entitled to," Pizzi said. "I'm offended by their conduct."
The former mayor, who is still fighting County Hall on the megamall on behalf of a group of residents, says that the firm should sue the town. After all, he is not responsible for those fees. The attorneys won him that battle.
Pizzi said that Carlton Field was paid a portion of their "exorbitant" fees. "If they feel they are entitled to any more money, they should have filed a claim against the town."
The documents filed with the lawsuit show the total balance as $56,795, so it's unclear if they were paid anything.
Read related story: Michael Pizzi sues Miami Lakes for $3.2 million in legal fees
Meanwhile, the town is still fighting Pizzi's attempts to have taxpayers pay the $2.5 million legal fees for his federal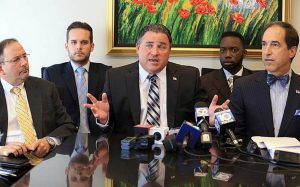 bribery trial, for which he had more attoreys than O.J. Simpson (read: too many). The town says nana nina.
"We don't believe any of the conduct was in the course and scope of being mayor of Miami Lakes," said Town Attorney Raul Gastesi. He is talking about when Pizzi backdated bogus documents and took a $3,000 campaign contribution in an office closet. At the very least, he added, half of the charges in the indictment stem from actions Pizzi took as town attorney in Medley.
A court agreed with the town and ordered Pizzi to be deposed so he could answer questions about the fees, which the town believes are also excessive. Pizzi has refused to be questioned and appealed that decision.
Of course he did! He is facing $2.5 million in lawsuits!