Former Coral Gables Mayor Raul Valdes Fauli will have that word "former"
removed from his identification after he is sworn in as the new mayor again.
Valdes-Fauli beat Commissioner Jeannett Slesnick in the mayoral race Tuesday, 51 to 49, after Mayor Jim Cason said he would not run for a fourth term. As expected, it was a tight race and a slim victory — by a scant 187 votes. And it's almost all absentee ballots.
Only 15 people more voted for him than for her on election day. The other 172 additional votes he got were via AB.
A total of 8,415 people voted in the mayoral election Tuesday (there was a drop off of about 200 an 300 in the two commission races), which is on the high end of a typical turnout.
Read related story: Coral Gables candidates will spend more than $1 million
"I always said I was going to need 4,000 votes. I just needed a little more," Slesnick told Ladra late Tuesday night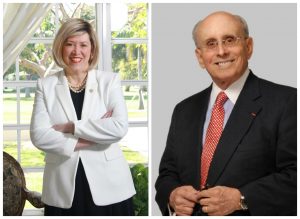 after several people had left her campaign party.
She said her business partner will be happy to have her back at work full time, but that she will stay involved in Gables issues. "I never stopped being involved," she said, and she wasn't talking about Valdes-Fauli but she may as well have been since he disappeared for 13 years until endorsing Cason two years ago and then getting rewarded with a charter review committee seat.
"We had a great turnout today and we ran a really good campaign. They were all volunteers except for one person. Everybody else was volunteer from start to finish," she said. "I ran a very clean campaign and I'm very proud and I don't know anything I could have done differently."
With all due respect and my apologies for not writing enough about the race or earlier, maybe she could have gone a little negative? Valdes-Fauli sure did. And it seemed to work for him.
The former mayor waged war in this campaign, which was more of a grudge match for Valdes-Fauli, who lost his seat in 2001 in a bitter defeat to former Mayor Don Slesnick, the commissioner's husband. Jeannett was cast as not much more than a shill for her husband, whose administration was mired in scandal and financial chaos, which was sort of the case but certainly not Don Slesnick's fault.
Read related story: Mucho mailers mean to mislead in Coral Gables election
"I'm sorry he had to take the brundt of the campaign madness," the good wife said. 
But Valdes-Fauli got his licks in on her, too. Using innocuous votes against her, saying she voted for the Paseo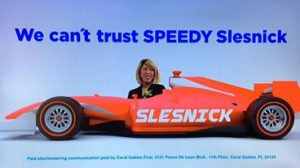 project when, in fact, it had already been approved and she was voting for subsequent measures, some of which downsized the project. She did her job. Another cast her as "Speedy Slesnick" because she voted against a feel-good measure to lower speed limits to 25 MPH on some streets whe her point is that what the city needs is police officers to enforce the already pretty good 30 MPH limit. 
The worst attack, however, was the whisper campaign about Slesnick being anti-Hispanic or anti-Cuban, which is a ridiculous and, frankly, insulting card to pull. It becomes especially injuring when it is pulled by a Castro apologist who recently visited the island, had some eye-opening experience and now advocates for closer relations with the Cuban regime. Que descaro!
We'll know more in coming days about the demographics of the vote, but I bet that a lot of Hispanics were targetted and came out.
Read related story: Coral Gables mayoral race takes a nasty, ethnic turn
This victory is not just a victory for Valdes-Fauli — and for Sergio Pino, one of the developers that funded his campaign (with at least $10,000). This is a victory also for Commissioners Frank Quesada and Vince Lago, who endorsed the former mayor and will now have a third vote to push their agenda through.
And if people were concerned about over development before, they can just kiss the old Gables good bye, because it's not about to get any better for the next two years. It doesn't really matter anymore that Commissioner Pat Keon got re-elected or if Marlin Ebbert pulls out an upset and beats Mike Mena in a runoff (more on that later).
A majority is three votes. They have preserved that with Tuesday's vote.