One of the Democrats already getting ready for 2018 is Miami Beach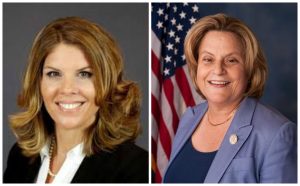 Commissioner Kristen Rosen Gonzalez, who has been thinking for the last few weeks about challenging Congresswoman Ileana Ros-Lehtinen.
She said Friday that many people had approached her and "an exploratory committee is testing the waters." But those close to Rosen Gonzalez told Ladra she may file for the seat in District 27 as early as next week.
"The district deserves a Democrat. It has been redrawn for a Democrat and it needs a new fresh voice," Rosen Gonzalez told Ladra Friday, sounding pretty much decided.
Yeah, but voters rejected a Democrat just this past November when IRL beat Scott Fuhrman after some nasty campaigning that reminded voters of his drunken driving past. But Fuhrman still got 45% of the vote, despite the DUI ads. Perhaps Rosen thinks a woman will fare better? Maybe she thinks anti-Trump fervor will help usher her in?
Read related story: Ileana Ros-Lehtinen hits hard with Fuhrman DUI ads
"As I meet people and tell them what I want to do, I realize I have support out there," she said. "It's really outrageous that we don't have a Democrat representing us at the national level. None of the people we have in Congress are representative of this area. They're out of touch.
"There is so much angst and despair about what is going on," she said, referring to the national issues like healthcare, the environment and the coming nominations to the Supreme Court that would tilt it to the right.
"I want to represent everyone. This partisan bifurcation benefits no one. Some issues are not just black and white," she said. "Climate change, health care, education – these are issues that should not be partisan issues and people must work together. We need to make decisions that are fair and balanced."
While she is a freshman city commissioner, Rosen Gonzalez has been expanding her profile and dipping her feet more and more into national politics for months. She came out strong for immigrants on the sanctuary city fiasco and joined the protests against Miami-Dade Mayor Carlos Gimenez for kowtowing to Trump's ridiculous demands. She has championed increased mininum wage and she spoke on climate change at the Women's March.
She would have to leave her commission seat a year early, but says that the time is now and Ileana — who is seen as invincible by most in the political 305 — will never be more ripe for the taking. "There's a lot of positive energy right now in the community and I feel like this is the time," Rosen Gonzalez said, adding that she wants to work on national flood insurance reform.
Rosen Gonzalez has already met with members of the Democratic Congressional Campaign Committee, which has probably talked to a couple of different people (though the blue bench is not too deep). Other names that have come up for this seat are Jose Javier Rodriguez — but he just moved to the Florida Senate from the House so another jump so soon would not look too good — and State Rep. Daisy Baez, but she was just elected so she's even more of a freshman.
Ladra feels that Rosen Gonzalez, a single mother and college professor, is the natural choice — and the front runner already.
"I'm proud of what I've done in the city but we need a Democrat to win a good race and give people hope," said Rosen Gonzalez, who was elected in 2015 despite her opponent's help from millionaire mayor Philip Levine.
Read related story: Kristen Rosen Gonzalez wins in Miami Beach race
"The best part of my election in Miami Beach is that it disrupted nature and allowed everybody else to speak out. And now we have a lot of good candidates running," she said, referring to the election this November and a slew of candidates that have filed to run, including former Commissioner Michael Gongora, who she had a fundraiser for.
But while it may be good timing, it still won't be easy. Ros-Lehtinen is seen as invincible because she has been there for almost 30 years and espouses many moderate views. Even Democrats love her. She has defended immigrants and introduced legislation on climate change. Her son, Rodrigo, is transgender and she is beloved by the LGBTQ community.
And she's going to have more money.
Rosen Gonzalez said that her campaign will be a grass roots effort and she believes the anxiety that registered Democrats are having with everything out of the White House will transfer to the ballot next year.
"Too many Democcrats vote for or support 'moderate' Republicans and this is why we have a Republican majority."