After Miami-Dade Commissioner Esteban Bovo became the board's chairman in December, he created the Chairman's Policy Council, a new sort of super committee to take up the most important issues the county faces in the next two to four years — including the renovation of the historic downtown civil courthouse, which was once a $400-million tax grab emergency many moons ago. 
According to the county website, the Chairman's Council will be responsible for:
Identifying innovative transportation funding solutions

Developing a courthouse capital improvement plan

Identifying critical capital needs, and a corresponding funding plan for the county's jail system to ensure and promote the humane treatment of inmates while maximizing the safety of county correctional officers

Developing a coherent and proactive sea level rise response plan

And preparing a workable county response to gun-related youth affecting our community
That's a lot of responsibility, ain't it? It hits all the main community issues and some of the more expensive ones.
And it's all in the hands of the seven commissioners who voted for Bovo as chairman: Jean Monestime, Audrey Edmonson, Bruno Barreiro, Sally Heyman, Rebeca Sosa, Dennis Moss and Javier Souto. They were rewarded with a  juciy spot on this new and important board while Commissioner Xavier Suarez and those who voted for him were left out.
Read related story: Carlos Gimenez, er, Stevie Bovo wins commission chair
Thursday's meeting has the eight-member board

looking at three $11-million contracts for engineering services for the Department of Transportation and Public Works (including one that has the mayor's BFF listed as a subcontractor, again). The three contracts look like they are for the same thing — engineering work on a variety of projects, including the study of using driverless vehicles (though we need to get cars off the road, not drivers) — and also include side deals for 41 subcontractors.
But they will also be looking at and discussing different possible transportation funding sources, including:
Tax increment financing

Local option gas tax

Auto tag renewal fees (which is what Suarez has been pushing for but he's not on the committee)

Fees on parking violations

Whatever is left in the People's Transportation Plan surtax after Mayor Carlos Gimenez takes out millions for operations and maintenance

Tourist bed taxes

Monies from the Miami-Dade Expressway Authority

Public-private transit-oriented development opportunities
Bovo also wants to talk about "deficiencies" in Transportation and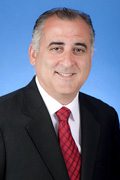 Public Works and an update on the construction repairs or renovation to the civil courthouse. 
There's also a $1.5 million contract to consider for Perez & Perez Architects Planners for an update to the 2008 master plan for the court system and the county jails. That money will come from the Building Better Communities general obligation fund.
The Policy Council — or the Bovo Buddies Bunch, because you can call them that — meets at 9:30 a.m. in commission chambers at County Hall, 111 NW First St.