Former Congressman Joe Garcia will join others at County Hall this afternoon to protest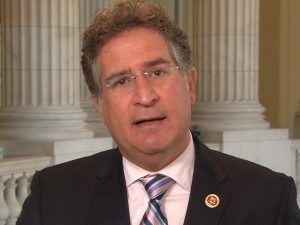 Mayor Carlos Gimenez's directive last week to have illegal immigrants who are arrested for other crimes detained for federal immigration proceedings.
"While I'm a good friend of Mayor Gimenez's, I think this is a mistake," Garcia told Ladra Tuesday morning.
"Hopefully, he is going to reconsider."
The protest Tuesday, organized by immigrant activists, is the second one in five days. Close to 100 demonstrators showed up to County Hall on Friday, a day after the mayor ordered the corrections department to hold anyone who has a federal detention order and turn them over to Immigration and Customs Enforcement. But they were blocked from entering the public building. Wonder if Gimenez's office is going to block a former congressman, too.
The protest today starts at 4:30 p.m. — just as county employees leave for the day.
Read related story: Carlos Gimenez betrays our community for Donald Trump
Immigration issues are important to Garcia, who lost a bid to retake his seat from U.S. Rep. Carlos Curbelo in November. Curbelo, btw, was one of the five Republicans who voted against a House measure that passed last week cutting off federal funds from the U.S. Department of Justice to states and cities that refuse to enforce current immigration laws.
"When I served in Washington, immigration was a very important thing to me," Garcia said, adding that he ran one of the largest refugee programs when he headed the Cuban American National Foundation in the 90s.
"And it is very important that we stand with one of the things that make our community so rich. It's not just the Cubans, it's the Nicaraguans, the Colombians, the Hondurans," Garcia said. "I think the signal he [Mayor Gimenez] sent to the rest of the country is a poor one."
On Thursday, Gimenez sent a directive to Miami-Dade Corrections Director Daniel Junior instructing him to hold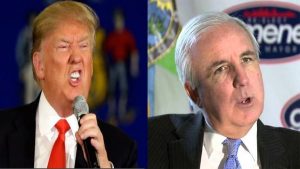 anyone in county custody who has a detention order from ICE. It reversed a long-standing tradition not to do so and a 2013 county commission resolution that states that the county will only comply with detainer requests once the federal government pays the county costs. Gimenez was the first, and so far the only, mayor to cave in to Trump's threats.
"The city on the hill is what people in Latin America, Central America and the Caribbean see Miami as. And for us to go for the false narrative from the White House is wrong," said Garcia, whose parents came to this country when they were 18 and 17 years old.
Read related story: Levine Cava questions Gimenez on sanctuary about-face
"Our mayor is a refugee himself," Garcia added. "He may not have thought this all the way through."
Okay, okay, but does this mean that Garcia is positioning himself for another run for office. Maybe for county mayor in 2020 (or sooner, if there's a recall)? After all, he sent a press release from his campaign Nation Builder account (Update: He sent two; one Monday night and a reminder Tuesday afternoon).
"There is no election going on," he told Ladra after he laughed a little. "And anyways, I'm a poor politician. This is something that is important. That is why I'm going to be there."
Ladra wonders how many other electeds — past and present — will be counted, too.