Miami-Dade Mayor Carlos Gimenez has siphoned (read: stolen) monies from the People's Transportation Plan, approved by voters to build MetroRail extensions, and used it for operation costs.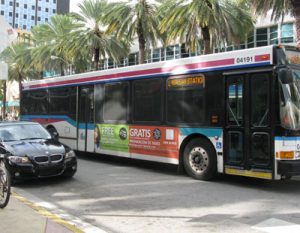 He raised bus fares in 2013 from $2 to $2.25 when he bought $40 million worth of new buses. And he has cut bus operations by $3 million this year, saying he's okay with a 78 percent on-time rate because it's acceptable for people to be late 22 percent of the time.
Oh, and he spent $33 million on an app that can sell us bus and rail passes on our smart phones and who knows how much on another app that can tell us that the 120 Beach MAX or the 137 West Dade route is going to be late 22 percent of the time.
Now, on the eve of his re-election effort, Gimenez announces his first major transit "solution" (and I use the word solution loosely): Uber ride-sharing!
Ladra is not making this up.
And maybe we should have seen this coming when Gimenez and a few commissioners fell all over themselves to make the for-hire passenger service legal earlier this year. Because now, the county proposes that Uber, which was operating illegally for more than two years, be the stop gap between home and the MetroRail.
"The Department of Transportation and Public Works has joined forces with one of the most popular ride-share programs around: Uber," reads the almost breathless press release from the county. "The collaboration is just another way DTPW is working to ease riders' commutes and help reduce congestion on the roadways by encouraging more drivers to opt for public transit."
Read related story: Watch as Uber's intimidating tactics catch fire
This is public transit? Someone else's car?
"At Miami-Dade County, we're all about moving our residents forward and making it easier for all Miamians to get where they need to go," Gimenez said in the release. "By collaborating with Uber, getting to and from our transit stations is easier — and faster — than ever."
Well, wait. It will still cost you $3 a trip, so that's $6 a day, assuming you use Uber also to get home. So that's $30 a week, or $120 a month. Just for the stop gap ride. We would still have to pay the bus and/or train separately.
Oh, and wait. It's only good for people who live within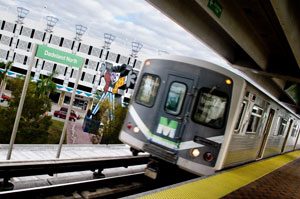 15 miles of a Metrorail station. Live in Homestead? You're still screwed. Wait for the bus that is late one day out of the week. Nobody is about moving you forward and making it easier for you to get where you need to go.
Oh, and wait. It's a temporary fix. Only good for the next month. The "promotional fare" will end Sept. 30. After that, Uber will charge market rates — or you can go back to walking and hitching rides with your momma.
Or paying $4.50 for parking. Because Ladra predicts that the only people who are going to take advantage of this are the people who already drive to MetroRail and park their cars all day there. The difference for them is $3 a day. Or $15 a week for a someone else to deal with the traffic. That may be worth it to just about anybody. Do without lunch.
"A lot of our residents are curious about trying public transit, so we want to make the choice an easy one," said Transit Director Alice Bravo. "By collaborating with the ride-share companies, our riders have the benefit of a quick and easy trip to one of our Metrorail stations for a low, affordable price, without worrying about parking."
Bravo is really counting on Gimenez winning his re-election.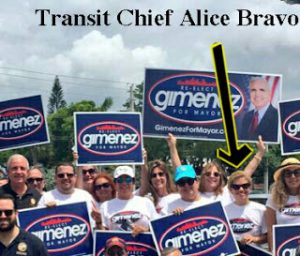 Here she is at a honk and wave rally on a recent Saturday — protecting her $235,000-a-year job making ridiculous statements like that. And like this.
"Uber will get you to us, and then let us do the rest."
Doesn't it feel like a commercial for Uber? Did their lobbyist get the county to do this? Who benefits more? The county? The rider? Nope. Uber benefits more. This is the best PR you can buy.
But who is Bravo kidding? This ridiculous partnership is not going to attract a lot of new riders who can't afford $120 a month for a stop gap trip. But it might cost Miami-Dade some parking revenue.
Read related story: Carlos Gimenez moves to legalize Uber, pardon penalties
The county doesn't care. "Don't sweat your commute, and let Miami-Dade and Uber take you where you need to go."  It sounds so good. Like a bumper sticker.
Tell you what, Mayor Gimenez, why don't you make Uber pay all their fines from the many months they snubbed their nose at the law and operated illegally? Take that $3 or $4 million you want to forgive, and apply those funds toward bus maintenance and operations so we can be on time more often.
Because what good are the $40 million in new buses you bought last year if nobody will ride them? Because they're late one out of five days?