For all his exaggerated experience as a manager and fiscal expert, it's ironic (and somewhat funny) that Miami-Dade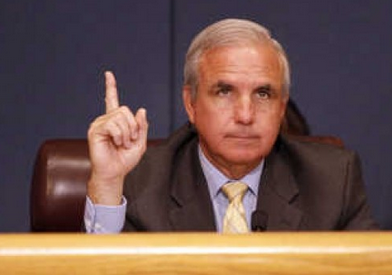 Mayor Carlos Gimenez would pay his re-election qualifying fee with a bad check.
That's right. His original check was no good; it was back dated more than a year. The mayor was allowed to correct this with a "replacement check" — and yet nobody asks if this doesn't render him unqualified to run our county's $7 billion budget. Imagine that!
Gimenez, or whoever writes and/or signs his campaign checks for him, intended to qualify for the race on June 17. That's when he presented his qualifying documents — a sworn oath, his financial disclosure with a net worth of $1.5 million — along with a check for the $1,800 fee. Only it was dated June 10, 2015 — more than a whole year earlier. Is he living in the past, or what? Someone at Elections must have noticed this before it went to the bank because they called and notified his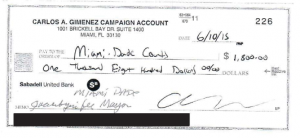 campaign that the check would likely not be honored — you know, banks have a thing about checks that are older than 90 or 180 or 365 days — and that they needed a new check with a more recent date if the incumbent wanted to qualify.
It was like a "Head's up!"
The deadline to qualify was at noon the next day. But, apparently, Gimenez couldn't wait. Who knows? Maybe he was playing golf that morning. Because someone delivered the check right after 10:20 p.m. the night of the 20th, according to a stamp on a copy of the replacement check at the Elections Department.
That's right, again! His second check was time stamped at 10:20-something p.m. You can't really see all of the last digit on the time stamp, but it looks like a 1, like 10:21 p.m.
Deputy Elections Supervisor Carolina Lopez told Ladra that the same head's up would have been given to anyone who writes a year-old check, even though nobody did. She also said that nobody had to come in on overtime just for the mayor. The office was already open and employees were already working to file qualifying documents online late into the night, Lopez explained. She said they would accept a check or missing qualifying documents from anyone, not just their boss, if someone came in the middle of the night.
That's the time they are doing their quality control, Lopez said. Any and all candidates are notified when a deficiency is found. Usually, it's a notarization issue. The document isn't notarized or the notary commission is expired. Other times they forget to sign the oath or they sign the wrong oath for the wrong office.
"I dealt with many a candidate after 5 o'clock," said Lopez, who is, indeed, extremely responsive after business hours and who reminded me that there were about 600 candidates on the ballot when you include all the party committee people.
Okay, I didn't check 600 of them. But a cursory review of time stamps on dozens of other candidate qualifying checks — from judicial races to community council wannabes — shows that they all presented payment during business hours. Only Gimenez got a time stamp on his check after 5 p.m. Waaaaay after 5 p.m. What does that say about his ability to manage a $7 billion budget? What if he mistakenly backdates a grant application or something? Or doesn't complete the paperwork on time?
Ladra is being sarcastic. Because obviously the competent Miami-Dade employees will take care of it. Proven by the eagle-eyed staffer at the elections department who noticed the backdated check and took care of the mayor's mistake. So, at best it's a sign that he doesn't know wh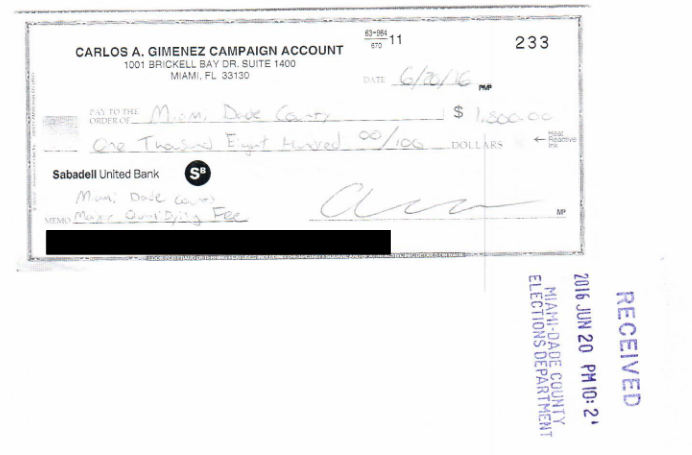 at he's doing. At worst, it could be an abuse of power. Because Ladra can't understand why Lopez wouldn't tell anybody who might be given a head's up to please come in the next day. After all, we are busy working late into the night with the paperwork we already have! Even if there were a dozen employees there in some back room filing paperwork, the front door to the Doral Elections office wasn't unlocked, was it? Someone had to call to get inside. The intake window wasn't manned. Someone had to stop what they were doing to get the mayor's new check right before 10:30 p.m.
"We do not provide any preferential treatment to anybody," Lopez told Ladra, and I can understand why she might be upset at my doubts but it's not about her. "Most of my calls are after 5 p.m. because that is when I have a chance to review the files," she said. "In order to give our candidates the proper level of service, I give them every opportunity and entertain many calls after 5 p.m. I'm on 24 hours a day."
Well, if this is a privilege allowed to everyone, I urge candidates in the next election cycle to beat the rush and go in the middle of the night on the eve before the deadline. Call Carolina. She'll open the door for you.
The issue has become more relevant now because, even if there was no abuse of power, there is certainly a double standard being applied here when the mayor refuses to instruct the elections supervisor to start counting 127,000-plus petitions from voters who want campaign finance reform. A delay in verifying the signatures could mean the measure is not on the November ballot and the activists have sued the county to make it happen.
So maybe Gimenez is simply selfish. He moved hell and high water to make sure he was on the ballot to keep his gravy train seat but he won't lift a finger to get the campaign reform measure requested by more than 127,000 voters on the ballot. Because he doesn't represent them. He only represents himself.
By the way, that is more votes than he got for mayor in 2012.
But Gimenez is not known for sticking to process, is he? Look at what happened with the Liberty Square Rising redevelopment bid and the water and sewer infrastructure bid and a number of other business contracts in which he has impacted (read: meddled in) the process. Why wouldn't he violate the process to keep his job? He has a history of thinking the rules don't apply to him.
This should be investigated. The State Attorney's Office and the Commission on Ethics and Public Trust should ask for video tape from the cameras in the lobby and sworn statements from everybody involved in procuring or receiving the replacement check, including whoever wrote the receipt for the second check and corrected the date from the 21st to the 20th. Because the first date hand-written on the receipt for the check was June 21 and the 1 was changed to a 0.
So did the mayor even qualify on time? When was that exactly? Did he get the replacement check in at 10:21 p.m. on the 20th, as indicated by the time stamp, or on the 21st, as indicated in the hand-written receipt? An investigation would end any speculation about what happened.
Because, at worst, Carlos Gimenez used his position to get an unfair advantage in the electoral process. And, at best, he doesn't know how to write a check.
Voters deserve to know which it is.