A negative mailer arrived in some county mailboxes recently calling former Miami-Dade School Board Member and one-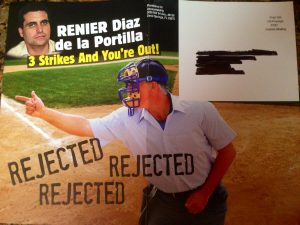 time State Rep. Renier Diaz de la Portilla — who is running for Miami-Dade Circuit Court judge — a three-time loser. "Three strikes and you're out," the mailer said, referring to Baby DLP's trifecta of losses against Marta Perez (School Board, 1998), former State Rep. JC Planas (House, 2002) and State Rep. Manny Diaz, Jr. (House, 2012).  A baseball umpire points under a bad picture of Diaz de la Portilla and the word "REJECTED" is stamped three times on the piece, which was paid for by Floridians for Accountability.
Read related story: For judge: Renier DLP vs. Veronica D — promise vs. puppet
The mailer may not say her name, but the PAC is helping city of Miami Assistant City Attorney Veronica "Little Miss Ultra" Diaz, who has a plethora of questionable ethical actions — like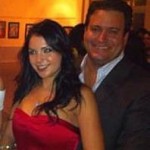 steering city work to her boyfriend, bad boy attorney Ben Alvarez, and taking freebie VIP tickets to the Ultra Music Festival while she was negotiating the contract between the city and the promoters. But Floridians for Accountability — which collected $40,000 between July 26 an Aug. 1 from the same company in Delaware — is based in Broward County. What is a PAC based in Broward doing involved in a Dade judicial race? Well, Ladra smells something that might be the illegal third party funding of this mailer, specifically for this race, and invites our local authorities to check it out. I mean, if past behavior is a pattern, that scenario is not so unlikely for our Little Miss Ultra.
Read related story: More on Ultra bad judicial candidate Veronica Diaz
Since launching her campaign for office, Diaz has lied to the Miami Herald's editorial board about not being investigated on ethics complaints, lied to the world about her endorsement from Mayor Tomas Regalado — who told Ladra he had not backed her — and crowed about hopefully being the first Colombian born elected to the bench in the U.S. Prior Colombian judges were appointed. And while we have Judge Diana Gonzalez-Whyte elected to the bench in 2012 — beating former and disgraced judge Ana Maria Pando, who now works at Alvarez's firm — she was born in the U.S. to Colombian parents.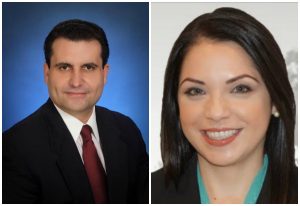 So, does that mean, Little Miss Ultra, that you are more Colombian than she is?
Anyway, using a Broward PAC as a vehicle for a self-funded attack piece on your opponent isn't so out of the stratosphere for Little Miss Ultra.
Read related story: Veronica Diaz lied: Not endorsed by Mayor Tomas Regalado
Who are/is Floridians for Accountability? Well, the ECO is chaired by Amy Rose, who was the campaign manager for Broward County Sheriff Scott Israel in 2012. Rose has also been a campaign consultant for State House candidate Louis Reinstein and School Board candidate Abby Freedman.
Judging from the legal background of many of the contributors, the ECO has some judicial focus. But the latest $40,000 in new money came in two checks — $27,180 on July 26 and $13,000 on Aug. 1 — from the same source, a business consulting firm in Dover, Delaware.
According to the searchable online database of Delaware's Division of Corporations, SKDJ Solutions, LLC was created in 2012 by National Registered Agents out of Wilmington. Apparently, you don't have to disclose principals in Delaware.
Whoever they are, SKDJ also gave $17,780 to the Veterans for Conservative Principles state political committee on July 23 and was represented in 2011 by lobbyist Alain Jean in the city of Fort Lauderdale.
Ladra can't help but wonder if we'll see them on Little Miss Ultra's next campaign report.