It was a short-lived honeymoon and Ladra sees the pending end of the bromance between Miami Beach Mayor Philip "Fix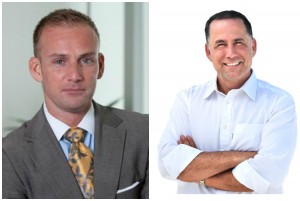 It Phil" Levine and Commissioner Michael Grieco, who ran on the Levine slate last year to overcome longtime Beach incumbents.
At Wednesday's city commission meeting, Levine lashed out at Grieco for being the sole nay vote on an 84% increase in storm water fees to address the widespread and chronic flooding issues plaguing the Beach — which became a campaign issue in last year's election.
The mayor followed up Thursday with a letter emailed via Constant Contact to who knows how many people. It says Office of the Mayor right on the top, though, so that should be public record, regardless of whether he paid for it himself or not. And, yes, we asked for it.
"While some may feel there's time to delay, yesterday, six out of the seven members of the City Commission, myself included, voted to invest in our community's future by increasing stormwater rates," Levine said in the email blast. "In this economic environment, any form of fee or tax increase is very difficult to do."
Not for you! You got five commissioners to vote with you.
"I commend the five Commissioners who voted 'yes' for their courage and for putting the interests of our City and its residents above self-serving and shortsighted politics," Levine wrote.
Ouch. No doubt that was a poke at Grieco, who voted against the measure because the uniform rate the city uses is antiquated and needs to be revised. In other words, he said that someone who owns a $50,000 one room former hotel room closet condo shouldn't have to pay the same as the owner of a $10 million mansion.
Levine said the other commissioners had "courage" for voting with him. But it takes more guts to be on an island.
"I'm shocked that nobody wants to talk about a 20-year-old storm-water rate calculation," Grieco told Ladra via text. But Mikey, Mikey, Mikey. Don't you realize that then Levine's crowd will have to pay more and other taxpayers could pay less?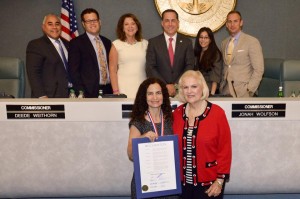 "I hope that between now and second reading, we continue to discuss a more equitable way to fund our flooding mitigation needs," the optimistic Grieco said through my LG smartphone, unbeknownst to my shaking my head. "We need to fund these projects… projects that I support perpetually, but I have reservations regarding the way we calculate our across-the-board rate hike.
"Every vote I cast is done so for the right reasons and with the best interest of all the residents in mind," the commissioner added. "I embrace constructive dialogue and debate and will always respect the opinions and votes of my colleagues."
Take that Mayor Petulant Millionaire.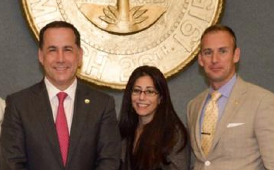 Grieco also wants to look into other areas of the budget for some savings — might Ladra suggest additional impact fees on development? — and maybe lessen the burden on taxpayers.
And for all this he is vilified? Levine's cynical words: "Clearly, if the City had other funds available to finance this emergency flood prevention program, we would have used them instead of raising the rates."
Maybe. Maybe not all of it. Maybe some. But it's worth a look, no?
There's more. Please press this "continue reading" button to "turn the page."
Pages: 1 2