There were only 75 people or so at the Kendall Federation of Homeowners Associations meeting Thursday when
Miami-Dade Mayor Carlos Gimenez stopped by for a conversation.
But, boy, did he get an earful.
After a short, quickly forgettable back-patting speech, the mayor took questions. And one by one, residents lined up to ask questions that were more accusatory than inquisitive. The meeting went a little longer than expected due to a public spanking or two.
"I was one of your strongest supporters, but I'm disappointed," said Barbara Walters, seemingly channeling Ladra.
"Part of the problem these days is a lack of trust, which dates back to before you were mayor," Walters said, tossing Gimenez a bone. "You became mayor and I think we all had a lot of expectations."
Carlos Garcia, one of the founders of RollBackTolls.com, a group of activists that worked last year to stop MDX from increasing tolls, complained that the mayor was inaccessible and unresponsive.
"We tried to reach you numerous times. We called your office. We went to your office," Garcia said, referring to last year's campaign where they got multiple municipal mayors, county commissioners and elected leaders to sign letters to the MDX in opposition to the higher tolls.
"And I couldn't get the time of day from you or your staff," Garcia said, adding that the mayor finally did agree to

meet with the group for a hurried meeting in Coconut Grove where he seemed distracted and uninterested — sorta like he was at this meeting, fidgeting around, smirking when he didn't like what he heard and resting his chin on his fist like a petulant child. He had an aire of "I'm just here to be seen" and "Are we done yet?" the whole while.
Garcia continued undeterred: "You were elected because you said you were going to hold the line on taxes. This is a tax for us, a very burdensome tax," he said, recalling their conversation back then. "You said you would speak to the other side and the next day you were at the Paris air show.
"Did you ever speak to the other side," Garcia asked.
"I never did. Sorry," the mayor answered, sorta shrugging his shoulders. "It's one of the things that fell through the cracks."
Oooops.
Ladra can't help but wonder if he'd have been so casual about it if any press had shown up. Curiously, the mayor's office — which sends out a press release every time he sneezes — didn't tell anybody about this appearance of his in the community. There was no media there except for Political Cortadito and Mira TV (with Ladra, so watch us Friday night).
Maybe that is also why Gimenez promised… wait, let me not use that word, because he'll say he never really "promised," like he never "promised" employees he would lift the 5% … he told Garcia he would schedule a meeting together with him and with MDX Executive Director Javier Rodriguez. (Can Ladra go, too?)
"And I will tell him to bring his books. What we need to do is educate ourselves about what MDX is all about and what MDX does with its money," Gimenez said, adding that he can't take sides until he learns more.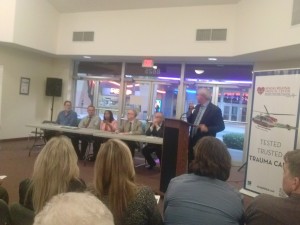 Well, mayor, it sounds like you need to educate yourself. Because Garcia seems pretty up to speed. According to the activist, MDX spends more than $60 million per mile of expressway, which includes such costs as "$8,000 palm trees as far as the eye can see." If you don't think there's fat there, that's an entirely different  problem that needs to be addressed differently.
Longtime activist Jane Walker also expressed disappointment that Gimenez did not join the other electeds who came out against the higher tolls.
"We were asking for restraint," Walker said, adding that former Miami Beach Mayor Matti Bower had time to send a letter from her own European vacation at the same time Gimenez was at the Paris air show.
"I still want to know what was accomplished there," she said.
Ouch! But, honestly, so does Ladra.
"One of the most important roles as mayor is leadership," Walker said, adding that his self-described ignorance on certain matters — "we'll get back to you" was a standard reply, even though Gimenez brought a deputy mayor and four senior staffers from different departments with him — is not a valid defense.
"One of the biggest problems in this county is transportation. And our mayor is not speaking out on this issue. I'm not against tolls. I'm asking for sanity. And you have to be involved in this," Walker told him, or scolded him.
Several other people talked about the fiasco that is the MDX. Others brought up other traffic issues, the need for a neighborhood park along 157th Avenue, the proposed move of the Dade County Youth Fair to state land in West Kendall (Gimenez says he is opposed because "it's outside the UDB"), skyrocketing insurance rates and the Pet's Trust initiative referendum that the mayor and county commission ignored.
"I'm all for technology," said a woman named Nancy, referring to the mayor's opening remarks about embracing hi tech. "But there are 20,000 dogs being murdered every year. I think that takes precedence over technology."
She said she voted for him. "You sounded like an honorable person. And then you did what you did with the Pet's Trust."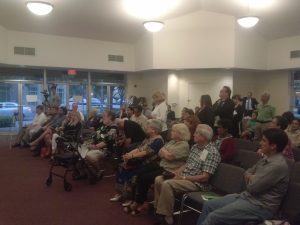 Cheryl Taylor, with the Pet's Trust, asked why we should believe Gimenez would mind the people's will on another straw ballot vote the mayor has floated on increasing taxes for libraries, parks and museums, when he didn't respect the mandate on the no-kill shelter.
"In November of 2012, almost 500,000 people voted for the Pet's Trust initiative," Taylor said. "The impression so many have of you is that you don't care what people think."
Why would he honor a straw ballot now "if you haven't done so in the past," she asked.
"I will honor it," the mayor said, adding that it is a different time and indicating, yet again, that people didn't know what they were voting for (even though the ballot language included words referring to "an increase in ad valorem taxes").
"I will make sure people understand that if you vote for this, I will follow through," Gimenez said.
But he's not honoring the Pet's Trust initiative referendum: He told the audience that he would propose to keep funding for Animal Services at the same level as last year, which is not the $19 million plan that the people apparently voted for without knowing what they were voting for.
"I do not feel there is community support to increase taxes," Gimenez said, about increasing the animal services budget by $4 million instead of the full amount last year. Several homeowners attending said they would happily pay a bit more taxes for maintained or improved services or the animal care program.
"I did the best I could," the mayor told them.
But judging from the crowd Thursday, his best is just not cutting it.