Miami-Dade Mayor Carlos Gimenez and Chairwoman Rebeca Sosa have been hangin' with our home boys in Tallahassee for two days to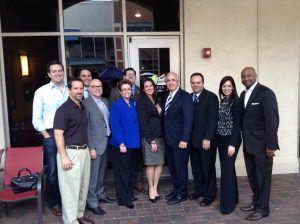 press for the county's legislative priorities this session (there they are in this picture to the left with most of the Miami-Dade delegation).
Priorities include the re-authorization of the Florida Enterprise Zone, which is set to sunset at the end of 2015; support of Medicaid expansion in Florida while opposing any further shifting of costs to the county; support of a bill that would restrict the use of affordable housing funds to affordable housing programs; mandatory minimum sentences for hit and run drivers, opposing any bill that would restrict the county's home rule charter;  support of efforts to control and regulate Citizen's Insurance; support for a long-term tax credit for the film, TV and entertainment industry (which, doesn't that seem a little wide of a net now that I come to think of it?); opposing the Florida Retirement System reform bill they say would reduce benefits for retirees and increase costs for the taxpayers; seek funding for the Skyrise Miami project, described as "an iconic landmark in downtown Miami" (really, I am not making that up); and securing of funding for the expansion of Florida International University onto the Youth Fair grounds, which would be subject to a countywide referendum.
Silly me. I thought maybe something for libraries would be in the mix, rather than funding for a construction project.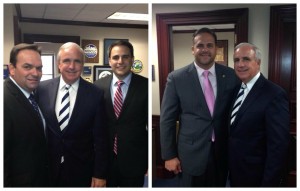 Gimenez met with all the 305 Senators Wednesday as well as Agriculture Commissioner Adam Putnam and State Rep. Jose Oliva, Frank Artiles, Carlos Trujillo and Eddy Gonzalez.
On Thursday, he planned to drop in on State Rep. Manny Diaz, who he would talk to with about the film industry, and a bunch of other legislators who are from other parts — Reps. Seth McKeel,  Ben Albritton, Ed Hooper, Ritch Workman and Sen. Alan Hays, among them — on issues ranging from transportation funding to coastal flooding to the Everglades.
But he saved time to get together with Broward County Mayor Barbara Sharief and Palm Beach County Vice Mayor Paulette Burdick to sign a tri-county "legislative priority compact" that draws on their combined political clout on regional issues.
Gimenez also had meetings scheduled today with Adam Hollingsworth, Governor Rick Scott's Chief of Staff, and with Kathy Mears, House Speaker Will Weatherford's Chief of Staff. But I am told that he did not bring up any issues surrounding tax rebates for the two stadiums — one for football one for futbol — that he is seemingly obsessed with.
Not like he did last year when he traveled to Tally to pitch the Dolphins stadium tourist tax trap, which was an "unprecedented deal" back then but is bested now by this new "better deal" to have the stadium transferred to county ownership and lose the $4 million that Stephen Ross — whose net worth rose from $4.4 billion to $5.4 billion in the same year — pays in taxes. Well, what Ross pays today. Because one could argue that would go up after he renovates the facility and increases the property value.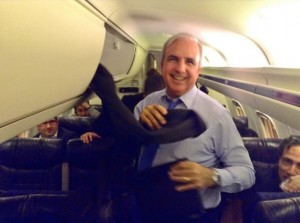 So, no, it's not out of the ordinary for mayors and other elected officials to visit Tallahassee during the 60-day session. In fact, the only thing that outnumbers local electeds in the state capitol these days is lobbyists. In fact, Ladra is sure the county has a couple of those up there pretty much full time these days.
Gimenez left everything in their hands when he flew back to MIA Thursday night and tweeted a photo from the plane, he was so happy to be home: "Glad to be back in @MiamiDadeCounty after a successful trip. #HomeSweetHome #FLSession2014."

Of course, he couldn't wait too long to see how he did, posting this about the Miami Herald brief on the tri-county compact, less than an hour later. "Catching up on my reading. Read how my colleagues from Broward & Palm Beach & I are making history," he said, I guess referring to the fact that there hasn't been this kind of collaboration since 2003. Wow, a whole 11 years. That's what goes for history around here these days.
He hasn't been as effusive about a story posted by the Herald a few hours later that talked about the 21 jobs he has cut so far due to, he says, decreasing property values and a severe budget crunch.  Maybe he fled to Tallahassee knowing the news would be coming out.
Still, judging by the calendar obtained by Ladra (I just asked the mayor's staff), he had a busy couple of days genuinely taking care of important county business. Especially at the meeting Wednesday evening with the Miami-Dade Delegation at Andrew's 228, also known as Andrew's Capital Bar and Grill.
Because everybody knows that all the real business gets done at Andrew's.