Florida Gov. Rick Scott and Lieutenant Gov. Carlos Lopez-Cantera joined the bevy of local electeds to blast the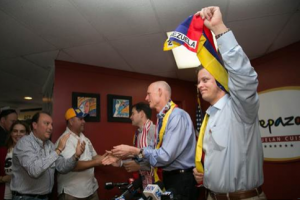 Venezuelan government's crackdown on protesters Friday — more than two weeks after the first two of at least 16 anti-government protesters killed and about a month after the clashes started.
They joined Sen. Marco Rubio, who gave one of the best speeches of his life on the Senate floor this week, at El Arapezo 2 in Doral to urge President Barack Obama to issue sanctions against the South American country gripped by a totalitarian regime that is violating basic human rights, oppressing freedom of speech and actually, from so many reports, shooting protesters in the head.
How lucky for Scott, who is in the throes of what could be a challenging re-election campaign. How lucky, too, for Congressman Joe Garcia and Miami-Dade School Board Member Carlos Curbelo have also turned the brave and tragic people's revolt in Venezuela into rich campaign fodder for the 2014 cycle.
It appears that the turmoil in Venezuela couldn't have happened at a better time for some people in Florida.
Republicans say Joe Garcia sympathizes with the Nicolas Maduro regime because of his ties with "close personal friend" Bill Delahunt, a former Massachusetts legislator who is now a lobbyist, brokered a deal to bring discounted Venezuelan heating oil to Massachusetts and became so buddy buddy with the tyrants that he attended the funeral for Hugo Chavez, with whom he once shared a now infamous brotherly embrace.
"Regrettably, there are congressmen like Joe Garcia who advocate for freedom in Miami while accepting campaign cash from the apologists and defenders of the Maduro regime in Washington," Curbelo said in a statement, demanding that Garcia return a $2,500 donation from Delahunt.
Curbelo was the first to strike. But not the only one.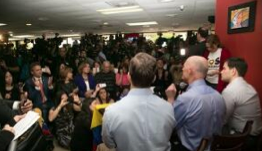 "While Obama, Joe Garcia and the democratic party are nowhere to be seen, Governor Scott, Lt. Gov Lopez-Cantera and Senator Marco Rubio show solidarity with our Venezuelan community," Miami-Dade Republican Party Chairman Nelson Diaz said in a statement released with photos from the event. "Our Venezuelan brothers and sisters want and deserve a free and democratic country and the Republican Party stands with them.
"Unfortunately, Joe Garcia and the democrats continue a policy of cozying up to America's enemies like Nicolas Maduro, and abandoning our freedom-loving allies."
Garcia's people quickly called Curbelo a hypocrite because he once lobbied for Genting, which is backing a casino in Massachussetts that Delahunt represents. It's a little more of a stretch. But okay, tit for tat.
His supporters point to legislation the Congressman — who tweeted and retweeted about the government violence in Venezuela since Feb. 12 — sponsored last year to provide Venezuelans, who he said fled political upheaval, with legal status. And Garcia stopped at the Venezuelan community's rally of solidarity at JC Bermudez Park earlier this month and has spoken on several Spanish language TV newscasts and radio programs about it.
Though, I gotta admit, his soundbites sound a little ladeedah in comparison with Rubio's speech.
"I stand in solidarity with the people of #Venezuela – A people that deserve to be free from repression and persecution. #SOSVenezuela," he tweeted. Is that the best he can do?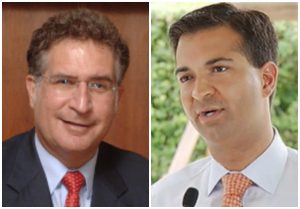 Shortly after the jab, the congressman had a press conference Tuesday to say the federal government should stop deportations for Venezuelans who are here illegally and expedite and grant more political asylum visa requests.
"As the Venezuelan people continue to face the harsh and unjust mistreatment by Maduro and his regime, it is critical we find meaningful, concrete measures to help those trying to escape, or fearful of returning to their crisis-stricken country," Garcia said.
"Additionally," the press release touts what more he's done, "Rep. Garcia signed on as an original co-sponsor to a resolution introduced by Rep. Ileana Ros-Lehtinen which seeks to condemn the violence in Venezuela and urges the U.S. to work with other Latin American countries to restore basic freedoms and convene the OAS Permanent Council to end the violence in accordance with the Inter-American Democratic Charter."
But Garcia also actually came out softly against sanctions, saying that limiting imports from Venezuela would only bolster the government's … Ladra doesn't even know what. Position? Argument? "Political ammunition," the Herald called it.
Yes, that's right, Garcia believes that the U.S., the Maduro regime's biggest VIP oil customer, should continue buying oil from the country even as the already questionably illegal government crushes dissent, censors the media, fraudulently arrests an activist political opposition leader and, oh yeah, kills protesters. Sixteen and counting. But who really knows? Meanwhile, Garcia stands at his press conference and says we shouldn't "end up playing the Goliath to Mr. Maduro's search to be David."
Really? Really?
Has he had his head in the sand for the past several weeks? Has he not seen the photos and videos of Maduro's Goliath to the Davíds of Venezuela? Of course he has.
Stumping the anti-totalitarian vote in South Florida is like shooting fish in a bucket, not a barrel. It's a no-brainer, like chasing the anti-Communist vote. Facil. And you can expect Cuba, too, to become an issue in the Congressional race for district 26 and maybe, because of the Airport City thing, at the county level (more on that later).
But at least our Congress members are involved in foreign policy. Que pinta Scott en todo esto? The governor has zero impact on U.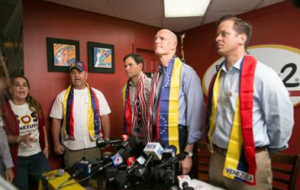 S. relations with Venezuela or Cuba and, in fact, does have bigger things to worry about that truly concern the people of our state. The economy, education, transportation, just to name a few. Might Ladra suggest absentee ballot reform (gotta try)?
Several people who were at the Doral rally, obviously all Republicans, say it did have the air of a campaign event. But Doral Councilwoman Bettina Rodriguez-Aguilera, who has been working with a group of Cuban and Venezuelan youth to bring awareness to the situation, said the politicians represent a community that demands they take a position, send a message.
"They have to do this and support their people. They're doing what they were elected to do," she told Ladra, adding that the attendance of the three electeds at an event that was already pre-planned elevated the awareness of the SOS Venezuela movement, which demands government reform, justice for criminals and freedom of speech.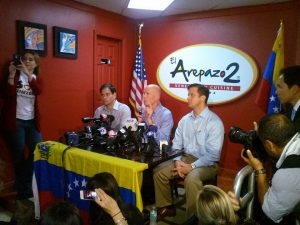 "We finally got the media's attention," said Rodriguez-Aguilera, who has always been involved in freedom for Cuba and Venezuela activism, but is also up for re-election in the city with the most population of Venezuelans anywhere in the U.S.
"We had media galore. And that is because we had Gov. Scott and Marco Rubio," Rodriguez-Aguilera said. And maybe she has a point on that, since mainstream media has been slow to respond to what amounts to a people's coup.
But others, Republicans also, told Ladra that while Gov. Scott surely could have and should have issued a statement, from the comfort of his office, he didn't need to turn it into an oh-so-obvious photo op with his Hispanic bench.
"Pandering," said one of the people who was at the event.
"A circus," said one longtime local GOP member who avoided it.
Pero, of course. It's an election year. Bring on the clowns and the acrobats.