In his bid to become the Republican candidate for Congressional district 26, former Miami-Dade Commission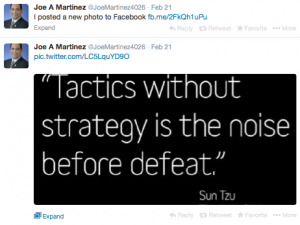 Chairman Joe Martinez has turned to an odd guru: Sun Tzu, a legendary — if possibly mythical — Chinese military leader who wrote the Art of War as a sort of meditation on the rules of combat about 2,500 years ago in 500 B.C.
The book and the author have often been quoted in non-military context — who hasn't said "keep your friends close and your enemies closer?" — and the material has found its way into representing routine, everyday life conflicts as well, especially in business. It was only naturally that it would be applied to politics, especially in the 305.
"It has a lot of meanings in today's world," Martinez, who read the book when he was at the Miami-Dade Police Department, told Ladra.
Or he is just trying to psyche out the competition? Other Republican hopefuls for that chance to run against incumbent Democrat Congressman Joe Garcia in November are Miami-Dade School Board Member Carlos Curbelo, Cutler Bay Mayor Ed MacDougall, attorney Lorenzo "Larry" Palomares-Starbuck and Key Largo's Jose Felix Peixoto, the only Monroe candidate.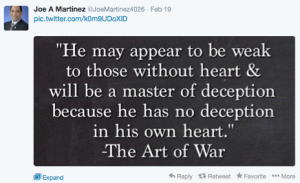 The quotes certainly do carry a cocky if not threatening tone, doncha think?
"Tactics without strategy is the noise before defeat," Martinez posted on Facebook and twitter Friday.
"He may appear to be weak to those without heart and will be a master of deception because he has no deception in his own heart," he posted a couple of days earlier.
Wait… who has no deception in his heart?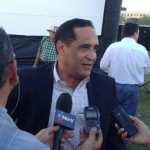 "I don't," Martinez said.
So you're the master of deception.
No, said Martinez, a military academy alumni who said it is interpreted as encouraging the encircling or "flanking" movement by a military troop.
Or maybe by a political campaign?
"Right now, you got MacDougall with endorsement from Norman Braman and his money and you got Curbelo with the endorsement from Jeb Bush and a lot of money. And I may look like the weak one," Martinez said.
"I'm trying to say, 'Don't be fooled by that.'"