For months, we've been hearing so many Hispanic names floated for a possible stint as the No. 2 to Florida Gov. Rick Scott that many of us just assumed one would be picked.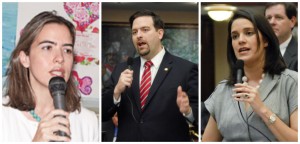 But we didn't even make it to the shortlist.
Locals Latinos in the mix were Sen. Anitere Flores, Miami-Dade School Board Member Raquelita Regalado, State Rep. Jose Felix "One More Pepe" Diaz, Miami-Dade Property Appraiser Carlos Lopez-Cantera and even former Sweetwater Mayor Manny "Maraña" Maroño, who would have never passed the vetting process and now we know why, since his August arrest on corruption charges after he was snagged in a federal pay-for-play bogus grant money bribery sting.
It's been nine months since former Lieutenant Gov. Jennifer Carroll resigned in the wake of an internet gaming scandal (she did marketing work for a veterans' group investigated for illegal gambling). And, apparently, long enough for Scott to change his mind.
Or for the people who pull his strings to have changed theirs.
Because the four names on his short list now are all anglo. The public whisper list has also gone from being all female at one point — with Republican superwoman Marili Cancio and a politician from Jacksonville rounding out our other local cubanitas — to having just one woman: Hillsborough County Commissioner Sandy Murman.
The other three, according to multiple reports in the media in the last week or so, are Sen. Tom Lee (R-Brandon), Seminole County Sheriff Don Eslinger St. Johns County Schools Superintendent Joseph Joyner.
Who? Yeah, I know. That's what I said. And, even though I have the limited perspective of seeing Florida politics through the 305 prism, and even though this post has traditionally been where electeds go to die politically, these choices seem a little, well, lame.
Not as lame, though, as choosing his Chief of Staff Adam Hollingsworth, who is apparently also in the running somehow. Wait a minute, isn't Hollingsworth intimately involved in the selection process? And now he's a hopeful? Really? Really? This is one of the problems with Rick Scott — he "can't see" a conflict of interest if it bit him in the ass.
And it's biting him in the ass.
Because isn't Gov. Scott up for re-election? How do any of those potential running mates help him with what many argue is going to be a very tough race? How is it not just established that the person to replace Carroll, who is black, would also be a minority? Why is it not just given that it be a Hispanic that can help with the needed Latino vote, especially along the I-4 corridor?
Scott has said little. Florida has too many great people to consider, blah blah blah, he says. I guess none of those talented people are Hispanic. Press Secretary Jackie Shutz called me back Monday and declined to comment on the list, even after I asked if there had been any consideration or discussion on including a Hispanic.
"We're going to take the right time to find the right person," she said. She said it twice, repeating it word for word after I asked the follow up question, so that's all we're going to get from them.
Inside Tallahassee sources say this is a power play by Hollingsworth, who is either paying political favors or paving his own future.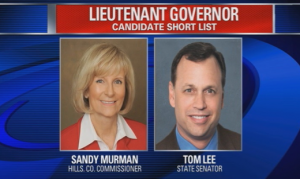 Murman and Lee, a former Senate president, are from the Tampa Bay area, same as Scott's most likely opponent, former Gov. Charlie Crist. So Ladra's got her money on one of them. Lee has the most experience and name recognition. But a woman — even though Murman will be attacked because she served as a Democrat state rep in the 90s (though that might help in other ways) before she turned red for the county race — would still at least give Scott some chance.
Any of the other three pasty white guys will be the nail in the coffin.
And Ladra is not the only one who thinks so.
"That doesn't make sense at all," said one local Republican chief of staff to someone pretty important.
"Stupid," said one longtime Republican campaign guru who works in DC.
"Ay, he just lost," said a newer Republican activist/consultant in Miami.
Fellow blogger Javier Manjarres, who has covered the selection process longer than Ladra, says Scott is shooting himself in the foot.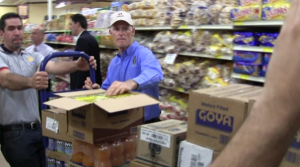 "Like they did in 2008, when he was praised for being more diverse in choosing staff, Rick Scott needs to show he is including Hispanics, not just reaching out to them," Manjarres told me Monday, after he posted something on the damage Hollingsworth is doing and a photo of Scott stocking shelves at Sedano's.
In other words, staged photo ops of you slumming it in one of our colorful supermarkets isn't gonna cut it, Governor.
A poll on Manjarres' The Shark Tank shows that two thirds of his readers today agree: It is important for Scott to pick a Hispanic candidate.
"This decision could make or break the re-election campaign," Manjarres said.
Hollingsworth has been quoted as saying that the choice for LG would not be based on race, gender or geography. The search is for "a steward of the governor's vision and character," he said, indicating that the move is not going to be campaign driven.
Pfffft. That's their first mistake. The next lieutenant governor, whoever that is, will finish out the Gov's first term, which is the last year, which means he or she will be campaigning pretty much full time. It would be stupid to miss this opportunity to get someone that can get them money and votes from people other than those who voted for Scott last time.
And street cred.
Regalado is the trifecta for that.
In politics since she was a toddler, the daughter of Miami Mayor Tomas Regalado runs his campaigns and loves it. She is a political animal who can raise mucho money and get the airtime Scott needs in the Spanish-language media. As a Hispanic single mother of a special needs child with a strong background in education, she can bring him niche voters he needs  (again, Rick Scott is not going to get elected with the same ol' people that voted for him last time).
Raquelita also brings him some much-needed credibility. She voted against Scott and for Alex Sink three years ago. Esta cubanita no tiene pelo en la lengua and she was critical of Scott on a number of issues. Regalado was not some hack towing the party line. She will be appealing to moderate Republicans who don't like Scott and Democrats who don't like Crist.
As a lieutenant governor candidate, she can promote how he "turned her around" with successful examples of his administration (there must be some in there somewhere). She can highlight, for instance, how he restored teacher pay. You can almost hear her now: "I saw how he really does get it and understands our needs," she'd say.
And yeah, there's baggage. Isn't there always? Regalado was questioned by the state attorney's office looking into 2009 campaign violations by her father, whose campaigns she runs. They found nothing they could prosecute (anyone surprised?), so they kicked it off to the Ethics Commission, where each admitted to filing inaccurate finance reports in 2010 and each was fined $2,000.
But Regalado can crisis management the heck out of that. She knows how to communicate. She lives for it.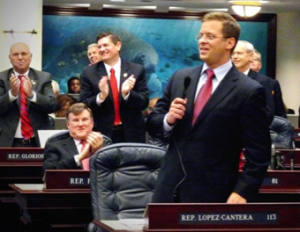 Flores has told me she is not interested in the position. She wants to stay in the Senate and everyone expects her to run for Miami-Dade Commissioner Javier Souto's seat when he is termed out in 2018.
But another name floated more recently is that of Carlos Lopez-Cantera, who Manjarres thinks is an the obvious choice.
The blogger, who is well connected in Tallahassee, and another solid source told Ladra that one of Scott's longtime political advisers has recommended the former state rep and House majority leader several times.
They also told me that Hollingsworth "will not consider it."
And why not? I mean, isn't it just stupid not to put a Hispanic at least on the shortlist? You know, as a token? It seems almost offensive that there are no Hispanics — no minorities of any kind — being considered at all.
Could it be they don't want anyone who can upstage the guv?
CLC has the state and local experience and can attract votes in a traditionally blue county. He's good looking and eloquent in both English and Spanish — much better spoken than Scott himself — and wouldn't it be good for the governor to have someone campaigning in Spanish for him?
And Lopez-Cantera and his young, blonde family do not "look too Hispanic," if you know what I mean. He's no bigotón.
While everyone believes CLC wants to run for Miami-Dade mayor in 2020 (or maybe sooner if Mayor Carlos "Not So Golden Boy" Gimenez keeps stepping in it), he could arguably come back as a former property appraiser, former state house majority leader and former Lt. Gov. and still do that. He is a puppy todavía — turning 40 in a couple of weeks.
Heck, he could possibly even run for governor.
And, if they leave the position open until after the 2014 elections and just put CLC on the ballot, he doesn't even have to resign to run for the seat.
Lopez-Cantera giggled a little when I mentioned this talk to him Monday morning, but Manjarres told me the former state rep had told him that he would, indeed, take the job.
"I have not been approached," CLC told Ladra, but he stopped short of saying he'd turn it down. "Would I consider it? I hate thinking in hypotheticals. I learned a long time ago not to make decisions on rumors."
"In 2004, when I was first elected to the House, my perspective on my future was very different than how it ended up," Lopez-Cantera said. "I thought it would be in the Florida Senate."
Maybe he's just on a detour to the next destination: The Governor's mansion.
That is, if Hispanics are still welcome.