Former Sweetwater Mayor Manny "Maraña" Maroño was facing federal extortion conspiracy charges for his role in a bogus grant application scheme in which authorities say he intended to steal hundreds of thousands of dollars from the U.S. government in exchange for thousands of dollars in kickbacks.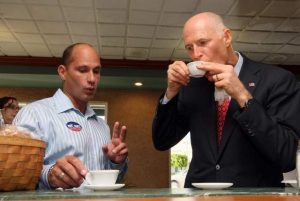 But Friday, Maroño — once on a rumored shortlist to become lieutenant governor to Gov. Rick Scott, with whom he is close — was arraigned in Miami federal court on a lesser charges, a possible indication that the rumors for the past several weeks that he has been cooperating with the FBI and the U.S. Attorney's office are true. Sweetwater lobbyist Jorge Forte, who was arrested the day after Maroño in August, will also be charged that way. Sources say that they are expected to reach a plea deal in which they will admit their guilt. They could face up to five years in prison.
But my sources say he could do far less, depending on how much information he can provide. And everyone wants to know: Who is he handing up?
Private investigator Joe Carillo, who has a pretty good track record with information and sources as credible as Ladra's — and who has not been wrong yet — told me Friday afternoon that he had heard Maroño was going to turn state's evidence on campaign consultant Al Lorenzo and Miami-Dade State Attorney Katherine Fernandez-Rundle, both of whom were implicated in at least one of last year's absentee ballot fraud investigations. Lorenzo worked for Fernandez-Rundle as well as Miami-Dade Mayor Carlos Gimenez in 2012.
"I am minding my own business, driving down the road, when I get a phone call today from someone telling me this and asking me, 'Can you confirm,'" said Carillo, who was the tipster that led police to Hialeah boletera Deisy Cabrera.
"I thought nothing of it, but I placed a phone call and I'm hearing that Maroño got a sweet deal because he's handing up Al Lorenzo and Kathy Rundle," Carillo added.
Forte's criminal defense attorney, David Weinstein, told the Miami Herald Thursday that his client was also cooperating. "Jorge Forte deeply regrets his involvement in this case. He will do everything he can to make up for it," Weinstein is quoted as saying.
That is a stark contrast to statements from Maroño's family, who have previously said that he did nothing wrong. Maroño was in court this morning with his wife and parents, including Sweetwater Commissioner Isolina Maroño, his mother, who was first appointed to fill a vacancy and elected back into the seat earlier this year.
But a friend of the family's told Ladra that Manny Maroño is, indeed, cooperating with authorities and feels better about the whole situation than he did a month ago.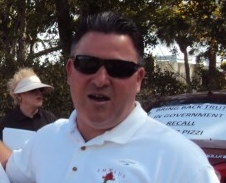 Sources say that the case against Maroño is much more solid than the one against former Miami Lakes Mayor Michael "Muscles" Pizzi, who was arrested the same day on similar charges stemming from the same FBI sting operation. Pizzi, who has ardently denied doing anything wrong — despite having gone into a closet to accept a $3,000 payoff, according to prosecutors — is scheduled for arraignment next week with the lobbyist arrested in his case, Richard Candia.
But two sources told Ladra in recent days that authorities are not happy that he is not cooperating and are now digging into Pizzi's past and other business, including his dealings as City Attorney in Medley — where he subcontracted legal work to several friends, including Miami Lakes Vice Mayor Cesar Mestre, for their annexation issues — to strengthen their case against him.
When Ladra asked Carillo about this, he said that he did get a call in recent days from an investigator asking what he knew about the $200,000 that mysteriously disappeared from Pizzi's office and which many believe Pizzi stole.
Nobody expects Pizzi to cooperate and the former mayor — who was suspended by Gov. Rick Scott along with Maroño after the arrest — has stayed steadfast to his innocence. He has repeatedly told Ladra that he was simply looking out for the best interest of the city and that he expects to be reinstated as mayor after this is cleared up.
But Candia — who the FBI forced to flip during near the end of the two year investigation and who wore a wire to catch the closet bribe exchange — is expected to testify against Pizzi.
Reached on his cellphone, Pizzi said he was praying for Maroño and his family and then pretty much confirmed what I thought.
"As a former federal probation officer in the 1980s who helped write the guidelines, I can tell you the whole federal system is designed to reward people who have information they can give the federal government, who plea guilty and cooperate and talk," Pizzi told Ladra.
"If you are doing the wrong thing and you have information, you have a better chance than honest people who are not doing anything wrong, don't have any information and don't have anything bad to say about anybody," he added.
Except honest people who aren't doing anything wrong wouldn't find themselves in this position.
And I've heard you say bad things about lots of people.