The Miami Dolphins trump the community again.
Miami-Dade Mayor Carlos Gimenez has cancelled Tuesday night's  budget town hall in Florida City — which has been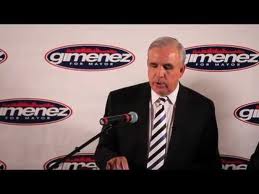 advertised for a month — so he could go to Washington, D.C., to help celebrate the 1972 champion football team being recognized by President Barack Obama in what seems like a too convenient propaganda ploy.
This is the second trip Gimenez makes for the fins, after traveling last Spring to Tallahassee to lobby for the "unprecedented deal" he negotiated with them that would give them public financing for their $350-million upgrade job, a bill that was killed when it failed to reach the House floor.
"The mayor was invited personally by the White House," said the mayor's spokesman, Fernando Figueredo. "It's an honor and he didn't want to postpone the budget town hall but he couldn't say no."
Well, yeah, he could have. He's had lots of practice lately, saying no so many times to first responders, animal lovers and bookworms who beg him to property fund services so that fire stations and libraries do not have to close.
Figueredo said that Gimenez will take advantage of the trip — he's flying in Tuesday morning and flying out that night — to also meet with administrators in departments where the county is waiting for grant monies, like transportation, and that the mayor did not want the budget town hall to go on without him so it was rescheduled for Sept. 3.
The budget town hall for Thursday in West Dade was also rescheduled for next week, Aug. 28, because the mayor will be in Orlando for a national manufacturers' conference.
Or maybe he just needed a break from all the browbeating he's been subjected to at these budget town halls. Especially the last one in Aventura, where the residents rallied on behalf of the firefighters — and Gimenez accused them of being the relatives of county employees. Really? Really?
Ladra heard that the county firefighters union — which had sent mailers out to voters in Aventura, perhaps bringing out more than the expected crowd — had already sent out mailers to voters in Florida City and Homestead about Tuesday's town hall and to West Dade voters about the one there Thursday.
Somebody may have told him about it, too, and he decided he needed a breather.
But at the very least it shows where his priorities are, doesn't it. And Ladra suspects it's not going to sit very well with people who had planned to go to the town hall and accommodated their schedules in order to do so.
Ladra has got a call in to Florida City Mayor Otis Wallace and a few southern end activists to see what they think. Stay tuned.