Do you like Miami Commissioner Francis Suarez in this November's Miami mayoral race?
There's an app for that.
Suarez, who is already way ahead in the social media campaign against Mayor Tomas Regalado, now has a new iphone app available for his supporters to get in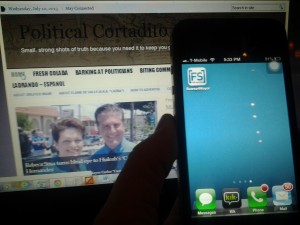 touch with the latest news from the campaign.
Launched a couple of days ago, the free app allows political junkies to get their fix at their fingertips.
"Get direct access to the candidates running for office in your district, city or state," says the email sent this week to promote the app. "This application is your personal window into their campaign with the latest news and issues from the campaign trail. Follow their progress and engage them on the matters that mean the most to you."
Suarez — who has YouTube videos and a twitter account aimed at the under 65 vote — said he added the campaign communication avenue because it just fit so well with his high-tech campaign and his campaign message of bringing more technological industry jobs to Miami.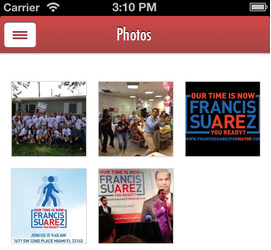 "I like that it has a lot of things at your fingertips, everything in one place, the website, the latest news," he told Ladra Wednesday afternoon. "So people don't have to go looking around."
Suarez announced the app on his twitter feed, followed by 1,842 (compared to the mayor's 1,226 followers), and offered a free campaign t-shirt to anyone who posted a photo of the app on their iphone (and, yes, Ladra got her daughter to do it).
The app provides a menu with all the information from his website, news, his twitter feed and a mechanism to donate to his campaign. Links also allow you to find your polling location and request an absentee ballot direct from the elections department.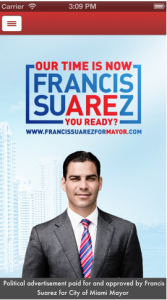 Suarez joins three New York City council candidates and one New York State Assemblyman who launched their app about a week ago and according to former Teaneck, NJ, Councilman Elnatan Rudolph, an East Coast political consultant who is one of the masterminds behind the app and is president of Elect and Connect, the mayor of Jerusalem is also thinking about getting an app for that.
"The first client we had was the United Federation of Teachers who launched their app UFT votes under a month ago and has over 18,000 downloads," Rudolph said. "It is another way for candidates and elected officials to disseminate information and stay connected to their constituents and their voters. And  it is a good way for voters to get information from their elected officials."
The application is available free in the App store for both google and Apple for each candidate under the name they decide to give their app, Rudolph added.
Ladra sees a future where this will just be par for any candidate's course — like a facebook page or twitter handle.
Now, if only they could come up with an app against absentee ballot fraud.