The husband of Miami-Dade Commissioner Lynda Bell announced Tuesday (out loud) that he wants his wife's old job as mayor of Homestead.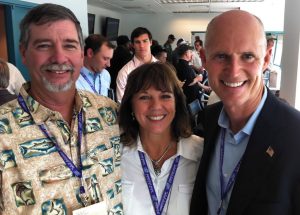 Mark Bell, owner of the historic Hotel Redland, made public what many had been whispering in private — that he would make a run for office — on the heels of (read: capitalizing on) news that the current incumbent mayor is under investigation. The Miami-Dade State Attorney's office is investigating Mayor Steve Bateman's involvement in alleged backroom redevelopment deals in a negotiated public land real estate transaction with a campaign contributor that would have benefited his Realtor wife.
Mr. Bell's candidacy has been rumored for more than a month and it was reported in the Homestead is Home blog weeks ago that he had picked up a candidate package. But, because timing is everything, Ladra suspects he could not miss taking advantage of the recent Miami Herald article about Bateman's possible ethical and criminal lapses to make his bid official.
"Homestead's next Mayor must bring integrity and transparency to City Hall, as well as a true commitment and plan to create and attract new jobs to our city, and make our streets and neighborhoods safer for Homestead families," Bell said in a statement.
"Our residents deserve to be represented with integrity and transparency. Without the community's trust and confidence in our local government and its elected leaders, we lose the ability to move forward with a unified vision to improve the lives of all Homestead residents," Bell said in his statement.
Ladra has tried reaching Bateman for days, to no avail. I called both Bells Tuesday at home and at their cellphones. Mr. Bell got back to me first and I asked him why it took so long for him to get bit by the political bug. I mean, he sleeps right next to her, right?
"I've always loved politics. My wife's in politics. Our youngest child was off to college when she first ran and I was busy working and making money and I was helping her," Bell told Ladra.
"But now, I'm just very upset at what I see happening and I'm worried about the future of our city here. It's been bad for a while," he said. A while, Mr. Bell? Don't you mean two years? Or, basically, since his wife left the mayor's office to run for the county commission seat vacated by former Commissioner Katy Sorenson.
Mr. Bell is the second political spouse in recent weeks to announce candidacy after Micky Steinberg, wife of former State Rep. Richard Steinberg, said she was going to run for Miami Beach City Commission (more on that later).
But Bell's chances are arguably better. And not only because he won't have to deal with the fallout of his spouse's extramarital text messages (Lynda don't play that). But also because Bateman's recent and perfectly-timed controversy (Ladra has to wonder what genius is working Bell's media) would help any challenger, of course, but especially one that has the name recognition and money that the husband of the vice chair of the county commission is likely to have.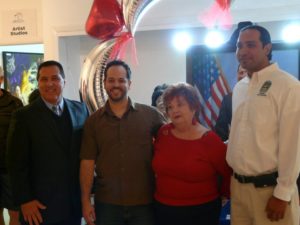 In fact, this could be a shout of war in this year's Homestead city races as alliances start to form five months before Election Day. Especially since the last small town elections became more "Miamified" — which means more sophisticated, politically, and nasty, strategically. Slates are common here.
And Bell's viability could be a bad sign for Bateman's slatemates — including one of the mayor's allies, Councilman Elvis Maldonado, the tall, dark and handsome widower who Ladra thinks has a long political career in front of him — if he can get through this now, that is. Former Councilwoman Nazy Ramallo Sierra, who Maldonado beat by 292 votes in what became one of Homestead's most hotly contested campaigns in 2009, wants her seat back and is likely to align herself with Bell, whose wife is a friend with whom Sierra served on the dais.
"I haven't spoken to Nazy," Bell told Ladra. "I'm sure I will hear from her now that she's heard I've declared. But she was running anyway, so this makes no difference."
He said he hadn't decided yet whether to run in a slate or not and is waiting to see what other candidates come out of the woodwork.
"They still have a while to qualify," he said.
Councilmen Jimmie Williams III and Stephen Shelley are also up for re-election. How much you wanna bet their opposition also gets a shot in the arm with this news. Shelley, who won his election four years ago with almost 60 percent of the vote, or nearly a 500 vote margin, has yet to attract a challenger, according to the city's website.
But Williams, who won by a measly 38 votes, has drawn two: former Councilman Norman L. Hodge, Jr., — a minister at the Shiloh Missionary Baptist Church who, las malas lenguas say, spends his time running back and forth from Alabama, and Rochenel Marc, director of Divine Grace Foundation. Neither one has raised any money, just $100 and $135, respectively, according to the first financial reports reflecting the first quarter of the year. But Williams hasn't filed any reports yet, so there's nothing to compare to.
Hodge will officially kick off his campaign June 20 at Hibachi Grill & Buffet in Florida City, a little outside city limits, which has drawn a bit of criticism (more on that later).
Neither Bateman nor Bell have filed any campaign finance reports yet, but a third mayoral candidate, Joseph Sewell, a pastor at  Greater New Covenant Baptist Church, (does anyone else notice a religious theme here?) has reported raising $475, all in small donations ranging from $5 to $75.
Homestead's small-town races are going to be fun to watch this year. And no, Ladra ain't talking about the cars.