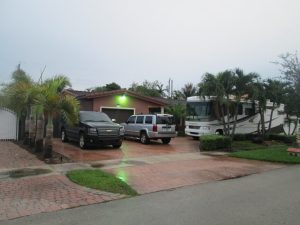 Once again, some lucky constituents have two, not one, elected fighting their battles in Tallahassee — while some unlucky schmucks have none.
State Rep. Eddy Gonzalez (R-Hialeah), chair of the Miami-Dade Legislative Delegation, is still living in his old home, which was drawn into his colleague buddy's district, even though Gonzalez was elected in a new number to which he said he was moving.
After redistricting last year put his home in another incumbent's district, Gonzalez, who is termed out in 2014, "volunteered" to move out of his home at 7625 W 14th Ct. — where he represented District 102 in West Hialeah for the last six years — and into a relative's East Hialeah house in District 111.
Well, he sorta had to volunteer — either that or run against his ally and campaign cigar supplier, State Rep. Jose "Cigar Czar" Oliva (R-Miami Lakes), after his property was included in the newly-redrawn District 110, which would have been uncomfortable, especially seeing as how everyone is pushing to make Oliva a future House Speaker.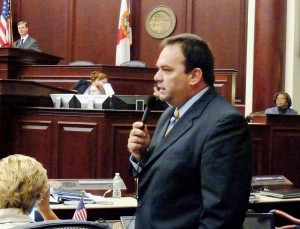 But Ladra has learned that Gonzalez still resides at his old 4-bedroom, two-bath house in West Hialeah — which he and wife Barbara Gonzalez  (the one constituent he listens to, according to his own words) bought in 2003 for $222,0000.
Ladra stopped by Gonzalez's old house this week after he repeatedly refused to answer my phone calls. Including Wednesday morning, when I snapped this photo of his black Chevy suburban with the "state legislator" plates. Ladra knocked on the door and rang the bell twice, at 7 and 8 a.m. He did not answer. But he hasn't answered 11 phone calls either.
His wife only spoke to me through the window when I went by Monday afternoon. When I asked if the representative was home, she said no.
Key word: "Home."
Neighbors also told me that he continues to live there, sometimes driving his young children to school in the morning.
Ladra saw his wife's Jeep — with the "State Legislator" tag on it — in front of the house. When I returned later to get the legislator's car, it was backed in, so the tag was not visible from the street. Think they caught on to me?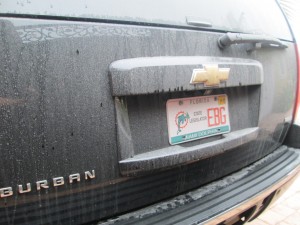 But I got this picture anyway, standing by the garage door Wednesday as "Here Comes Hialeah" Gonzalez hid inside.
There is this huge mobile home parked in the circular driveway, so maybe that's where he's living? Nobody answered when I knocked there, either. But would that be within the law, if he moved it around?
Or maybe he could sell it to pay the potential fine for living outside his district?
According to state law, he could be fined his daily salary for every day he has violated the law since Nov. 6. That's a lot of days.
Ladra never learned if Artiles ever had to pay his $81.36 salary for each of the 180 days he lived outside of his district.
Maybe Gonzalez was too busy pushing the Miami Dolphins stadium deal in Tallahassee to move, as required. Will he now?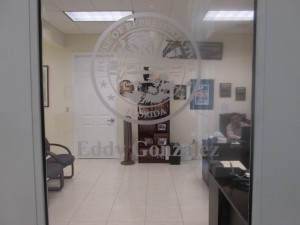 Ladra doesn't know. Like I said, Gonzalez did not return several calls and text messages to his cellular phone. I started calling him May 23 to ask him if he was going to run for mayor in Hialeah, as he has threatened several times. I called him three more times and then sent a text message on Monday.
His answer was a long no.
"Elaine, I know you only concentrated on one issue this session, the Dolphins Bill! But as chairman this session, our delegation accomplished more money in the budget," he texted back June 3, listing the insurance bills and other successes. "Right now, I'm only concentrating on being able to represent the residents of our community in Tallahassee."
Okay, but which community?
He declined to respond to further texts about the residential issue.
But I wouldn't bet that he is moving. Because the house on 14th Ct. is about a 15 minute drive, or less, to his district office — which is a misnomer because it is also outside his, er, district. By several miles.
The district office is on the first floor of the City Hall in Hialeah Gardens, which is represented in Tallahassee by State Rep. Manny Diaz, Jr., who Gonzalez helped usher into office. Hialeah Mayor Yioset de la Cruz even hosted several closed meetings at his home with Gonzalez, Diaz, Oliva and Miami-Dade Commissioner Esteban Bovo during the election. Ladra suspects they talked about absentee ballots, which later became an issue after several Hialeah ballot brokers, including a that-time aide to Bovo, were arrested.
Or maybe they talked about available office space.
According to the House of Representative's clerk's office, there is no hard and fast rule on where a district office must be located. But the idea, a staffer told me, is to have it "inside the district so that it is accessible to constituents."
Yeah, well, this is South Florida, buddy. Define constituents.