With six months left until the Miami city election, the mayoral race is picking up some speed and urgency. There have been fundraisers and multiple TV and radio interviews.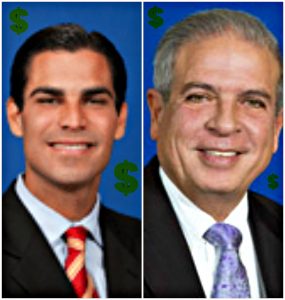 This week, three of the four other Miami City Commissioners said they are backing their colleague, Commissioner Francis "The Future" Suarez in his run against incumbent Mayor Tomas Regalado. Even though Suarez voted against them for that double-dipping law that would have allowed several high-paid executives to draw from their retirement while s till on salary if Regalado had not vetoed it.
The fourth, Commissioner Frank Carollo, has his own re-election to run and is staying out of it (publicly and for now, anyway). "I expect to get his support," Suarez told Oscar Haza on MegaTV Wednesday night.
"They have worked with me for three and a half years and have had the opportunity to see me work as president of the commisison and the way I work, the ability I have and the ideas I have for Miami's grand future," Suarez said Wednesday to anyone who listened, adding that he was "proud" to get their endorsements.
"It is important to know that, to be the mayor you need the support of the commission. That is the body that really governs the city," Suarez said.
"They are convinced that it is time to look to the future." 
Still, it should make for some interesting meetings in the next six months 'til Election Day.
Next week, the three commissioners, Willy Gort, Marc Sarnoff and Michelle Spence-Jones, will join Miami-Dade Mayor Carlos Gimenez — who is apparently putting his differences with Miami-Dade Commissioner Xavier "Mayor Sir" Suarez to back the chip off the old block, as expected — for a fundraiser event for "The Future's" campaign.
"We have talked about the future of Miami and he and I agree that we need to look at bringing industries like technology," Baby X said about Gimenez. "He and I have worked together on a lot of community issues, like the Virginia Key clean-up."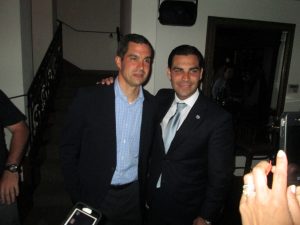 But, first, Suarez has another fundraiser at 6 p.m. tonight, hosted by "young professionals" at The Stage, a popular, downtown live music venue. Among the hosts are Coral Gables Commissioners Frank Quesada and Vince Lago, Director of Strategy Miami Children's Health System Mark Llorente, brother to former State Rep. Marcelo Llorente, and Jose Mallea, former interim chief of staff to Gimenez and one-time chief of staff for former Miami Mayor Manny Diaz, who is said to have also worked on the campaign of Sen. Marco Rubio and Hispanic outreach for the presidential exploration of Arizona Sen. John McCain, along with former U.S. Rep. David Rivera, who lost and is under investigation for possibly having funded a plantidate's campaign against the eventual winner, Congressman Joe Garcia. But there is bipartisan support, as Andrew Korge, son of super Democratic fundraiser Chris Korge who himself worked on the President Barack Obama 2008 campaign, is also among the hosts.
Also on the host committee list are attorneys Benjamin Brodsky, Marlon Hill and Michael Grieco, the last of whom is running for commissioner in Miami Beach — most likely against Mayor Matti Bower (more on that later) — and the Havenick family, which owns Magic City Casino and has already contributed around $17,500 to the Suarez campaign.
Expect the event to bring in some dough — not Suarez is slacking in that department. According to the last campaign report filed for the first quarter, Suarez had raised almost $1 million for his effort to unseat Regalado, who had raised almost half as much. Ladra suspects that he will have far surpassed the million dollar mark by the next report, due in July.
Asked Wednesday by Univision Radio morning host Bernadette Pardo if that didn't "contaminate" the election, Suarez said it was "unfortunately part of the electoral process" and that while the best candidate doesn't always have money, it helps if you want to reach the 179,583 registered voters in the city.
"All candidates go after funds because it is important that the message of their vision is communicated to the residents," Baby X said.
"In the 2009 election, when I ran for commission, I raised a lot of money against someone very well known," Suarez said, referring to Manuel Reyes, a perennial candidate who is running again for the seat he lost to "The Future" by 262 votes. Suarez netted close to $500,000 in that first race while Reyes raised $232,000. Reyes has only raised a little more than $13,000 for this year's race, so far, according to the first quarter report.
In that same election, by the way, Regalado raised $810,000, not nearly twice as much as his opponent, former Miami Commissioner Joe Sanchez, who got just over $500,000 in contributions (more than Baby X's $480,000 in 2009).
So does that mean that Suarez, who has so far raised twice as much as Regalado, has the upper hand?
>Suarez publicly only says that the latest poll has the two candidates close. Ladra has learned that Regalado still is ahead by about six points. Still, that is not a large lead 160 days before the election and way before the Suarez army of young volunteers floods the streets like they did last weekend and the million-dollar messaging campaign begins in earnest on TV and radio. If the YouTube videos are any indication, TV commercials will be clean and crisp and may move that margin a mite or two.
"We have not started  to spend our money with the press and unroll our message," Suarez told Haza.
"We don't think its going to be as close as it is now."
Well, that's the idea.