With the Miami mayoral race six months away, Commissioner Francis "The Future" Suarez launched his "Our Time Is Now" video campaign on YouTube in a series of three pieces that remind Ladra of the Barack Obama commercials last year and that seek to position Baby X as the fresh, forward-minded option to lead the city and have it reach its full potential.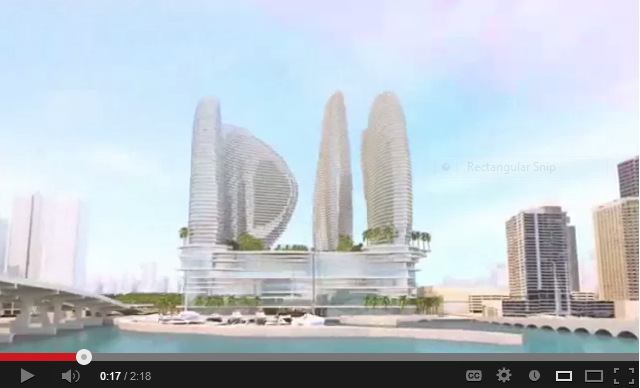 Which, apparently, includes the controversial casino resort in downtown Miami planned by Genting.
Sixteen seconds into the longest clip (at two-minutes, 18-seconds), there are not one, not two, but three different artistic rendering views of the envisioned Genting casino resort in the downtown Miami area.
"We have a city that is on the cusp of greatness with several multi-billion dollar projects about to get started," says Candidate Suarez, who has always been honest about his differentiating between the illegal maquinita industry he opposed and a high-class gambling destination resort, which he supports. The contributions to his The Future Is Now PAC include at least $5,000 from Genting — which, by the way, has put the casino on the back burner and redrew plans for a luxury hotel and condos — and another $17,500 so far from the owners of Magic City Casino on both the PAC and candidate campaign finance reports.
But is embracing a super casino on the bay really something to trumpet in campaign materials? In a recent poll done for TeleMiami TV, almost half the respondents — or about 46 percent –said they were against casinos.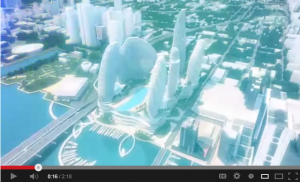 "I thought about that," Suarez told Ladra Wednesday afternoon, adding that the production company chose the shots. Still, he did make changes to the first draft production, he said, removing a still they had of City Hall — in Coral Gables.
But Suarez told me he didn't think the Genting development photos would be seen specifically as an endorsement of their plans.
"The point is there is development coming to Miami. It wasn't in any way, shape or form meant to highlight one project over another," he explained. "They chose that because it's emblematic of what we're talking about in development, between $3 and $10 billion worth of construction in the next ten years."
The video may also capture the Miami Heat fan voter base and, including it's brash editing, off-kilter angle style, seems pitched to the youth, which is where Suarez must dominate in order to mitigate Mayor Tomas Regalado's allegedly predictable landslide in the all-important 65 and over blok (more on that later).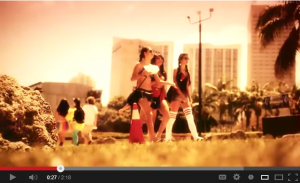 "Our urban city is evolving and changing, it's becoming younger," Suarez says, sitting in a chair very It's-Not-Live-It's-Memorex style — sans the wind — as the victorious music raises in volume ever so slowly.
"We have the Miami Heat winning championships. The city has all the attention on it right now. The economic impact of major athletes wanting to be in Miami, the focus of the world being on Miami as we win championships means we have a golden era in the city over the next decade."
He sells himself as the man to take Miami to that championship place place.
"All the great cities are cities that have a tremendous amount of diversity," he said. "We are one of the few cities that has the climate we have, the beaches we have, the nightlife and also the industry we have. We should be seen as the most innovative city in our country. We need that infusion of youth and energy and a desire to change the system."
Then comes his call to action. Because, while some people told him to wait and some think he's jumping into the deep end too soon, he believes, as his PAC is titled, that the Future Is Now. Thus the new, and brilliant, slogan.
"It's important for people to know our time is now. We have to seize this opportunity today. It's not something that can wait another five years, another four years. It's something that has to happen now because the opportunities are now," he says, and you realize he is talking about himself.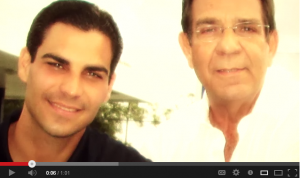 "Part of my challenge is to infect people with the energy that the city can be great for the next decade," Suarez says. "I think a lot of politicians are telling people what they need instead of listening to people and helping them get things done. I want to make it easier for people so that our generation can work with the government."
The other two videos are shorter, but done in the same vintage reel style with quick edit clips that you see in many prime time network shows. One stars his wife, Gloria Suarez, talking about her husband's dedication to the city and political roots.
"Francis is the definition of a public servant," Mrs. Suarez said, before a snapshot of Baby X with his father, former Miami Mayor and current Miami-Dade Commissioner Xavier Suarez. "He grew up in  a family that was very politically affiliated, always giving back to the community, involved in the community.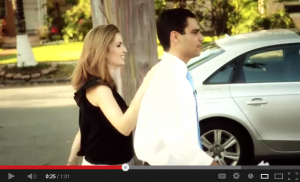 "Francis looks at the city of Miami as his family. On a regular basis, we're in touch with people who need individual help in the city," Gloria Suarez says. "And we want for them exactly what we want for our own children — to grow and prosper and that they do meet the American dream."
"He's not afraid of going up against what other people would want him to do," she says about her husband. "He's going to do what's right."
The videos are all positive and focused on what makes Baby X the best candidate. Although the most recent video, posted today and titled "The Choice is Clear," does have a black and white shot of Regalado in front of City Hall just at the right moment: When Suarez says "Now is not the time for complacency, nor commitment to the status quo." Ouch.
This video definitely tries to equate Francis with our future.
"The choice is clear for those optimistic of heart and resilient of spirit that imagine a Miami that leads the nation in technology and innovation. The choice is clear for those that demonstrate the courage to embrace positive and meaningful change. The choice is clear for those of us who believe that the best days of Miami are ahead of us."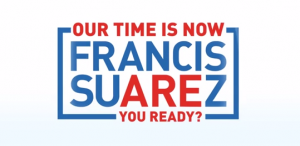 "Now is the time to start the countdown to change. From Overtown to Calle Ocho, Liberty City to Coconut Grove, Wynwood to Midtown… serve as the change. Be the Change. This is our Miami. This is our time."
All the videos close with a new campaign slogan that Ladra just loves that is also reminiscent of presidential campaigns. With the "Our Time is Now" line, a new kicker adds "Are you ready?" using the A, R, and E from the candidate's last name. Brilliant. And so Obamaesque.
Well, Ladra sure is ready to see the campaign get more intense, and it certainly looks like Suarez is ready for this.
Is Regalado? As far as Ladra can tell, he doesn't have a YouTube channel.