All the drama in the Coral Gables election is in the mayoral race. Both commission contests pale in comparison.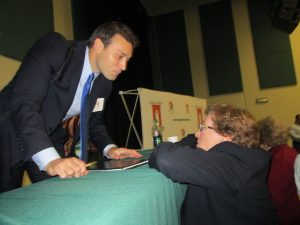 The Group 2 race to replace Commissioner Ralph Cabrera, who has challenged Mayor James Cason, seems like a predictable slam dunk. And, yes, more on that later. But in the Group 3 race to replace termed-out Commissioner Maria Anderson, there is a bright light at the end of the tunnel.
And his name is Anthony Newell.
Newell shone at the debate sponsored by the Coral Gables Chamber of Commerce Tuesday night. In that crowded field of five — four, really, if you discard Jackson "Rip" Holmes as of today — Newell was the only one who said anything worth hearing.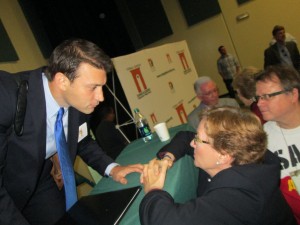 Ladra knows he is the unknown underdog. In fact, I know nothing about Newell. Except that can rub people the wrong way and come off as an arrogant jerk. Hey, have I read that before recently? What can I say? I told you I had a soft spot for them.
Just ask Anderson herself. The veteran commissioner took issue with the candidate's characterization of the city's pension performance and budget issues under her terms.
"Stand on your positive merits and stop trashing people," Anderson whispered to him over the panelists' debate table during the short break before the next group.
And "Do your homework."
Anderson later told Ladra that Newell got the numbers wrong. "I was a candidate once. I understand. But you don't have to trash people," she said.
Maybe he's just trying too hard to set himself apart. Be brazen. Stand out. Some of the other things he said certainly seem to indicate that he is trying to be different.
At the beginning of the debate, he asked for context. He said that he hoped the exchange would bring out the issues and make the differences between the candidates really apparent.
"I'm not sure we did that," he said at the end, adding that the debate had been about "a lot of generalizations, a lot of 'I love you more. No, I love you more. I've been here longer.'
"I hope in the next couple of weeks to offer more context," Newell said next, ironically missing an opportunity to offer more context.
Talk about los pajaros tirando a la escopeta.
Still, Ladra likes his style. And this race, while having the most candidates, has the least relatively obvious choice, if you know what I mean. Look at the options.
Longtime planning and zoning board member Pat Keon had the most polite answers but also the most bland.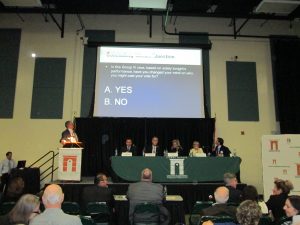 Well, except for activist Mary Young, who apparently wants people to vote for her because she filed for the job first. Both women have great resumes, which they basically read at the debate, but little voter appeal, which could actually result in the first all-male commission dais in decades.
P.J. Mitchell is a single-issue man who doesn't know the first thing about the pension he wants to fix. And Holmes is, well, Holmes. When he wasn't pandering to the audience and the moderator, the downtown property owner talked about the rising sea level and his fixation on having a department store on Miracle Mile.
Ross Hancock should have run in this group rather than the doomed campaign he's got against golden boy Vince Lago in the Group 3 race to replace Commissioner Cabrera.
But since he didn't, Newell deserves to win. If not on chutzpah alone, then by process of elimination.
"Who is this guy," one of my few Gables friends asked me as the Kennedy-esque candidate spewed words of gold for weary voters.
Exactly. But now Ladra means that in a different way.